Nicola McGovern was one of the artists who generously donated an artwork to the AccessArt Share-a-Bird Project.  She sent a mobile of a puffin and included a template so that the children who received her bird could have fun making a whole flock of puffins.
To make the mobile you will need:
An empty cereal box or lightweight card
Magazines or decorated papers
Scissors
Metal Skewer
Glue
String/strong thread
Small coins to act as weights for underneath the wings
Method:
Cut the shapes from the template (download a pdf here) and use them as pattern pieces to cut out the card.  Decorate the card with your selection of papers or magazine pages, then rest the shapes on a magazine to protect your work surface and using the skewer, carefully pierce holes in the card segments where marked, using the pattern pieces as a guide.  Glue the coins to the underside of the wings about 5cm from the wing tips and cover each coin with a small section of paper, cut to fit.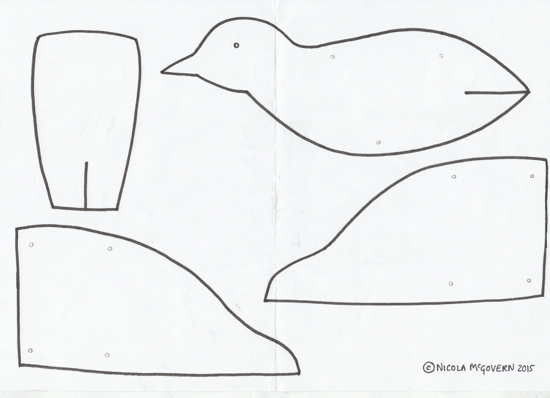 Use two small pieces of string to attach the wings to the body at the front and the back.  They should be tight enough to hold the wings close to the body but still loose enought that the wings can move up and down.  Knot the ends together to secure them.
Take a longer piece of string and thread it through one of the holes half way down the wing, from the top to the underneath and back up through the other hole.  Tie the end to the string about 12cm above the bird.  Take the other end of the string and repeat with the second wing.

Add to favorites