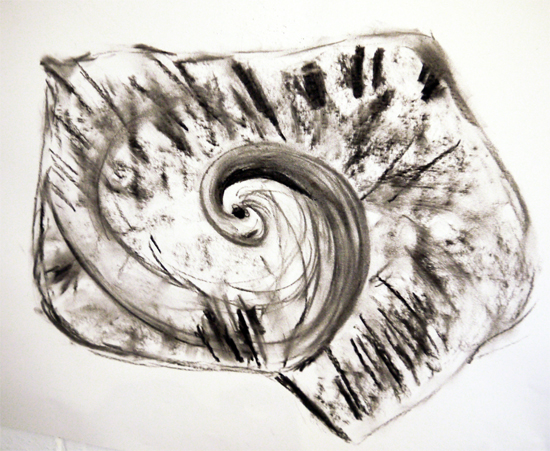 Summary
Exploring charcoal as a drawing material which really allows us to make drawings which are loose and free, and which change many times during the drawing process. Using hands and erasers as well as the charcoal stick to explore mark making.
Begin
Gather charcoal, an eraser and A2 or A1 paper. Using the same subject matter as in Step 1 and Step 2, make a large drawing of a tiny object, this time using charcoal rather than graphite.
Remember the experience of working large with graphite during Step 2 – how free your strokes were and how you built up your drawing building line upon line. This time, work in exactly the same way, but take it a step further. Enjoy the freedom charcoal presents as the charcoal dust can be moved around the page, either with the charcoal itself, the eraser or your hands.
Let this drawing transform itself over and again. Sketch in lines inspired by the small object, and then keep looking more and more closely so you can reinvent your drawing. Enjoy the ability of charcoal to be moved around the page, and explore the full range of tones which charcoal is capable of – from the lightest mark brushed away to the deepest, darkest black.
Squinting at the object and then at your drawing will help you see and understand tonal values. Squinting flattens the image and gets rid of intermediate tones, revealing the darks and lights. Use these tones to help build form in your drawing, and use shadows to help your object "sit" on the ground and express mass.
Explore thin lines made by sharp pieces of charcoal, and thick lines made by your hands rubbing through charcoal dust, or by the side of the charcoal itself. Use the rubber not to get rid of mistakes but to remove charcoal dust to create highlights.
Take your time with these drawings – let your drawing change over time. You can always photograph your drawing if you quite like it, but want to keep working on it, so you have a record of the stages it went through.
Have a can of fixative handy (or hairspray) to fix your drawings.
Extension Activity
Instead of working on a white page and building your drawing up, try working on a dark ground and reveal your object by taking away. Start with a sheet of white paper and cover it with charcoal, using the side of the the charcoal. Use your hand to smooth and build up a depth of tine, all over your sheet until you have a grey/black sheet. Do not fix it.
Then make a drawing using the rubber to take away the dust. Squint at your object to reveal the lightest tones and start there. Keep going, and then begin to use the charcoal again to work back into the drawing with dark lines.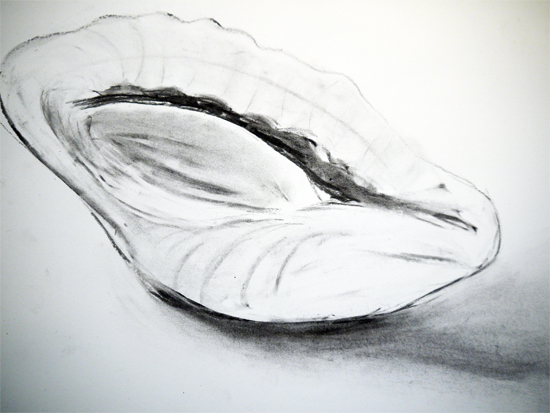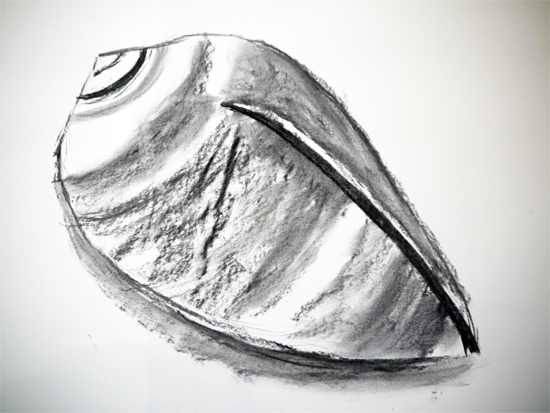 Add to favorites