Register Your Interest as a School

AccessArt DrawAble is a series of resources to help primary schools deliver an inspiring and appropriate curriculum for pupils working at home and in classroom bubbles due to the Coronavirus. 
AccessArt DrawAble connects drawing, narrative and visual literacy to provide pupils with a creative bridge to help them navigate from lockdown towards the new normal.
AccessArt DrawAble will be ready for schools to use from September 2020.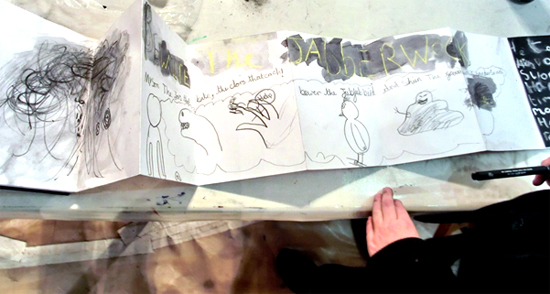 AccessArt DrawAble is being developed in response to the Coronavirus Pandemic, to provide schools with accessible and high quality resources designed with the following requirements in mind:
The resources can be delivered directly to pupils working from home, or accessed via small classes or bubble in schools, so that all pupils can enjoy a comparative experience.

The resources provide everything a teacher or parent needs to encourage holistic, high quality creative learning, at an inclusive and gentle pace.

The activities are sensitively devised and appropriate for children re-emerging into school life, or not yet reemerging into school life, with all the physical and emotional load which these children may carry.

The activities are safe activities for small bubbles, for example they do not promote sharing of materials, or encourage queuing around sinks for water etc.

The final results can be shared digitally amongst the communities taking part, and via the AccessArt website, to bring communities together and create a shared experience. 
See a Map of Proposed Resources

AccessArt DrawAble will provide schools with video and digital resources to help inspire and guide children in Years 1 to 6 to explore storytelling through the visual arts. 
AccessArt DrawAble will provide resources for activities which explore how children can create stories with pictures. It will cover many aspects of visual narrative such as comic strips, sequential drawing, visual literacy, mark making, sequential drawing, through to the creation of images which capture a moment and tell a story within a single image. 
The art created and the stories told might be personal stories, reflecting on time in lockdown, current thoughts and emotions, or hopes and dreams for the future, or more universal stories based upon existing literature, film and drama. At the moment the resources will explore the following themes, from which teachers will be able to choose:
Time for Reflection: What did lockdown mean to me?

Pause: Taking breath 

Hopes & Dreams: Let's imagine our bright future

My Story: I'd like to share who I am, and think about who I'd like to become

Climate for Change: What would we like to change and how can we do that? (in association with The Big Draw 2020)

Literature, Film and Drama: Retelling stories
AccessArt DrawAble will be delivered by a series of videos aimed at pupils, plus  digital resources for the teacher/parent to support the activities.
The resources will provide opportunities for teachers to link a number of areas of the curriculum including art, literacy, history, geography and PSHE, and at the same time to think carefully about what pupils might need in terms of a recovery based curriculum which supports wellbeing. 
All resources will be available from the AccessArt website. 
AccessArt DrawAble will be managed and directed by the AccessArt team, (www.accessart.org.uk). 
We will be commissioning resources from a variety of artists and artist educators working in the areas of comics, graphic novels, illustration, fine art and theatre.
We hope the resources created will be representative of the diversity of our communities and we welcome submissions from all artists, artist educators and teachers, including of course those from our Bame communities.
Get in Touch!
Teachers, artists, facilitators...
Register Your Interest as a School

We are keen to hear from teachers about how the proposed resources might help you, what kinds of issues you are struggling with in terms of planning for blended learning, and what you would like us to include.
We will be commissioning the resources over the coming weeks and we'd love to hear from teachers, artists and artist-educators who would be interested in helping us create the DrawAble resources and advising on the project.