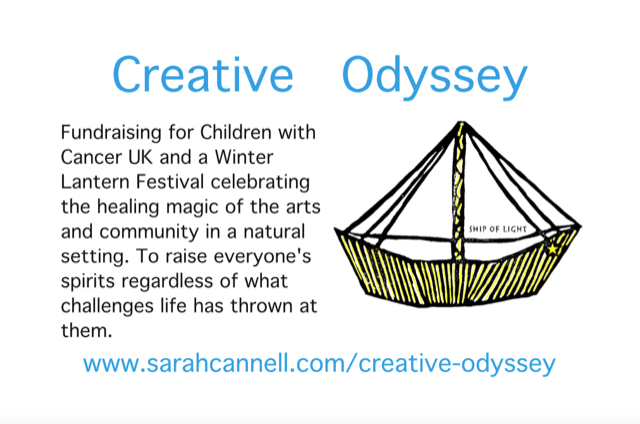 AccessArt Member Sarah Cannell is inviting the AccessArt audience to share their love of art and support the Creative Odyssey, a fundraising project for children with cancer.
You can support the project in 2 ways!
1) Make and submit a postcard size artwork!
Postcard-sized artworks can be submitted in any medium and all postcards will be exhibited at Mandells Gallery, Elm Hill, Norwich. Work will be available for sale at the PV and then throughout the exhibition between 25th – 29th February 2020. All artworks will be sold for £40 each and will remain anonymous until sold. Find out how to submit your artwork here.
Deadline for receipt of Artworks: 14th February 2020 (pls send artworks directly to Sarah via the link above)
2) Lantern Workshops and Festival
Schools and Brilliant Makers Clubs may like to make lanterns to take part in a festival in Norfolk. The Winter Lantern Festival will take place in March 2020 at the Raveningham Centre, South Norfolk. There will be a Lantern Parade through the magical woodland site with family, friends and the wider community. Paper and willow lanterns will be created between now and the parade with schools, community groups, UEA students, Brilliant Makers Clubs in association with AccessArt in Cambridge across the UK and at a free drop in Lantern Making workshop on the first day of the Norfolk Makers Festival at the Forum, Norwich on the 8th February 2020.