Drawing in Schools
Which materials and paper might you use when enabling or promoting drawing in schools? Often schools do not provide enough variety of materials for pupils to experiment with. This resource describes the selection of drawing materials and drawing surfaces which AccessArt advocates using in schools.
Understanding the potential offered by various drawing medium is vital if children are to be inspired, attracted and energized by the drawing process. Drawing is all about degrees of control, and whilst being out of control is not always a bad thing, but some level of control of the materials one chooses to use is necessary if a child is to be spurred on to try more. Control can only develop through an understanding of the potential and limitations of each material.
AccessArt believes that whilst children are given guidance as to what a particular material might be capable of, their understanding of how they might use each material, and in what context that material might work best, is discovered for the children by themselves. In this way children can take full ownership of their own discoveries. This means that while the warm-ups and projects described in our resources help build the children's experience of drawing, their confidence in choosing and using the right material for the right job also grows. The aim is to develop children's confidence and familiarity with materials to the point that they are able to make confident decisions about which materials to use and when, and that they feel an ease when using them.
Rather than introduce the following drawing materials in a certain order over a period of time, consider introducing all the materials over a couple of weeks. Warm-ups or projects that use a particular medium are referenced below each description.
Pencils
Pencils are of course the most common drawing tool, but many children only have experience of using a HB pencil, which is only capable of the most grey, uniform marks.
Pencils do not contain "lead" but instead contain graphite and a clay binder. Drawing pencils range in "hardness" or "softness/blackness" from 9H to 9B. 9H is the hardest pencil – meaning it makes a hard, light mark. 9B is the blackest (or softest) pencil – giving a dense, easily produced mark. F is the grading given to a pencil midway between H and B.
Between these grades pencils offer us the opportunity to make all kinds of densities of marks. Additionally working with a pencil that is sharp, or blunt, will affect the marks it produces, and also the pressure applied by hand, and the way the pencil is held in the hand, will change the look of the mark. Experiment with where you hold a pencil when you draw: at the end as if it were a handwriting pen, half way up, or at the top, gripped between your fist. There is no wrong or right way to hold a pencil, only ways appropriate to the types of marks you want to make and the amount of control you desire.
Graphite
Graphite sticks are usually graded B to 9B and come in a two main thicknesses (the thickness of a normal pencil, and the thickness of a chunky wax crayon). The graphite is similar to that within a soft B pencil, though with the surrounding wood removed. The thicker sticks are very useful for making energetic drawings on medium to larger scales. Using graphite with an eraser can extend the range of marks one can produce.
Soluble Graphite
You can also buy soluble graphite. Use as regular graphite and then use a brush with clean water (or diluted watercolours) to dissolve the marks across the page, turning the graphite to paint. Marks will range from very black to watery grey. You can also work the other way – wet the page and then make marks with the soluble graphite.
You can also extend the marks made with soluble graphite by working in combination with another material. For example use white wax crayon, white oil pastel, or candle wax on a dry sheet of paper before using the soluble graphite and water for a resist effect.
Tip: Do not leave soluble graphite sticks in water as they will dissolve!).
Charcoal
Willow charcoal is the preferred charcoal for drawing, and is capable of a making a variety of fluid marks. It can be bought in different grades and thicknesses, or in mixed boxes. The best way to get to know what kinds of marks charcoal is capable of making, is to play!
Use the side of the charcoal to cover large areas of your sheet in a light, mid or dark tone. Use the end of the charcoal stick for fine or thick darker and more controlled lines. Use your finger, or hand to smudge charcoal, or use an eraser to remove charcoal and create areas of highlight. Remember you can use all these methods together and layer your mark making. Charcoal needs fixing with a fixative or hairspray.
You can also use burnt wood from a fire (let it cool first!) which provides a more primitive and unpredictable mark making tool.
Compressed charcoal
Compressed charcoal is charcoal with added binder, sometimes surrounded by wood, to give you a coarser, darker mark. This is usually used more like a pencil and works best on a larger scale.
Erasers
In the warm-ups and resources on the AccessArt site erasers are not used for mistakes – instead they become a mark-making tool in their own right. Particularly effective when used with pencils, graphite, erasable coloured pencils, and charcoal.
Watercolours
Watercolours are used in this book as a drawing tool, either to add colour through line, or to add weight or shadow to help convey a form. Watercolours need not be expensive: even simple palette ones work well.
Oil Pastels
Oil pastels are made from pigment mixed with a non-drying oil and wax binder. They generally provide more vivid colour than soft pastels, especially when pressure is applied.
Oil pastels can be used alone and work best when used on a large scale. They also make great partners with both graphite (or pencil) and linseed oil. Graphite applied over oil pastel becomes denser and darker as the graphite skids easily over the oily surface, leaving rich marks. Linseed oil can be used to dilute the oil pastel once it is on the page, and if worked in with a brush, can help mix the pastel and leave painterly marks.
Oil pastels are also used in our projects with acrylic as a way of creating a sgraffito surface.
Chalk Pastels
Chalk pastels make softer marks than oil pastels and are easier to blend. They work especially well on thicker, more textured paper, especially if it has a slight hue (for example buff coloured) and can be used to draw both high and low lights.
Handwriting Pens and Permanent Markers
Handwriting pens create precise, fluid lines. Little pressure is needed to produce a mark, and this means that the pen nibs "scoots" easily across the paper, making them ideal for drawing exercises which require there to be little interruption to the lines being made. They are also ideal for exploring mark making.
Permanent markers provide an alternative tool when a thicker line is required.
Wax Crayons
Light coloured wax crayons are used in the projects as a tool to create resist when working with water soluble graphite, ink or watercolour. Stubs of candle provide an alternative to wax crayon, as do oil pastel.
Coloured Pencil Crayons
Traditionally used for colouring, coloured pencils can be used as a drawing tool, though they do have drawbacks. Unlike graphite pencils, it is harder to vary the line produced by varying the pressure. They can however be used creatively as a sketching tool, utilising the many different colours to create layered drawings. In particular mixing regular coloured pencils with water soluble coloured pencils and erasable coloured pencils in the same work can produce interesting results.
Coloured Biro
Coloured biros offer amazing synthetic colours, which we can use in the same way as coloured pencils to create layered sketches. However just like coloured pencils their line is particularly uniform which makes it hard to create tonal variation.
Inks
Black Indian ink or coloured inks are useful for the richness of their colour when compared to watercolour. Inks can be used with either brushes or nibs (or even homemade nibs from feathers), so that mark making can move from drawing to painting.
When wet, water can be added to ink to create a wash, useful for varying tone. When the ink dries however, the ink is no longer soluble, which is also useful for adding a wash of more dilute ink over the top that will not merge with the original layer.
Homemade Drawing Tools
Experiment with making a variety of homemade drawing tools that can impact upon the way children approach their drawing and the marks they make. For example:
Create long handled drawing tools by taping brushes or pencils onto sticks, so that the child is distanced form the drawing and has less control over mark making.
Tape together a number of graphite sticks or pencils to make one chunky drawing tool.
Apply ink to paper using Plastacine shaped into a drawing tool.
Remember!
Always be on the look out for how you can use other materials to help inspire the drawing process. For example carbon copy paper makes an excellent drawing materials for helping to create blind contour drawings or monoprints.
Try to choose the right tool for the kind of drawing you want to produce.
Be aware of "the drawing sandwich" – or in other words how you might layer drawing materials within one drawing. For example your mark making might consist of: graphite, eraser, graphite, eraser, pencil. Each layer of medium adds something to the layer before, but requires another complementary action after. And so the drawing is built.
Feel able to experiment: often there is no wrong or right, only things to discover.
Think about the scale of your drawing and match the material: i.e. if you have an A1 sheet do you want to draw with a hard fine pencil? If you have a small sheet of paper can you accommodate chunky graphite sticks? In general terms, as the size of the paper increases, so might the size of your drawing medium.
Lastly think carefully about which subject matter can best help you achieve your aims.
Introduction to Drawing Surfaces
Whilst care is taken to provide a variety of drawing medium, the surface that children are to draw upon is often overlooked. Paper is expensive and this often means children are provided with small sheets of untextured copy paper to make their drawings that does not bring out the full potential of any drawing medium.
The warm-ups and projects that follow rely on a variety of drawing surfaces and sizes, each designed to work with the chosen drawing medium.
100 – 140 gsm Drawing or Cartridge Paper
A basic drawing paper that is suitable for most mediums. Projects mostly use A4 to A2 size. A1 is useful if space permits, and larger sheets can of course be cut or torn to smaller sizes to save buying a variety of sizes.
Drawing or cartridge paper is preferable to copy paper as it has more texture which allows for the full range of mark making a pencil or graphite stick can offer. It also tends to be a less bright white.
Sugar Paper
Available in many colours (the neutral shades are especially useful), sugar paper offers children a cheaper alternative to drawing paper. Useful for working with graphite, chalks and oil pastels, though its texture means the lines will not be as sharp or dense as on drawing paper. As it is more absorbent than drawing paper it will soak up ink and watercolour more quickly.
Newsprint
Newsprint is useful for very quick exercises, though it is so thin and absorbent that lines will not be crisp and it will tear easily. Very useful for placing under sheets of drawing paper to provide protection and for stopping any textured marks on drawing boards or desks showing through in the drawing.
Wallpaper Lining Paper
Some projects call for really long sheets of paper that can of course be made by joining large sheets of drawing paper. Wallpaper lining paper however provides an acceptable alternative to more expensive rolls of paper like Fabriano.
Alternative Surfaces
Just like drawing materials, think laterally about what can become a drawing surface:
Many projects call for using recycled papers (such as old envelops) or paper which might not normally be used for drawings (graph paper, tracing paper, blotting paper, old maps etc.)
Think how you might make your own surfaces, for example using sheets of Modroc, or even casting your own plaster blocks.

Add to favorites
See Curriculum Guidance for Drawing: Resources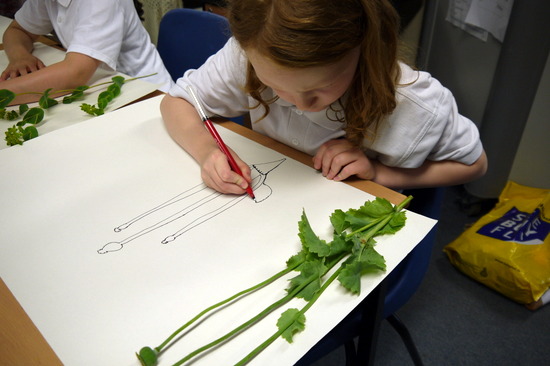 AccessArt Resources to Support Drawing
AccessArt is an evolving collection of resources and further resources are being added over time. Please register with AccessArt to receive updates.