Quentin Blake's Drawings as Inspiration!
By Paula Briggs
Inspired by Quentin Blake's drawings, this resource shares three simple exercises to help children draw from life, and explore how we might use exaggeration as a tool to help us convey the intention of our drawing…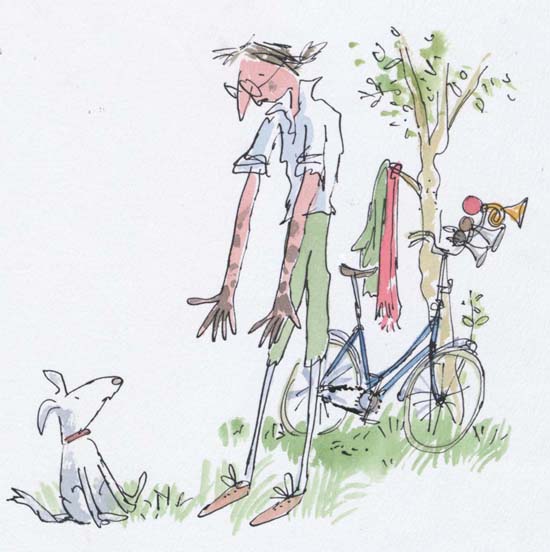 We began our session by looking at some drawings by Quentin Blake in which he purposely exaggerates certain characteristics of the body to convey a sense of action or intention. We looked at several of his illustrations as a  group, and I asked the children to choose for themselves a particular element of a drawing and to tell the group why they thought Quentin Blake had draw it as he had. For example, how "Simpkin" had been drawn with unfeasibly bendy legs to convey his "silliness", and Mrs Armitage expresses her need for a sink by showing us her super-long, super-straight, mud-splattered arms.
I wanted the children to begin to understand why Blake's drawings are so eloquently able to tell a story, and to be inspired and enabled to use exaggeration as a tool in their own drawings. This session also continued with the "playing safe and taking risks" theme of previous sessions and I tried to encourage the children to take risks and try new ways of working: "If we don't try we won't know".
We began the session with a simple continuous line drawing. I acted as model and the children had five minutes to do a continuous line study of my pose. While I posed, I talked them through their drawing, asking them to look for "big, strong, shapes", inviting them to find "big triangles", think where my arms, legs and body connected to make "strong lines which sum up the pose". Acting as the model as well as the teacher worked quite well because I could share what it felt like to be in the pose, i.e. "I'm really aware of this arm being strong and taking my weight, and I'm aware of my hand at right angles to my arm, pushing down on the cold hard floor…"
These drawings were made by children aged 6, 7 and 8.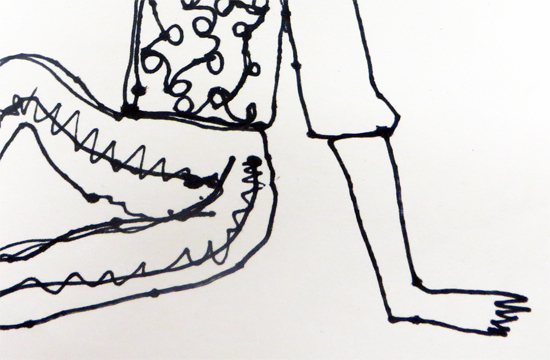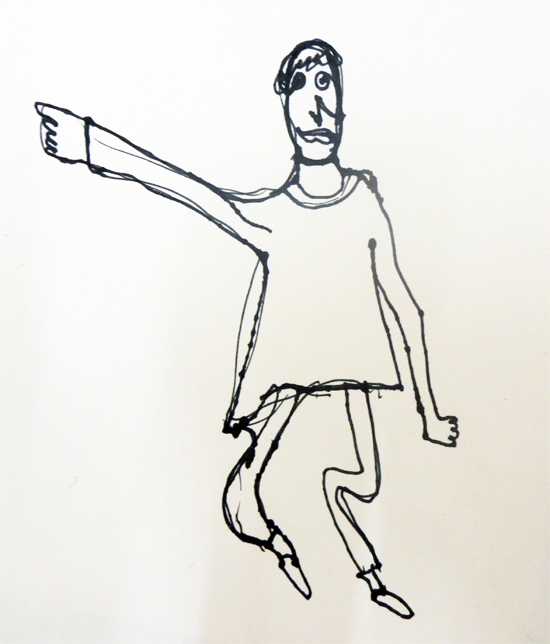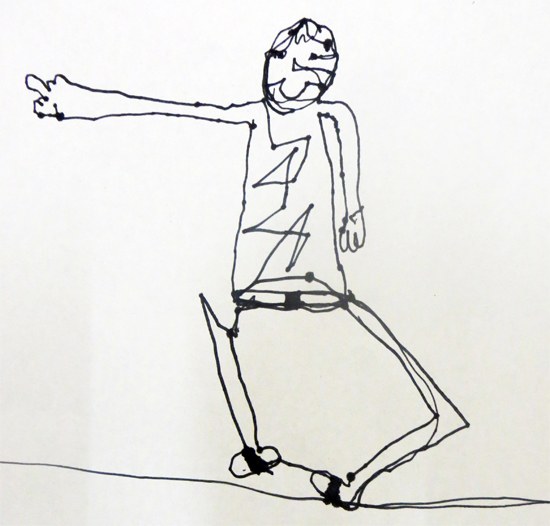 We then moved on to try an exercise I hadn't tested before, (my "risky activity" for the day!). Continuing as the model as well as facilitator, I explained to the children that I wanted them to make another drawing, this time using a series of separate, straight lines. To help them make the lines one after another and at a pace, I hit the floor with my hand (whilst I modelled!) and asked them to make a mark every time they heard the slap of my hand on the floor. I also asked them to look again for strong shapes.
It was interesting how the rhythm of my hand, combined with their instruction to only use straight lines,  somehow helped them to create very strong drawings, sculptural drawings with a real sense of gravity and mass.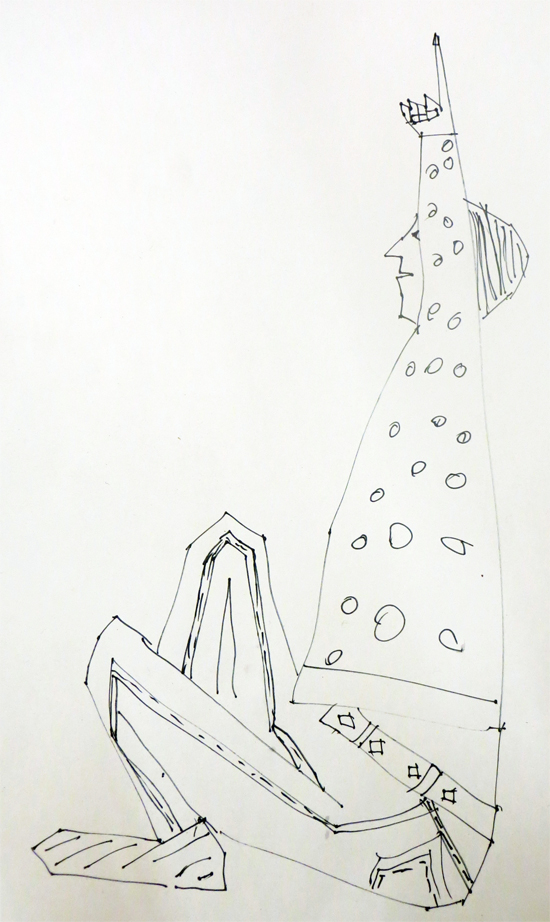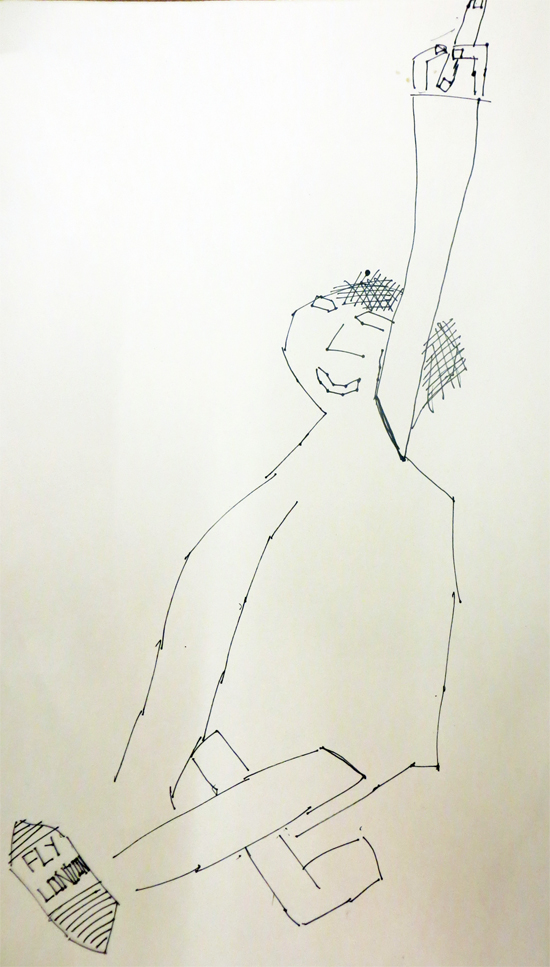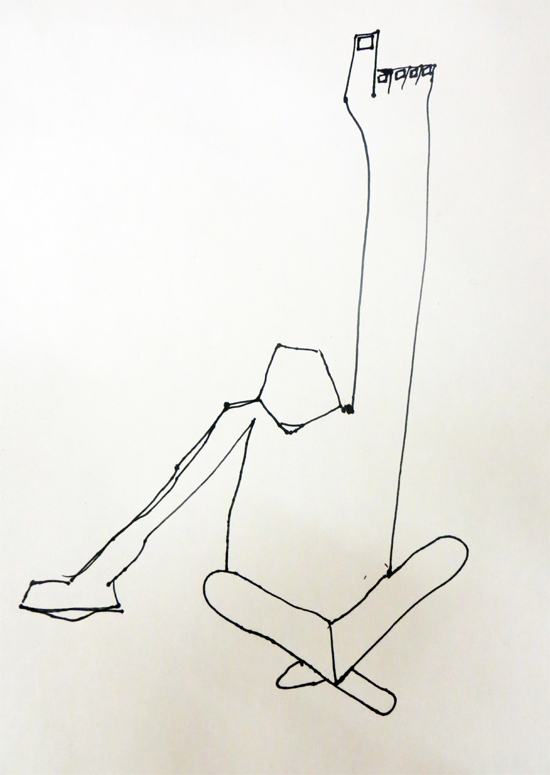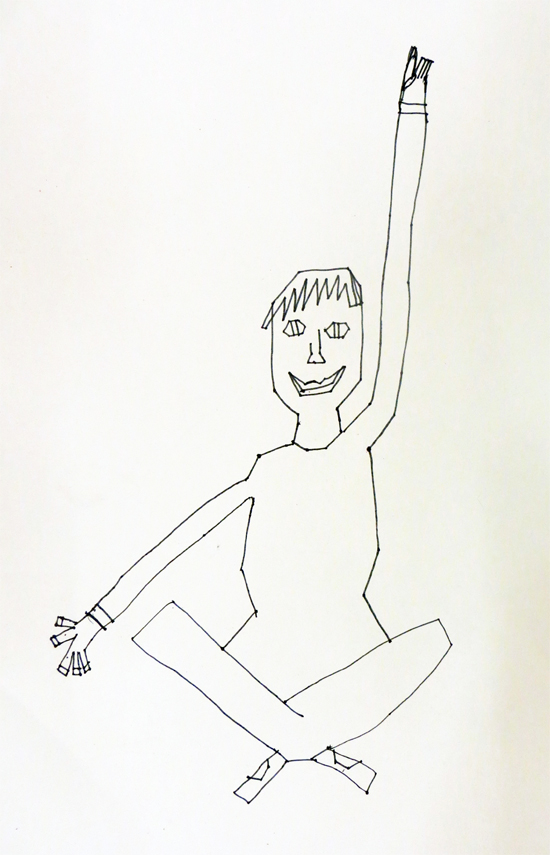 Finally in the third exercise of the session, I asked the children to continue to seek out strong shapes in the pose by:
a) putting down a watercolour wash in a single colour first, and then making pen marks over the wash, OR
b) putting down pen marks first and then making a watercolour wash in a single colour after.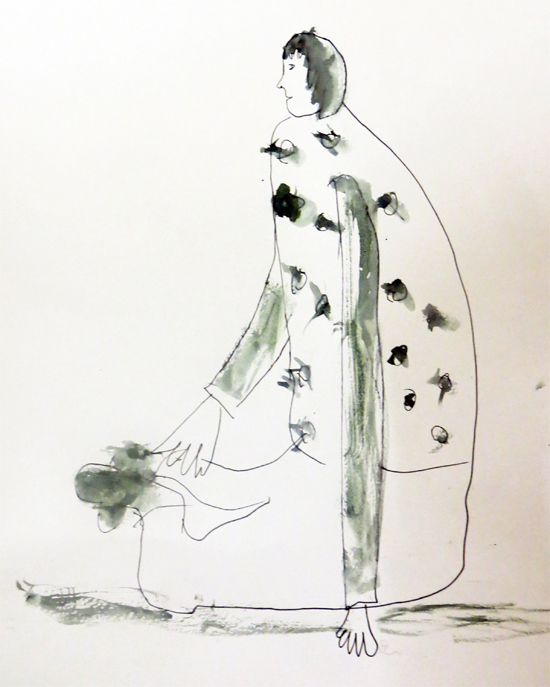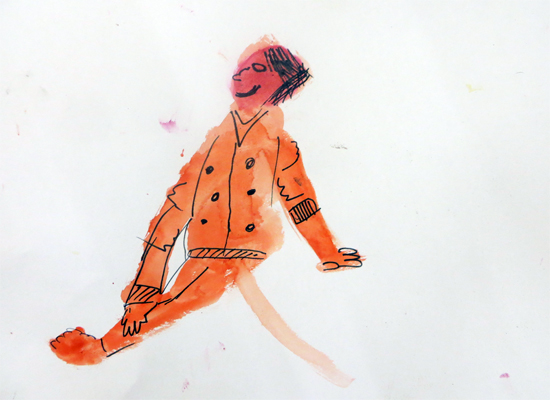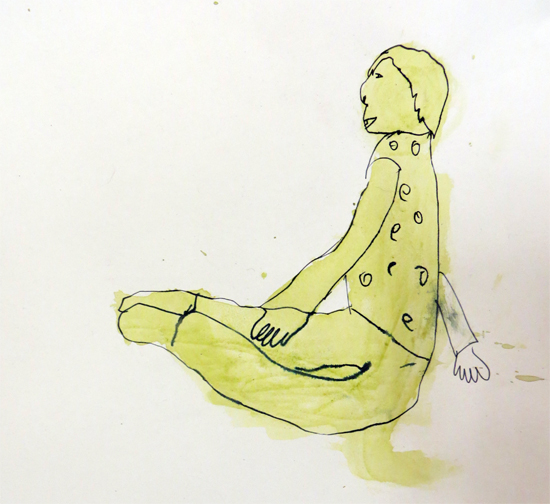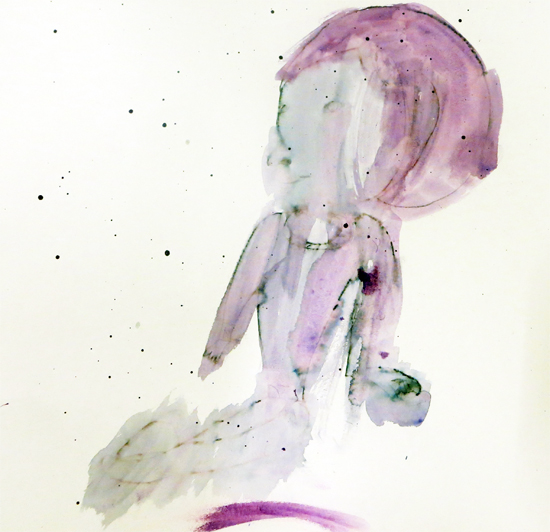 At the end of the session I put out the "Playing safe" sign at one end of the room, and the "Taking a risk" sign at the other end. I asked the children to put their drawings between the two signs, depending on what they felt about the level of risk they had taken, creating a line of drawings down the room.
---
Many thanks to Quentin Blake for kindly agreeing the use of his image in this resource, and for being such an inspiration to so many children (and adults!). Pls visit www.quentinblake.com
---
Many thanks to TTS and Pisces The Art Specialist for providing the materials for this workshop.
You Might Also like…

Pathway: Telling Stories through drawing and making