The final assignment of the Developing Sketchbook Skills Course takes us back to the beginning of the course where we personalised and took ownership of our sketchbooks.
Giving Your Sketchbook legs
Many of you may have already been carrying your sketchbook with you during your day, but if, so far, you have been working in your sketchbooks at home, then now is the time to "give your sketchbook legs"!
Making your sketchbook available to you!
It's easy to see how sketchbooks come into their own when you are on holiday, or taking a journey, when you have plenty of time to mull and fresh inspiration from which to draw.
But equally, carrying a sketchbook with you when you go about your normal day to day activities, whether that's the school run, journey to work, walking the dog, or having it sat next to you at your desk, means that the sketchbook is available to use as a notebook in which to jot down ideas, capture inspiration and make connections. Making your sketchbook available (or giving yourself permission to use it at any time) helps your sketchbook become invaluable.
Once your sketchbook becomes such a part of you that you don't want to leave it behind, then you'll always be on the look out for inspiration around you to fill it, and you'll always have a place through which to think. It's a circular process – the more you use your sketchbook, the more you'll come to rely upon it.
Here are two simple exercises to help you fill your sketchbook when you are out and about – try both or pick the one which interests you the most.
If the sketchbook you made or extended in week one is portable (easy to fit into a bag or pocket) then use that one, otherwise you may want to make a series of folded sketchbooks as shown in week three.
---
Exercise One
Using Colour as a Stimulus – Or "Note-Taking with Colour"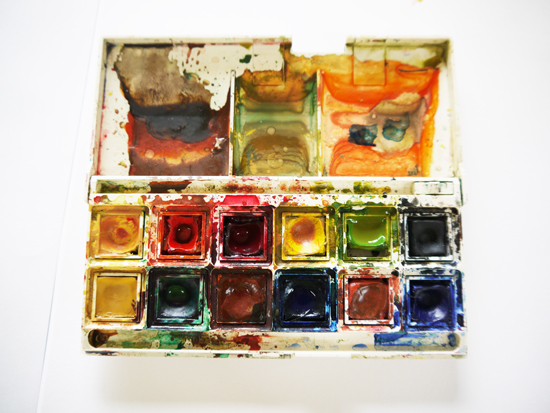 In this exercise you'll be allowing colour to float away from subject matter and to exist in a more abstract sense.
In addition to your sketchbook, you'll also need a portable selection of colours – it might be a small watercolour box, a few oils pastels or chalks. Have a selection of pencils to hand as well.
Find your subject matter!
It might be a street scene watched from a cafe, a view from the train, an interior still life, a landscape or cityscape… whatever appeals to you.
Spend a few moments looking. Let your eye take in the visual information, in particular, tune in to the colours you see. If it helps, squint a little to help the forms blur, the brights/darks to come to the fore, and the mid tones recede. Time spent looking is time well spent – try to start seeing the relationships of colours to each other too – for example – a horizontal strip of blue above a mass of grey/black.
Next, using the colour, begin to "jot" down in your sketchbook the colours you see. Working quickly and intuitively – this is not about capturing details but instead about choosing and mixing areas of colour to correspond to the colours you are seeing. Free your mind from the objects on which the colour hangs, and concentrating instead on colour and composition in a more abstract sense.
Make more than one colour sketch of the same subject matter – seeing how your appreciation of the "essence" of the colour composition changes as you repeat the activity. It's up to you just how abstract this becomes. As you work begin to make decisions about what it is that interests you – which areas of the composition do your want to highlight, which do you want to let recede in importance. Take control of what you sketch.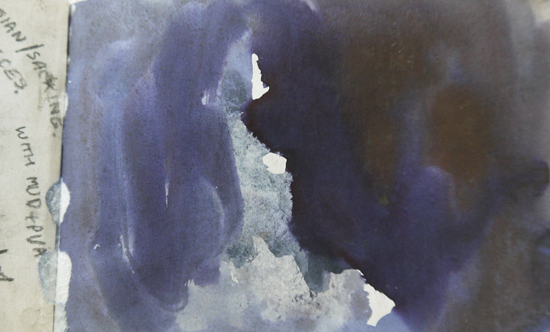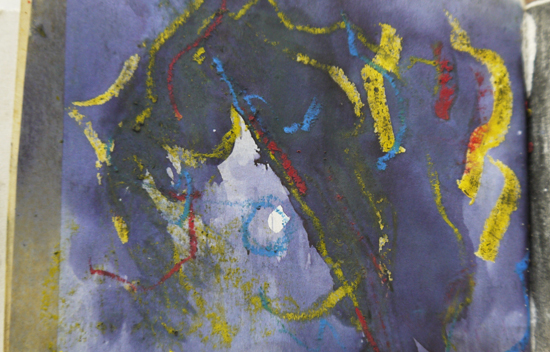 If you prefer, and don't want to carry colours with you, make pictorial pencil notes rather than mix colour when you are out and about. Then when you get home you can create the colour sketches, from your notes. Isabella Whitworth suggests giving colours names to help you evoke the colour when you are back at home.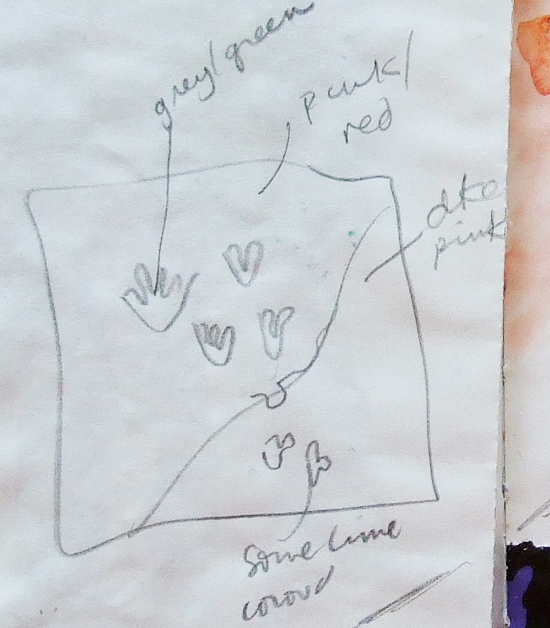 Extension: Begin to add another element to your colour sketches – maybe the addition of text in the form of notes, maybe a few well chosen pencil lines…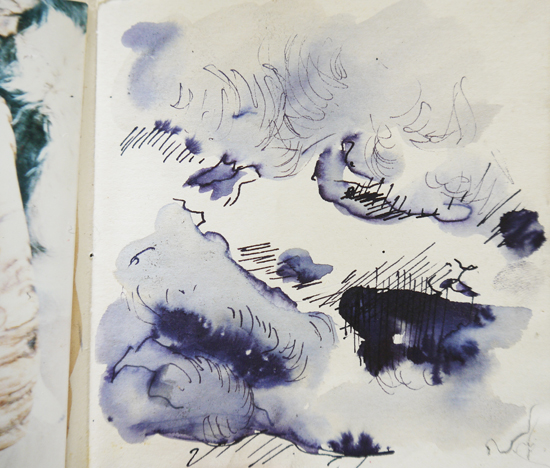 Many thanks to Isabella Whitworth for sharing images with AccessArt. See more of Isabella's approach here and here. You may also enjoy Sketchbooks, Journals and Journeys.
---
Exercise Two
5 Pages a Day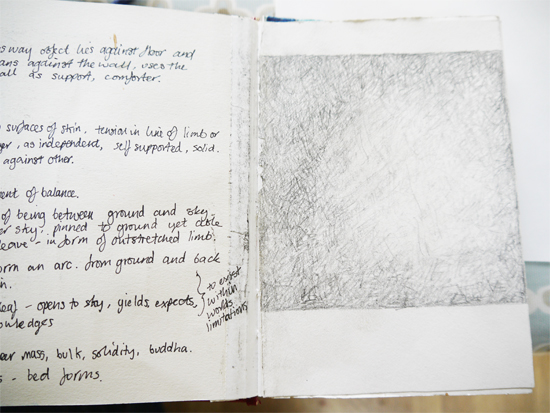 Challenge yourself to fill 5 sketchbook pages a day (or 3 or 7…) around a particular aspect of your day or around a particular theme you want to explore. It might be the journey to work, a dog walk, a lunch, watching television… Or it might be about a theme which you identified during earlier assignments and want to pursue.
Think of all the ways you would like to capture information – which ways interest you? Note taking, sketching (with which material?), collaging, painting, collecting… think creatively about the kinds of activities and actions which can take place in a sketchbook and explore combinations of activities. Then, use your 5 pages to explore the particular aspect of the day or theme you have chosen, to build up pages rich with exploration.
By filling a set number of pages a day, you'll quickly generate a wealth of clues which you can then revisit at other times. You might not like all the pages you create – and not every page has to be equal in terms of what it contains – one page might be rich with collage which was intensively created, the next page may contain only a single word… but by creating a specific number of pages a day you will develop your own sketchbook "pace", which will keep you moving forwards and stop you getting stuck.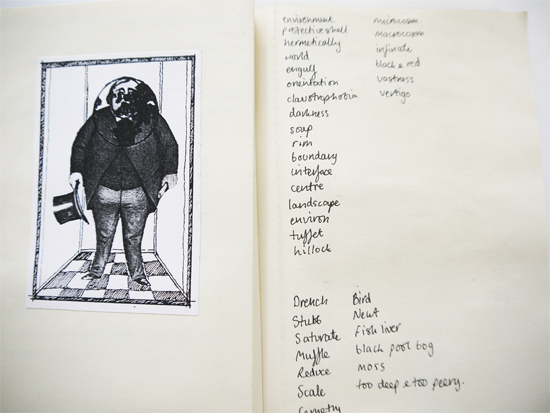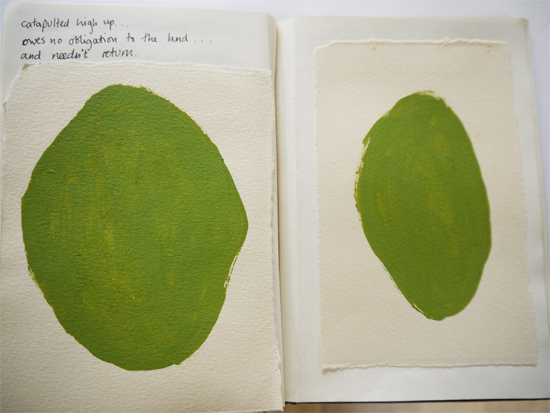 ---
Enjoying Time to Reflect
As the sketchbook course draws to an end, this is the perfect time to become aware of how the sketchbook can help you reflect upon your journey and inform your future approach.
In fact, during the process of working in a sketchbook, reflection is just as important a tool as sketching, collecting, collage etc, and rather than leave reflection until the end of your journey, become aware of how cyclical the sketchbook process is. As you become more proficient, begin to build reflection as a regular practice into your sketchbook work. You act, you reflect, you act, you reflect, and reflection is a skill which ties the whole sketchbook process together.
You can reflect cerebrally – you can think about what you have done, with the benefit of a little distance, and rationalise the journey you undertook. You might identify areas which didn't work so well for you, and ask yourselves why? Or discover potential which will inspire work in other areas (i.e. ideas for artwork/writing/filmmaking etc outside your sketchbook). If it feels timely, let your reflection fuel more action: you may feel moved to rework some pages, or make new pages in response…. to make links between different exercises and outcomes.
But you can also reflect intuitively – you can reflect just by enjoying browsing your sketchbook pages, letting them wash over you, letting instinct identify likes and dislikes, journeys you'd like to pick up again and develop further…
Take the time to enjoy the richness of your pages, of what you have created and now stands out there in the world, thanks to the efforts you have made. This should be a great feeling! Keep exploring, keep reflecting, and keep moving forward!
---
We hope you have enjoyed the sketchbook course and found it useful. You may like to explore other AccessArt sketchbooks resources.
Once you are ready – please upload images to you tutorial group by following the links below:
Back to main "Developing Sketchbook Skills and Approaches" page
Add to favorites