Houses, Homes and Architecture
If you are a member of AccessArt then please use this form if you would like to suggest a visual arts planning topic that you would like help with. You can see all of the current topics in our visual arts planning series here.

Architecture is a fundamental element of our existence from the simplest framework that offers shelter, to large cities of sophisticated buildings that shape the environment within which we live. Making and drawing can facilitate an understanding of the spaces, shapes and structures of architectural forms. They can also enable a more personal response, allowing us to explore a sense of place and heritage or to create an intimate portrait of 'home'.
Please feel free to add links to other resources, or share your experiences and ideas, via the comments box below.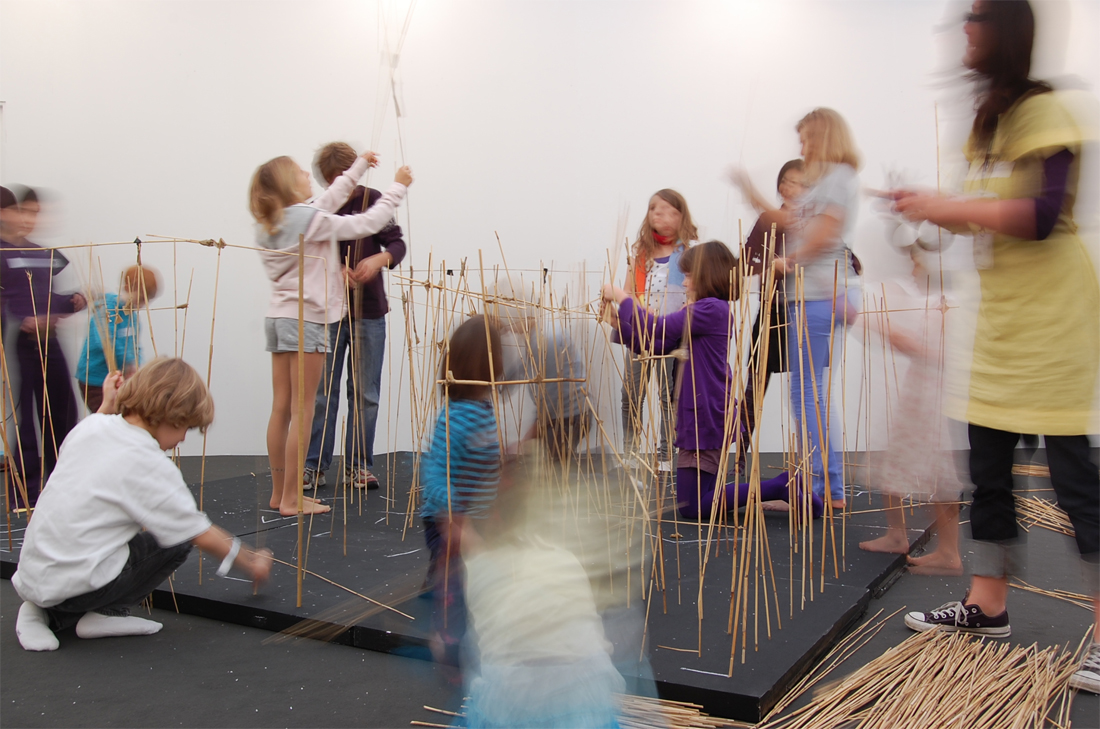 Drawing and Collage
Show Me What You See: Drawing Inspired by Anglo Saxon Architecture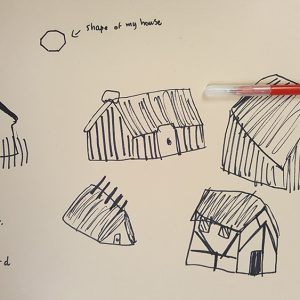 This resource shares a 10 minute drawing exercise which was used to help collect information and focus minds before a sculpture session with Year 6 children who were studying Anglo Saxon architecture Read More
One Line Street Scene: A Visualisation Warm Up Drawing exercise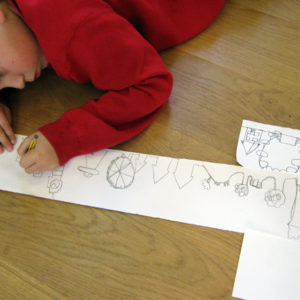 This warm-up was used to precede a workshop which introduced the idea of perspective to children aged 6 to 10. I wanted a warm-up which would relax the children (I knew the idea of perspective covered later in the session would be tricky for some children), would get them to start thinking about architectural shapes and structures, and give them space to enjoy adding detail – something children of this age seem to really enjoy. Read More
Simple Perspective Art Lesson for Young Children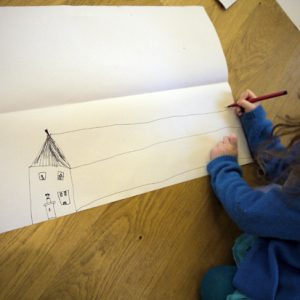 I wanted to introduce children (aged 6 to 10) to the basics of perspective in relation to drawing architecture and so devised this simple perspective art lesson. I wanted to balance the technical aspect (which can be tricky at this age) with some time spent in making sure the children felt like they owned their drawings (which in this case meant adding lots of detail and often the beginning of a narrative). Their sense of place in these drawings was very strong, not just in their attempt to portray buildings which looked like they might exist in the real, object based world Read More
Graphite Sketches of Artist Retreats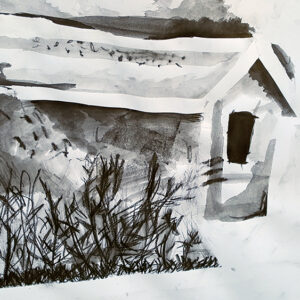 This resource shares how students from the AccessArt Art Lab for ages 10, 11 and 12 grabbed drawing boards, Sellotape, water soluble graphite and brushes and went into the landscape to create wonderfully energetic sketches, in just over an hour. Starting with observation of basic perspective, and then a study of the darkest darks and lightest lights, we moved on to explore diverse mark making to ensure our sketches had character and a sense of place.Read More
make a stitched drawing of a house in an hour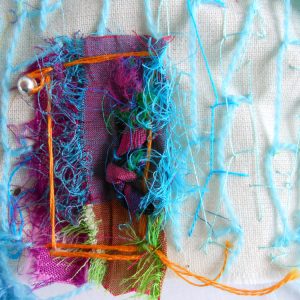 if you would like to make a sewn drawing of your home or of a favourite building, this stitch activity could be for you. The project can be completed at one sitting or you can finish it over several small sessions. One way to approach embroidery/stitching is to think about it in terms of collage and mark making: hanks of wool and shapes cut from fabric can act as an equivalent to paint or coloured paper; stitches are very like the lines and marks you can create with felt tips, markers or coloured pencils.Read More
Draw your home: collage, stitch and fabric crayons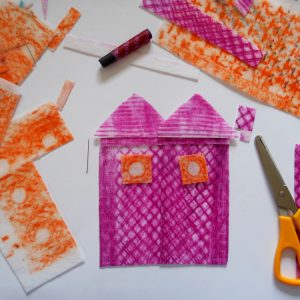 Inspired by the AccessArt participatory project, the AccessArt Village, fabric rubbings and simple stitching are used to make a colourful collage of a home. Fabric crayons are an easy way to apply colour to material and if you use stiff fabric like Vilene with its white, fairly smooth surface, it's like drawing on very soft paper.Read More
Making an Ink and Wax Village with Pupils in Mansfield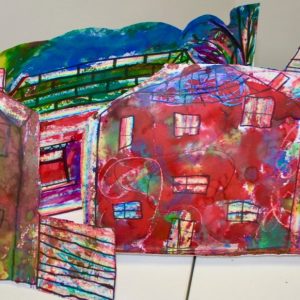 Year five pupils from Berry Hill Primary school visited the AccessArt Village exhibition in Mansfield where artist, Sheila Ceccarelli led an hour long workshop for them. The session was repeated, each time for a group of twenty children. The aim was to offer children the opportunity to make a new village, but this time for them to keep. It was also a chance to introduce children to some drawing techniques, wax resist and some fun creative processes Read More
Responding to Place by Claire Louise Mather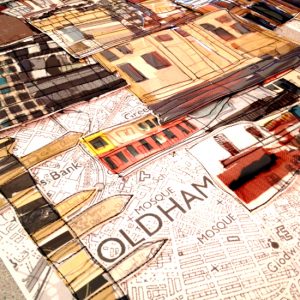 My aim for the project was to help pupils at St Thomas C of E Primary School, Oldham in Lancashire to create a visual interpretation of their town and its buildings, some of which pupils were familiar with but as was often the case, that they didn't know the names or any history about. This project was aimed at encouraging children to work collaboratively with other age groups through a series of workshops. Using individual, paired and small groups, pupils produced a variety of artwork of a mixed media based nature, inspired by their surrounding area and local heritage.Read More
Building Stories by June Nelson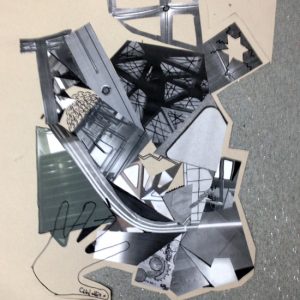 Artist and educator June Nelson shares how she used photography, collage and iPads in Towner Contemporary Art Museum, Eastbourne to encourage looking, collaborating, and telling visual stories. it is an adaptable project that could be used for any age group, over a longer period, and in many different types of building. Read More
Houses from Around the World: International Day at Monkfield Primary School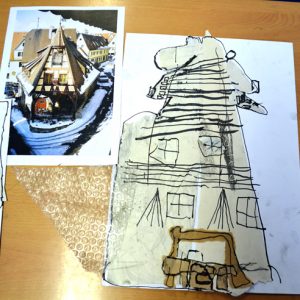 AccessArt were invited to Monkfield Park Primary School, Cambourne, to help celebrate diversity as part of the school's vibrant International Day. Inspired by AccessArt workshops by Susie Olczak, Rachael Causer, Jo Allen and Clair Louise Mather, Paula Briggs and Sheila Ceccarelli created a one and a quarter hour workshop in three parts: Mark making, Collage and Line Drawing, working with every class from Reception to Year Two. They used houses from all weather zones and a mixture of urban and rural buildings from every continentRead More
Felix Liebig – Sketchbook of an Architect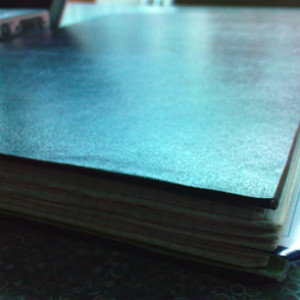 "This is my sketchbook. It was a random notebook before. Hence it disguises himself and its abilities a bit now...There is a lot in it! you see it almost bursts. Soon it will become grown up. And when you open it you open up a world!"Read More
Inspired by Christo: Mixed Media Drawings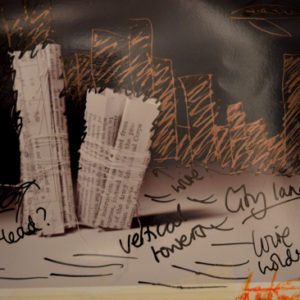 Each creative outcome can always generate more options just by changing media, scale, technique etc. and in this project, we had started out with 2D sheets of paper from which we created 3D models. We photographed the models and then the images were altered to black and white and developed further using drawing and collageRead More
Jo Allen and Rachael Causer at Ridgefield Primary School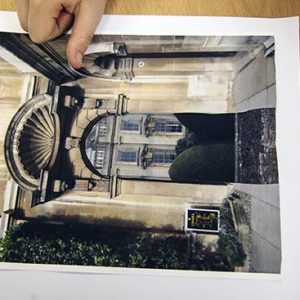 The artists were inspired by Claire Louise Mather's resource Responding to Place (see above), and drew upon elements of it as starting point for their own workshop. The project travelled in a slightly different direction as students used the idea of architecture, its physicality and the way we inhabit buildings to create imaginary buildings from photographs of Cambridge.Read More
From Drawing to Collage to Casting – Mural Design with Primary Schools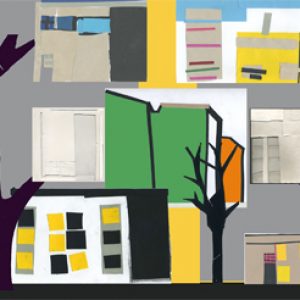 This resource describes the processes involved in designing a site specific artwork for the public realm, working with pupils from a local primary school. The commission, for Cardiff City Council, was to design and implement a painting and sculptural relief for a pedestrian subway in Llanederyn, Cardiff. In the first session artist, Louise Shenstone introduced the project, themes and styles. Pupils were shown examples of 1960s graphics, took photographs of the local area and thought about ideas that related to their neighbourhood.Read More
Nest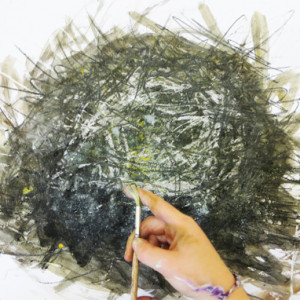 Following on from the last session when we began our exploration of concave shapes by making continuous line drawings of our hands, this week in my art class for children aged 7, 8 and 9 we explored nests. I wanted to give the children the opportunity to both draw and make, and so the hour-long session was split into three different activities. Children worked with hard and soft pencils, graphite, wax resist, watercolour, clay and sticks.Read More
The Drawing Machine – A Workshop in Perspective and How to Look by Drawing Machine and Sarah Wright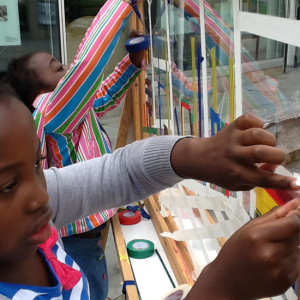 Sarah Wright from the Drawing Machine shares a wonderful and engaging technique for introducing children, teenagers and adults to perspective.The Drawing Machine's aims are, to promote drawing and looking skills and to engage people from across all disciplines, in the skill of looking and drawing. Drawing is often considered difficult and complicated, and many people are not confident with their ability to draw, it's important to know how to look and what you are looking at, before drawing.Read More
Street Drawing: Exploring Vanishing Points with Masking Tape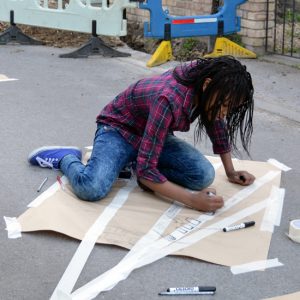 Building up on ideas contributed by Paula Briggs and Sarah Wright (The Drawing Machine) about how to approach teaching perspective, I led an experimental session giving teenagers the opportunity to immerse themselves into a street view and explore drawing with a vanishing point. Following on from Sarah's ideas of using masking tape to construct lines of perspective within a giant view finder, I had the idea that students could use masking tape to intuitively construct the street on paper.Read More
Sculpture
Be an Architect! An Introduction to Architecture for Children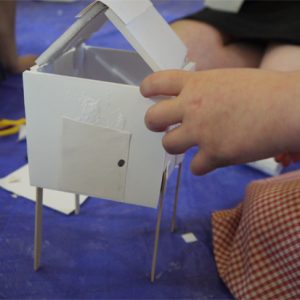 If you're looking for a sculptural project which will give children an introduction to architecture, and the opportunity to explore space and structure and interior and exterior, then you'll like this idea. The key to these sessions is to keep the materials and techniques simple and effective – for example make sure the materials are easy to cut and easy to join together – so that the making inspires, not blocks, the imagination of the children. Read More
Sculptures with Personality, Inspired by Anglo Saxon Houses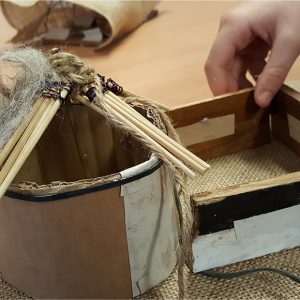 This resource shares a 3 hour session with Year 6 children from Barton Church of England Primary School. Rather than recreate a model of an Anglo Saxon village, we decided to invite the children to "make sculptures inspired by" an Anglo Saxon Village. Making "sculptures" rather than "models" enabled the children to grow their ideas in individual directions, using the architecture of Anglo Saxon houses as a starting point, from which they could diverge. The emphasis was on how each child could feel enabled to make their own artwork, expressing their own personality. Read More
Shrinkle Spaces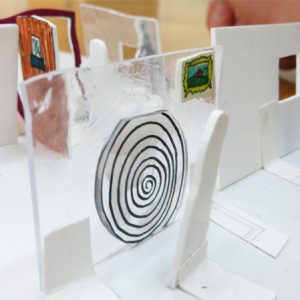 In the AccessArt art club for ages 7, 8 and 9, we had fun this week using Shrinkles. For those that haven't used them before, Shrinkles are sheets of plastic which can be drawn and coloured, and which when baked in an oven for just a few seconds, shrink down to 1/7 of their former size. Children love using them – the end results are captivating as the mark making too, shrinks down.Read More
My House – A Cardboard Construction Project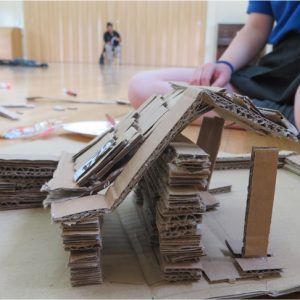 There is something special about transforming an ordinary, everyday material into an extraordinary object. These autobiographical architectural sculptures use corrugated cardboard, laid in strips on their side, to create sculptures designed to be peered in to! I asked the children to begin work by creating a plan of the front of their house, as if seeing the house from above. Read More
Constructed Space by Anne Harild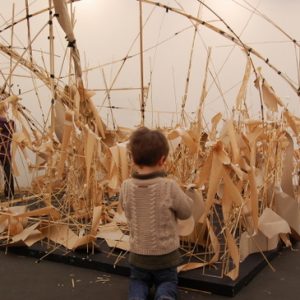 In this stunning post Anne Harild shows how she integrates sculptural construction, time, photography and animation in a one day workshop at The Frieze Art Fair in 2008 organised by ReachOutRCA. The session was aimed at 5-12 year olds. During the course of a day they created a large-scale site-specific structure that they documented through stop-frame animation.Read More
Make a Model Stitched House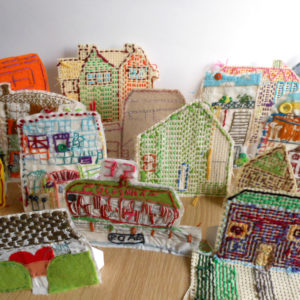 This resource was developed to to celebrate the character and diversity of the many beautiful stitched houses we received as part of an AccessArt participatory project called the AccessArt Village. It's a simple way to build a collection of architectural models and allows for lots of different configurations and layouts. The first step is to create a sewn image of your favourite building using any textile method that you like or by combining methods like printing, painting or fabric crayons and then adding stitch or using free stitching and fabric scraps to create a textured drawing. Read More
Art for the Square with Susie Olczak for Futurecity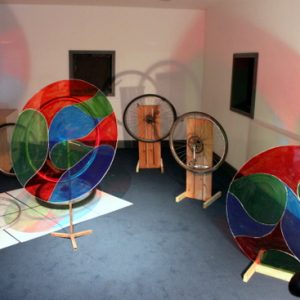 Artist, Susie Olczak worked with students at Hills Road, Sixth Form College, Cambridge, to explore the relationship between art, architecture and public space in a series of workshops. " As an artist I often respond to architecture and space in site specific ways – I am particularly interested in taking art out of the gallery and into public space. This project offered Art and Architecture AS students the opportunity to explore space and the 'intersection' between Art & Architecture".Read More
Ink & Foamboard Architecture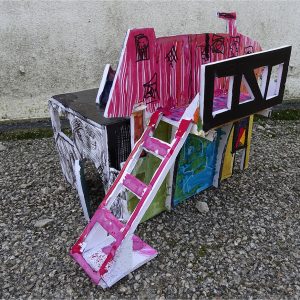 Following on from the sessions in which children aged 10, 11 & 12 made drawings and collagraphs inspired by "Amphis" by Folke Köbberling and Martin Kaltwasser at Wysing Arts Centre (see below), this post shares how the children went on to make architectural models based upon their exploration.Read More
Glow in the Dark Architectural Models – Where Art, Science and D&T Meet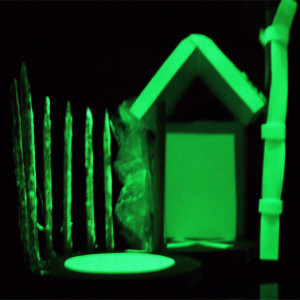 This is one of a number of projects devised by AccessArt to help encourage teachers in primary schools to explore the creative potential of innovative materials in an art context. In a project using a mix of traditional and smart materials to construct architectural models, the children designed imagined, habitable spaces that glowed in the dark!Read More
Tomorrow, Today by Karen Guthrie and Nina Pope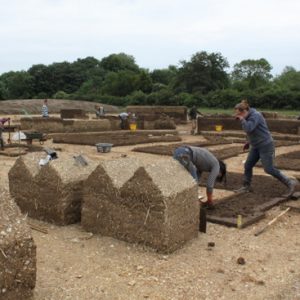 Acclaimed artist duo Karen Guthrie and Nina Pope share how they achieved one of the most physical and ambitious contemporary art projects seen in Cambridge, in the creation of a model village of the future NW Cambridge development.Read More
Making a "To Scale" Gallery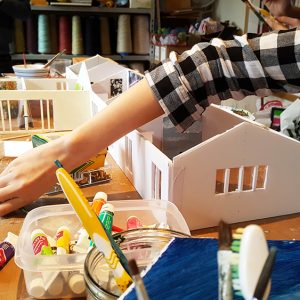 This resource by Paula Briggs shares the process by which 6 twelve year old children created a shared architectural model. The model was based upon an existing house, which was measured and scaled down. Students worked in foamboardRead More
Perseverance, Determination and Inventiveness: Building Nests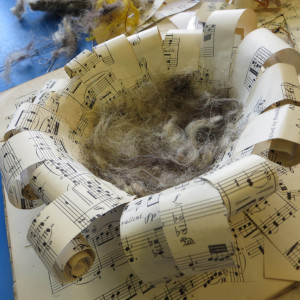 Year 4 pupils from Comberton Village College and Cambourne Village College feeder schools met for a Gifted and Talented Sculpture Masterclass led by AccessArt at Bourn Primary Academy. The session centred around an exploration of the materials and construction methods we might use to build inventive, sculptural nests. We began with a discussion about what makes a nest and how a nest might be made. Read More
A Model Studio by Susie Olczak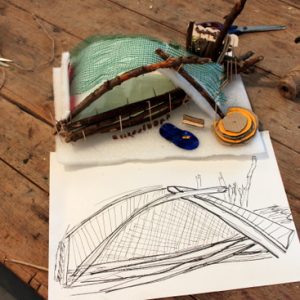 The aim of these two sessions was to offer teenagers exposure to skills that would be useful in a real life creative working environment. The tasks mimicked a professional working studio. I introduced the session by showing examples of existing architecture and pavilions such as those created for the Serpentine Gallery in Hyde park each summer for inspiration. I kept the introduction as brief as possible in order to keep the pace fast and exciting and so the students had freedom to explore without me dictating what they should do.Read More
Printmaking
Collagraph, Collage and Stitch: Make a Image of Your Home on Fabric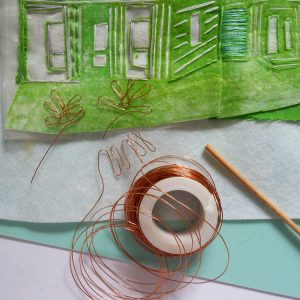 This resource was inspired by an AccessArt participatory project The AccessArt Village and could easily be adapted for a general architectural project. The process combines a collagraph print, fabric and stitch to create a 2D image which could then be used to make a sculptural model house.Read More
Collagraphs Inspired by Architecture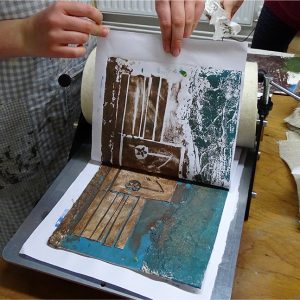 Inspired by the amazing construction "Amphis" by Folke Köbberling and Martin Kaltwasser at Wysing Arts Centre, children aged 10, 11 and 12 spent four weeks drawing, printmaking and constructing a creative response (See Ink & Foamboard Architecture above). This resource shares how students made collagraphs inspired by drawings made of Amphis. This creative process could be applied to any architecture in any context. Read More
The AccessArt Village and How a Small Idea can be Big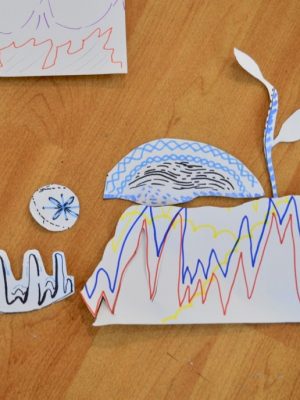 This AccessArt workshop was led by Sheila Ceccarelli for year nine students at Frances Bardsley Academy in Romford. The students made drawings from the AccessArt Village exhibition, translating stitches into lines and marks, developing patterns then selecting parts of their drawing to contribute towards and construct a group narrative within the gallery space. This activity could be adapted for all ages. Read More
UK Charity AccessArt welcomes artists, educators, teachers and parents both in the UK and overseas.
We believe everyone has the right to be creative and by working together and sharing ideas we can enable everyone to reach their creative potential.
Join AccessArt from only £3.50 per month and enjoy full access to hundreds more resources!