Introduction
This post tells the story of Inspire an exhibition at the Fitzwilliam Museum, Cambridge from the 10th December 2019 until the 22nd March 2020, as told by Kate Noble, Holly Morrison, Sarah Villis and the Education Team at the Museum.

Gallery 10, or the Octagon Gallery, is a beautiful gallery at the heart of the museum and will be the temporary home of Cupid and Psyche, the Rennaisance panel by Jacopo Del Sellaio, on display with the children's art that it has inspired.
Inspire has been carefully curated by the Fitzwilliam Museum Education Team, with the support of AccessArt to tell the story of this year-long project Inspire 2020 and the journeys that individual children, teachers, schools and stakeholders have taken and celebrates the beautiful outcomes.
---
By Kate Noble, Holly Morrison, Sarah Villis and the Education Team at the Museum and notes by Sheila Ceccarelli
Inspire is an exhibition of children's art inspired by Jacopo del Sellaio's Cupid and Psyche.

'Going to the Fitzwilliam really inspired me that art isn't just a thing: it's emotion-it shows how the painter feels, and that museums are magical places. It gives people the chance to experience history and to make memories.'  Matilda, aged 9, Cheveley C of E Primary School 
Children and teachers across Cambridgeshire have been inspired by the painting of Cupid and Psyche. Inspire builds on the Fitzwilliam Museum's long-established schools programme which encourages students and teachers to look deeply and thoughtfully at objects and images, and to respond imaginatively through thinking, talking, and making together. Hundreds of children have visited the museum to look at the painting, and thousands more have studied it at school using digital learning resources.   
Developed in partnership with AccessArt, this exhibition celebrates young people's creativity at a time when there are widespread concerns over the decline of arts subjects in schools. It builds on the National Gallery's Take One Picture project, which takes one painting as a source of inspiration for a range of cross-curricular activities.    
The Story of Cupid and Psyche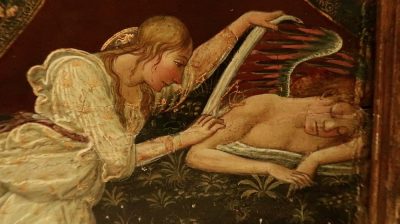 Inspire: Behind the Scenes at the Fitzwilliam Museum, Cambridge
With special thanks to all the schools who created work for the exhibtion
Arbury Primary School, Bottisham Primary School, Cheveley C of E Primary School, Great and Little Shelford C of E Primary School, Great Giddings C of E Primary School, Harston and Newton Community Primary School, Haslingfield Endowed Primary School, Hauxton Primary School, Heritage School, Histon and Impington Junior School, Houghton Primary School, Kings Hedges Primary School, Linton Heights Junior School, Mayfield Primary School, Milton Road Primary School, Morley Memorial Primary School, Peckover Primary School, Robert Arkenstall Primary School, Samuel Pepys School, St Laurence's Catholic Primary School, St Peters, Stamford School, Stapleford Community Primary School, Thorndown Primary School, Thriplow C of E Primary School, Cambridge University Primary School, The Vine Interchurch Primary School, Wheatfields Primary School, Wilburton C of E Primary School, William Westley C of E Primary School, Willingham Primary School 
Add to favorites