Back to all you need to know about The Brilliant Makers Club.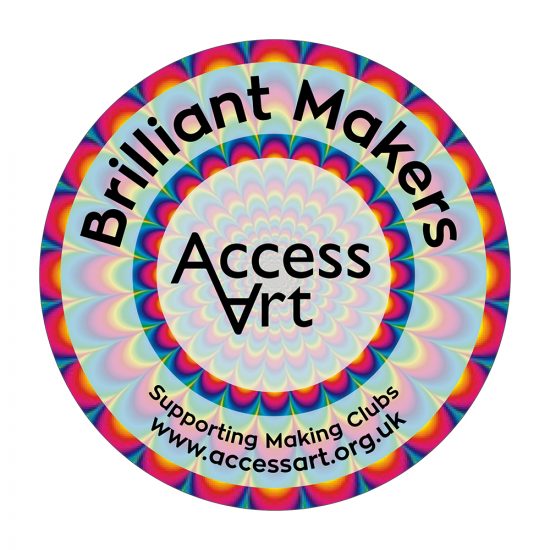 Do you believe in the power of making?
AccessArt does!
We believe that making and developing the ability to work, and think with one's hands, is a crucial skill and should be nurtured from cradle to grave.
If you are a teacher, artist educator or head teacher – please take the Brilliant Makers' pledge and say:
'I believe in the power of making!'*
*By using the Brilliant Makers Digital Badge, you are making a pledge that you:
*
believe in making,
*agree that learning to use tools is a vital part of a child's education,
*believe in thinking through doing and learning through exploring materials.
By filling out the form below, you are showing your support of the Brilliant Makers campaign, and agree to receiving emails from AccessArt about our aims, initiatives and projects.
Many thanks to these individuals who have made a pledge to Brilliant Makers
Paula Briggs, AccessArt
Sheila Ceccarelli, AccessArt
Rachel Thompson, AccessArt
Noa Hillman, Primary School Pupil
Jessa Leff, Arts and Minds
David Hillman, Cambridge University, Lecturer
Ingo Drewry, Lower Sixth  Student 
Francesca Centioni-Dene, Founder of Little Artists london
Lucy Wallis, Head of Art at Gable Hall
Sarah Jerrard-Dinn, Head of Learning at Coventry Biennial of Contemporary Art
Shirley McGregor, Pop Up Art Room Blairgowrie
Sasha Morris-Bhatia, Artist Educator, Heyday Artist Workshops for Children, Shrewsbury Museum
Evelyn Planitzer
Ian Dury, Art Specialist Teacher at Stebon Primary
S. Willson, Art Teacher, American School of Brasilia, Brazil
Roberta Mathieson, Freelance Creative Educator 
Victoria Smith, Artist and Maker
Ann Mari Mallinson
Mary Frank, Art Teacher, Northern Lehigh Sd
Amanda Robinson,  Art Coordinator,  Archbishop Sumner Primary School
Vanessa Byron, Class teacher and Art and Design coordinator, St Martin's C of E Primary School
Patricia Furniss, Art tutor, Ellershaw house
Nevena Videnova, Art teacher, AEA
Lyn Hardy, Art Club Leader,  Northaw School
Rosie James, Dent Primary School
Suzanne Knight, Cotford St Luke Community Primary School
Jackie Grieve, Herbert Morrison Primary School
Philip Vessey, Head of Art, Bute House Preparatory school for Girls
Chister Sundström, Teacher, Södertörns University
Penny Badger, Head of Art,  Farmors School
Emily Ingrey-Counter, Art Specialist
Emily Finn, Head of Art, Sandroyd School
Jeanette Calderbank, Teacher
Sophie Coleman, Artist and Teacher
Caroline Hill, Founder- Making SENse Creative Services Ltd.
Barbara Darlingyon, Head of Art, CHS Sussex
Eve Wilson, Arts Specialist
Sonia Byrne, Senior Teacher, Sywell CEVA Primary School
Pauline Halabi, Senior Teaching Assistant, Garfield Primary
Rachel Scanlon, Freelance Artist Educator
Carly Stevens, Arty Party Manager
Amanda Thesiger, Artist and Educator
Sara Villette, Artist and Educator
Susannah Moore, Head of Art
Emma Beardmore, Assistant Head Teacher
Emily Lane, Arts Coordinator
Janet Olele, Student
Angela Thorp, Creative Intervention Facilitator
Kirsty Prescott, Made in Sutton Workshops
Kim Williams, Arts Educator Jarvis Art Club
Rachel Labovitch, Artist
Lynda Howells,Art Teacher/Therapist
Anna Campbell, Arts educator
Emma Tomlin, Arts educator
Sarah Leavesley, Arts Leader- Eaves Primary School
Katy Duncan, Assistant Head
Louise Stratford, Art Teacher
Kerry Nysa, Artist Creator
Carole Reymond, Creative Arts Teacher
Julie Norburn, Director
Ursula Hurst, Community Artist
Rebecca Bridges, Headteacher
Caroline McLaughlin
Alison Curry, Creative Facilitator
Kate Munro, Art and Music Teacher
Morag McGuire, Director
Andia Markou, Teacher
Alikim Pickard, Arts Facilitator
Donna Brewins-Cook, Artist
Liz Sergeant, Arts Educator
Olivia Brown, Artist
Nicola Kelleher, Creative Facilitator
Kate Munro, Artist-Educator
Beccy Boyden, Art and DT teacher
Cathy Kluthe, Visual Arts Instructor