National Curriculum Sculpture
This page contains resources and advice relating to developing National Curriculum sculpture in primary schools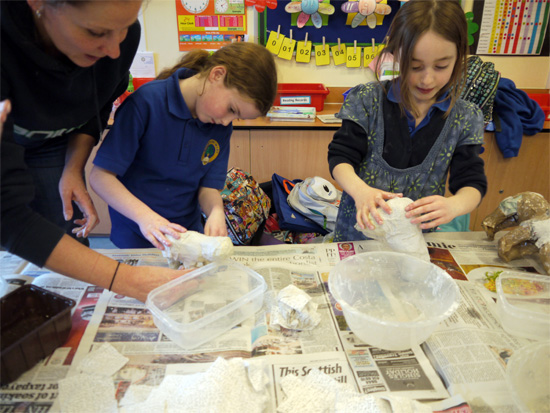 AccessArt advocates:
Sculpture = Making. NOT designing on paper first! Many schools teach children to work on paper to "design" a building, a textile, a model etc, without children having any kind of understanding of the properties and abilities of the materials they might use, or experience of manipulating these materials. Instead we advocate Design through Making - a simple process much more akin to the way creative adults work, in which children work with materials and techniques from the outset to make sculpture.
That sculpture is about more than clay! Sculpture is made out of every material imaginable. Sculpture can be made through an additive process (construction) or a through taking away (carving). Sculpture can be conceptual (about ideas). making sculpture is about working with materials and processes, in space, to communicate intention.
Use Sketchbooks as a Creative Tool. The sketchbooks should be owned by the pupils, and should be at the centre of the pupils' creativity. Sketchbooks can be used to gather, collect, experiment and reflect. Teachers should not be afraid if sketchbooks seem chaotic - adult sketchbooks are often chaotic - they are a place to put unresolved ideas into the world, which can be assimiliated later. Sketchbooks are rarely linear. Explore all our sketchbook resources here.
Schools should work to provide access to adequate tools and materials. In our experience many pupils would benefit from time invested in practising using tools, including scissors, glue guns, pliers, saws, hammers etc and alongside these tools have access to a wide variety of sculptural materials (wire, cardboard, paper, modroc, clay, fabric, found objects etc). See also Using Tools resources.
That schools make full use of local and national museums and arts organisations to discover historical and contemporary sculptors. Less reliance should be made on old favourites and pupils should be encouraged to explore the work of contemporary (and female!) sculptors in addition to old favourites.
Back to Curriculum Planning for Art
The resources below are accessible to AccessArt members. Please consider joining AccessArt (£42 for a single user, £96 for a multiuser membership. AccessArt is a UK Charity and all membership fees are used to develop further resources.
AccessArt Resources to Support Sculpture
AccessArt is an evolving collection of resources and further resources are being added over time. Please register with AccessArt to receive updates.
Introduction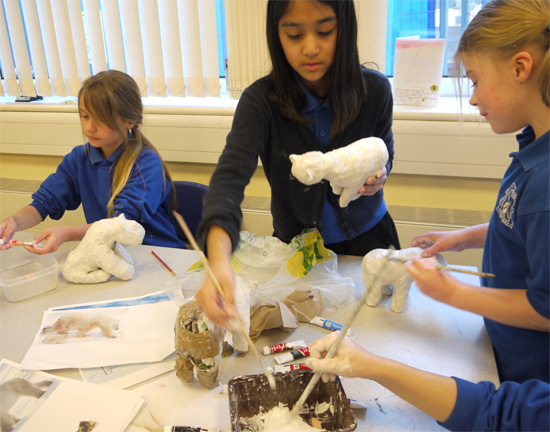 Flash-based module designed to introduce young children to what sculpture might be.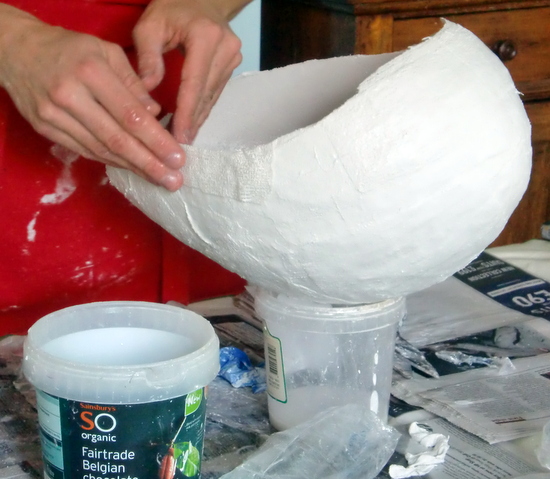 Clear information relating to setting up a classroom and to using modroc safely.
Projects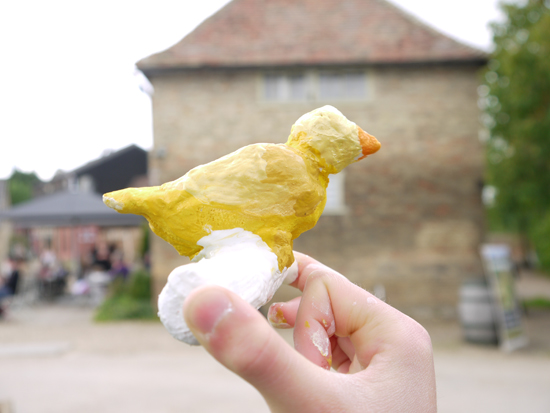 Making armatures to cover in modroc to make modroc sculptures.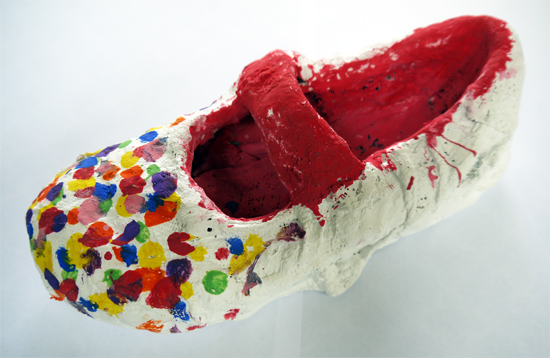 Building a sculptural shoe around old shoes, using modroc and paint.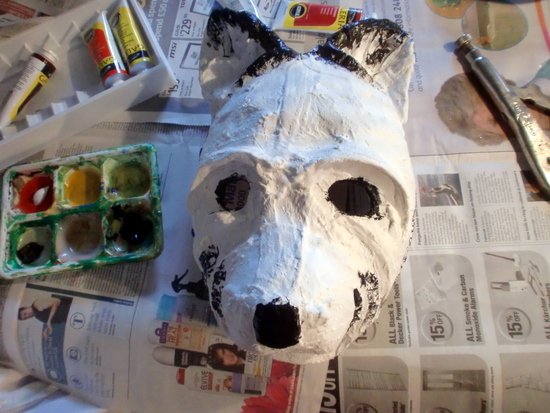 Making a sculptural mask using modroc. Can be adapted for creating costumes for plays or performances, or historical events.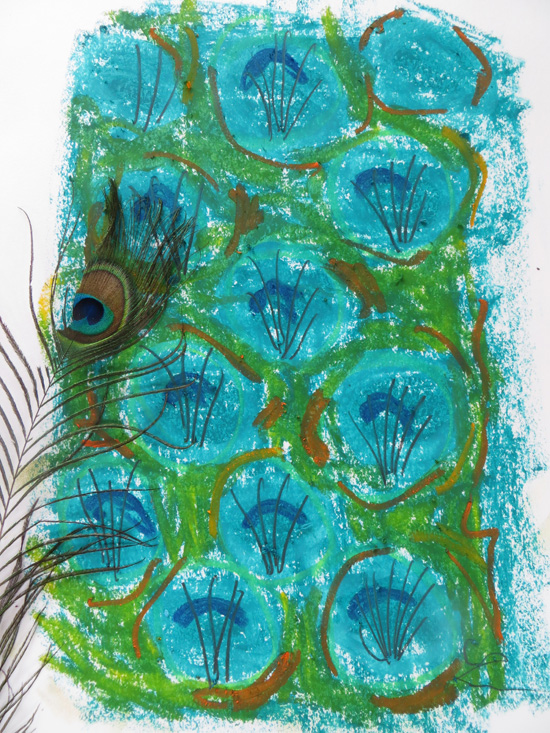 Combines drawing and making. Children build vessles from modroc by casting against small balloons, and then make patterned paper to cover the sculptures.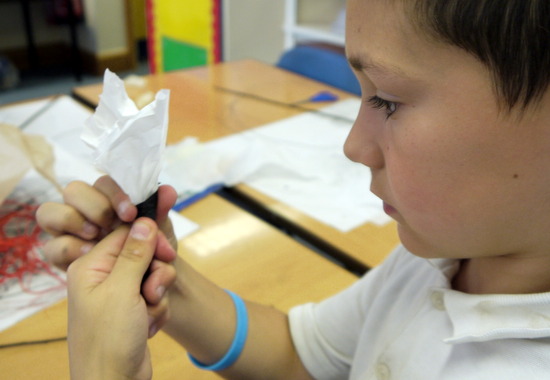 Combines drawing and making. Children gather information about flower forms through drawing and then explore manipulating paper into three dimensional forms. Use to create a whole school 'garden".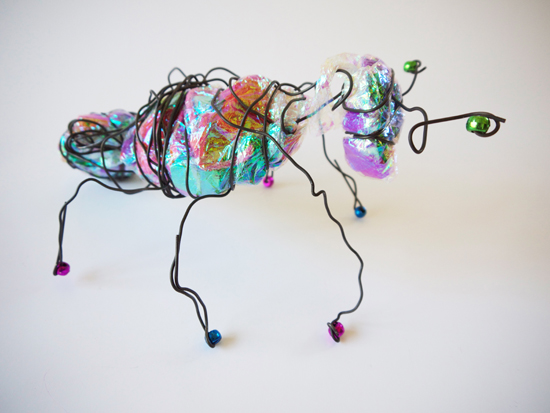 Using wire and mixed media (fabric, beads etc) to create minibeasts and bugs! Excellent session for enabling children to manipulate materials and explore how sculpture stands.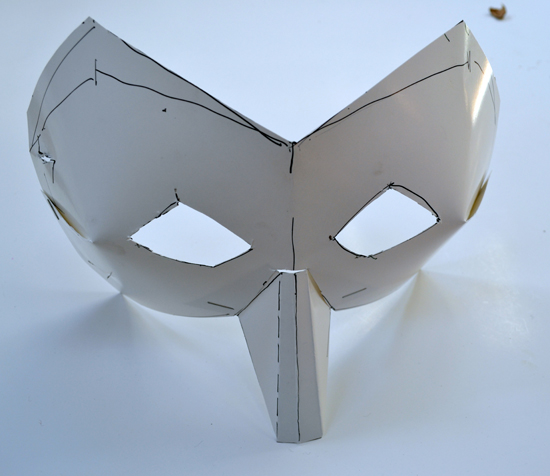 Making a carnival mask from card and decorating it with a variety of materials.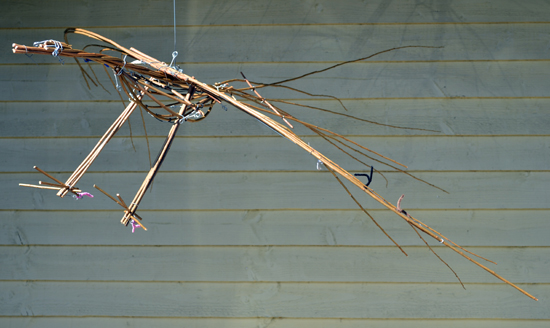 Using withies (willow sticks) as a construction material to make hanging sculptures. Excellent for exploring manipulation of materials and working with balance.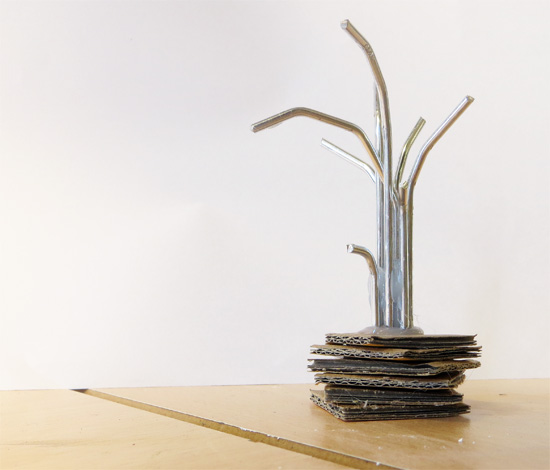 What do "sculptural thoughts" look like? Giving children the freedom to explore materials in their own time and space results in real, sculptural thinking.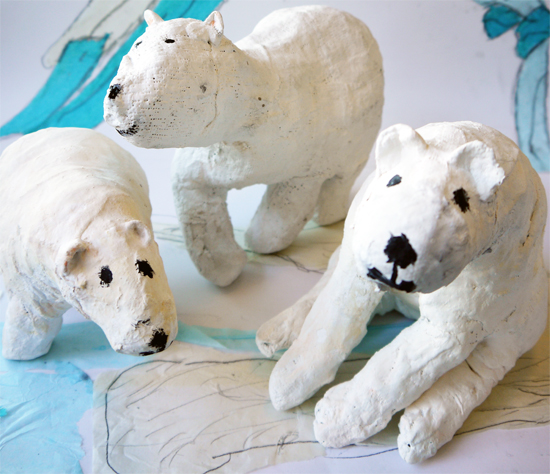 Drawing first, sculpture second. Making polar bears from newspaper, plastic and modroc.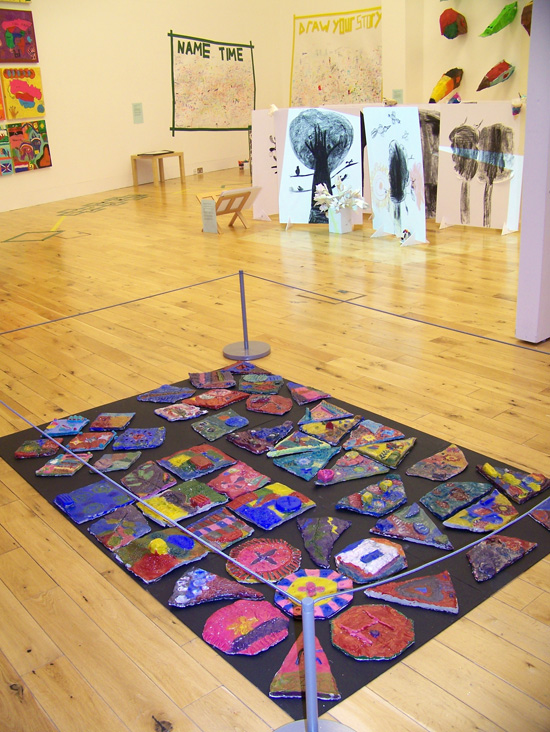 Using clay to explore pattern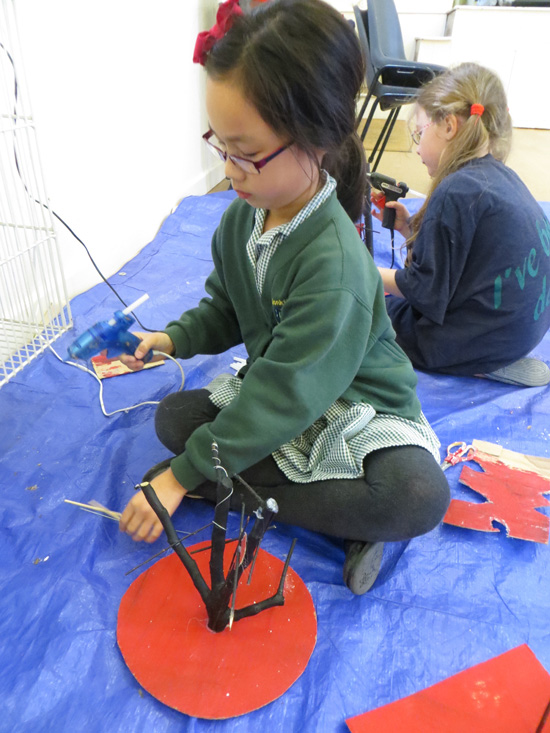 Using card, sticks and wire to make geomteric sculptures which are intentionally thrown off-balance to make them more interesting. Encourages risk-taking!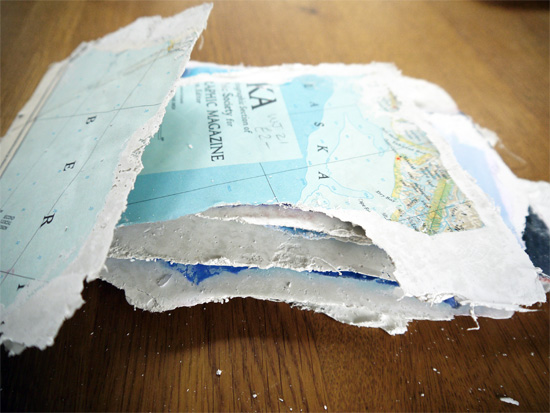 Using modroc and paper to make a material with which you can then construct. Great for exploring materials and thinking in three-dimensions.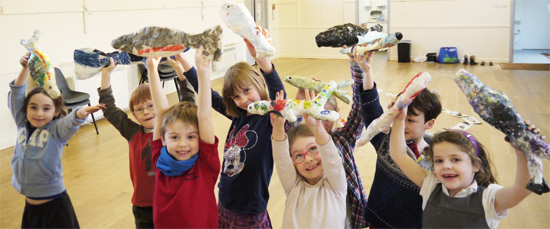 Making an armature from plastic bags and tape, and using modroc and collage to make fish sculptures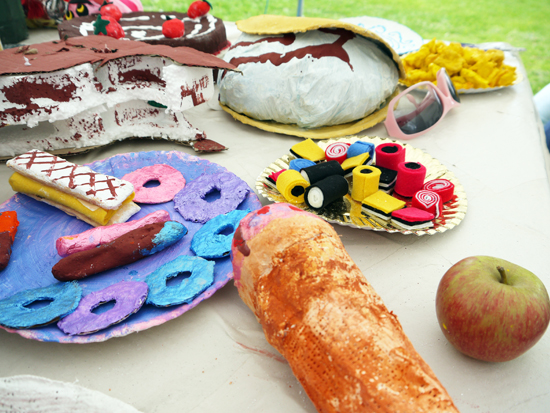 Great project for creating a communal sculpture to celebrate an event. Uses modroc, fabric, card and other found materials to make a sculptural feast.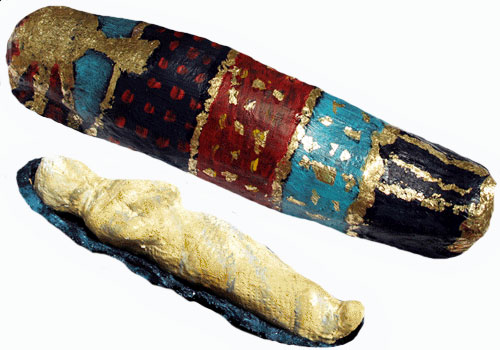 Make a clay "mummy" and take a modroc "cast" to create the sarcophagus. Helps children understand notions of positive/negative, cast/mould. Opportunities for decorative work.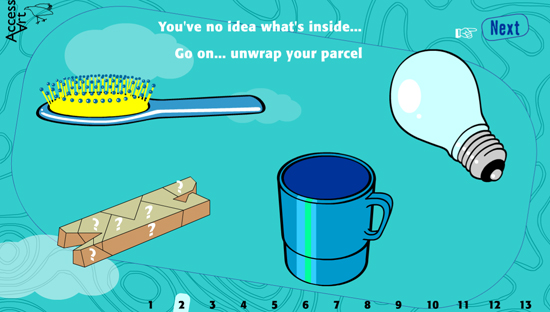 Flash-based module which introduces children to the idea of the Sculpture Chain, in which everyday objects are transfromed into sculpture. Introduces basic sculpture notions about form, transformation of materials, intention etc. excellent social project.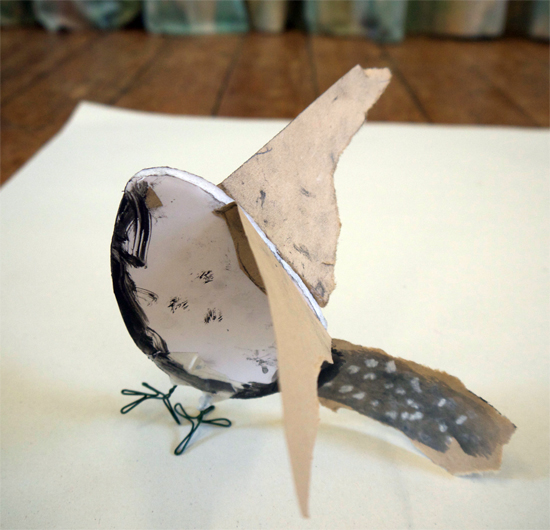 Combines drawing and making. Children explore mark-making to create feather-inspired paper, and then use this, and foamboard and wire, to make a bird.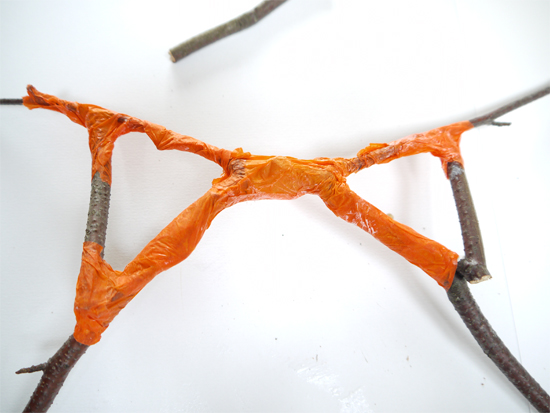 Using found sticks to make an armature, and tissue paper to join and decorate. This session helps children appropriate found materials and helps them "look" for shapes and forms to make their sculpture.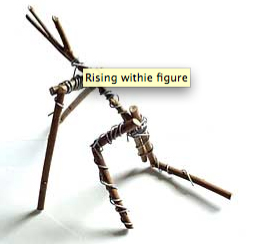 Introducing withies (willow sticks) – an excellent material with whcih to make sculpture.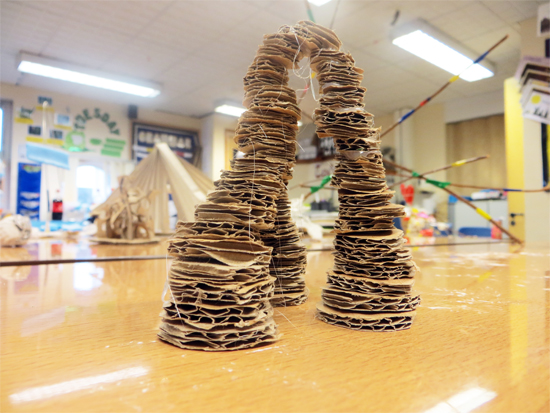 What can you make using only cardboard? Working on a small, manageable scale, corrudgated cardboard is a greta material to enable a sculptural exploration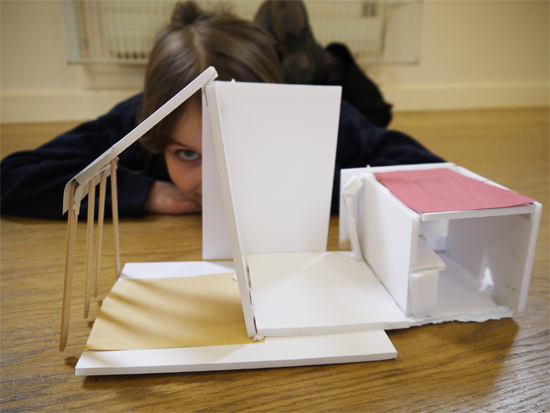 Sculptural houses made from a variety of construction materials.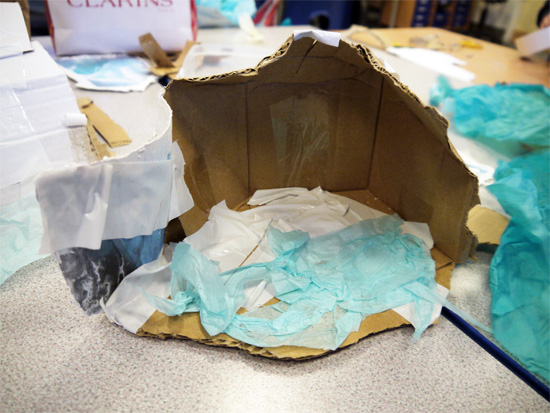 Making icebergs for the polar bears – turning sculpture into installation art. Excellent construction project.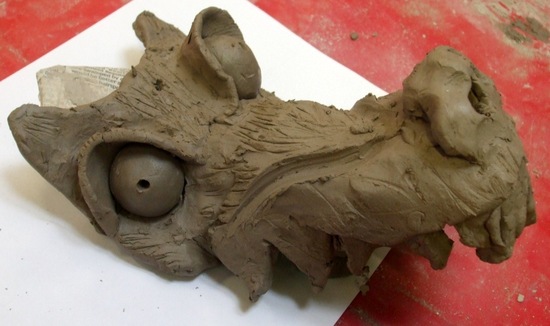 Building with clay to create mythical beasts.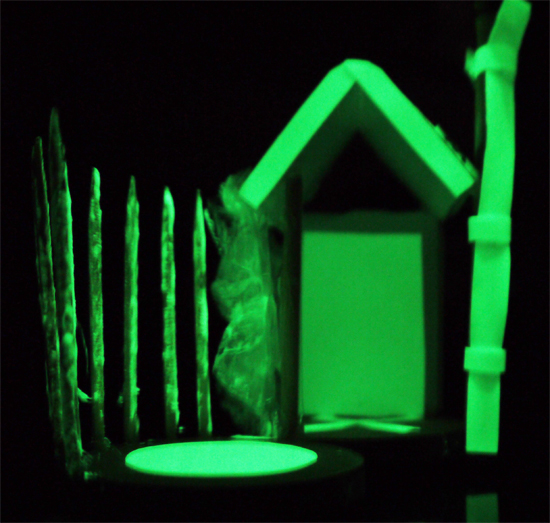 Making construction based sculptures using smart materials which glow in the dark! Sculptures with two very different states!