This resource encourages you to focus on how to make your sketchbook your own. This goes far beyond "personalising" a sketchbook – instead this about acknowledging that once you feel like your sketchbook is yours to do whatever you wish in it, then you are well on your way to using a sketchbook to its full potential.
It's all about getting to like your sketchbook – falling in love even with your sketchbook – and most of all, feeling like your sketchbook is part of you. It's also about permission – about you giving yourself permission to own the book – to tell yourself it's you, it's yours, it's for you…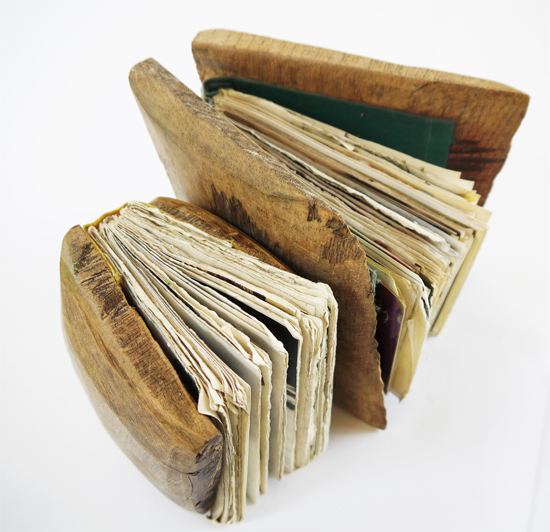 Through experience, AccessArt has learnt there are two very easy and effective ways to help you fall in love with your book – and to help you to start to think and act creatively right from the start of your sketchbook journey. These involve making books, or re-appropriating or extending bought books. This isn't because we want to teach book art, though we realise this is very popular, but rather because when you make a book, or re-appropriate a book, two things happen:
The book instantly goes beyond "anonymous". It no longer relies on content to make it feel personal – it becomes "owned" the moment you start to make – you make personal choices, and you think creatively from the outset, and also, just as importantly:
Changing the shape of a book, or adding paper which isn't just white every time: CAN CHANGE THE SHAPE OF YOUR THOUGHTS. Being presented with various "opportunities" to express yourself, stimulated not just by the world but also by the sketchbook, can be an incredibly powerful and accessible tool to help you think more laterally and creatively.
Whilst some people relish a new sketchbook as a fresh start, many people can experience paralysis at the site of a fresh, new sketchbook with clean white pages – how can you possibly live up to expectations? And instead of feeling free to express yourself in any way you wish in this the most exciting, personal and potentially rich space for exploration – you end up feel stuck, inhibited, lacking confidence to expand and develop your skills. The two methods described below will help you overcome these hurdles, and even if you are one of those lucky people for whom a new sketchbook brings great excitement – then we're sure that you too will enjoy starting work on one of these activities.
Method 1 – Making an Elastic Band Sketchbook.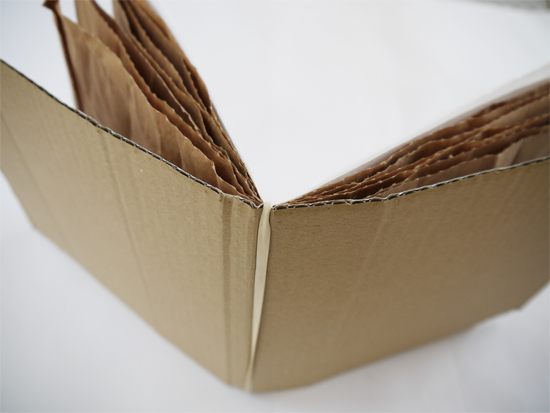 Elastic band sketchbooks are a really great way to make books which have plenty of personality and character!
Start off by collecting paper of all kinds – recycled paper, white paper, graph paper, brown paper… the more varied the better. You'll also need corrugated cardboard for the cover, and an elastic band to fasten it all together.
Whatever size sketchbook you want to make, cut a piece of corrugated cardboard which is twice as wide as the finished book. Bend it in the middle to form a spine.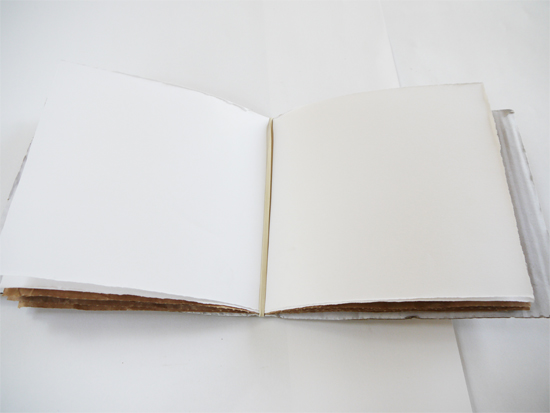 Next cut or tear a series of pages, again twice the width of the finished book. Fold these in half too, and then simply use the elastic bands to fasten it all together. the great thing about these books is that they are completely flexible – you can take them apart, take pages out, and add more pages, and really personalise them.
Children and teenagers especially love them. The cardboard provides a versatile cover which can easily decorated to personalise them further.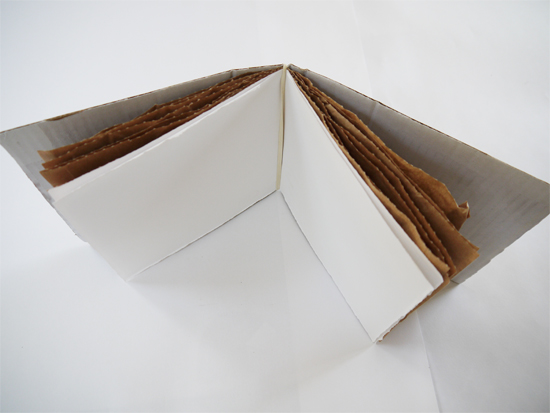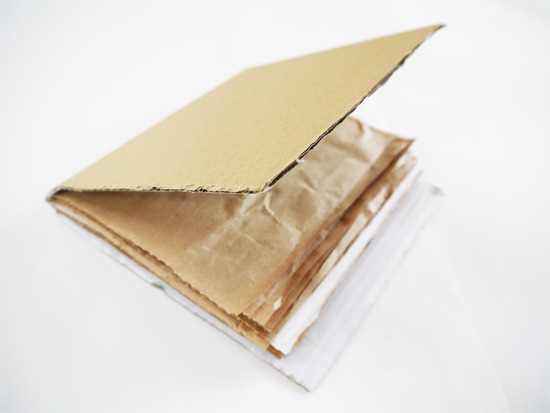 Method 2 – Expanding a Bought Sketchbook.
The idea behind this project is to change and expand an existing sketchbook. We've taken a black, anonymous, inexpensive sketchbook, but you can start with any book that you instinctively like the look or feel of. Now the idea here is to change the structure of the sketchbook, it's not about content creation yet. This is about creating places and spaces within a sketchbook, and changing the shape and structure of the pages. When you start working in your sketchbook, coming across these altered pages can really help you change your thoughts and develop your sketchbook practice.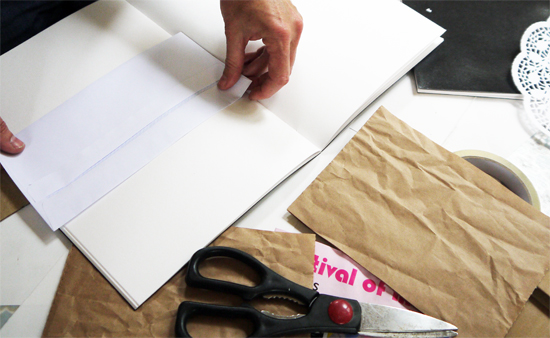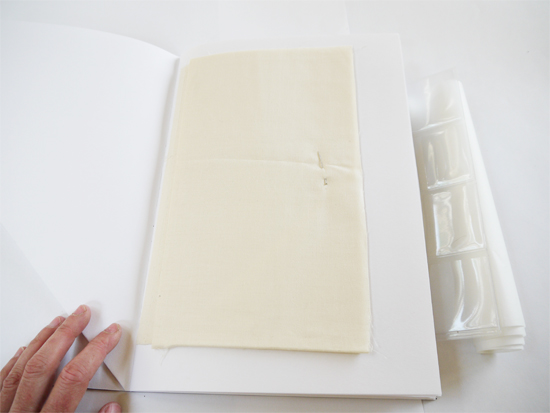 So you might want to bend pages to create pockets, you might want to add bags to create collecting areas, or add fabric so that again you can change the nature of the work you do in the sketchbook. The idea is that serendipity plays a great force, so that you start off with a blank sketchbook, you add whatever you can find or whatever you are attracted to, to change the shape of the places and spaces within the sketchbook, and then as you are working in the sketchbook, coming upon these interesting pages and spaces can really help change the nature of your work.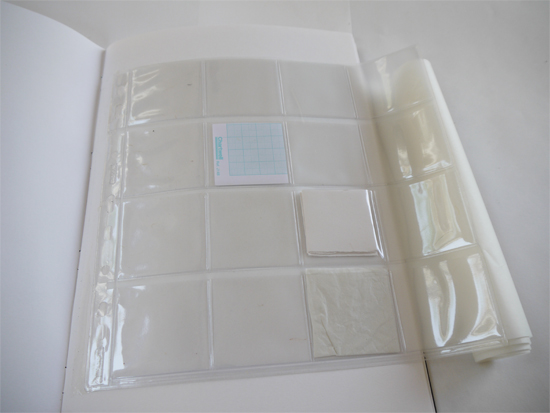 The are so many different activities which can take place in a sketchbook, and I think this kind of sketchbook reminds us and enables us to make full use of all the different activities.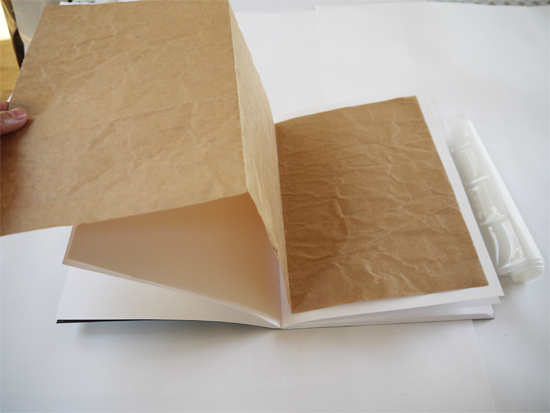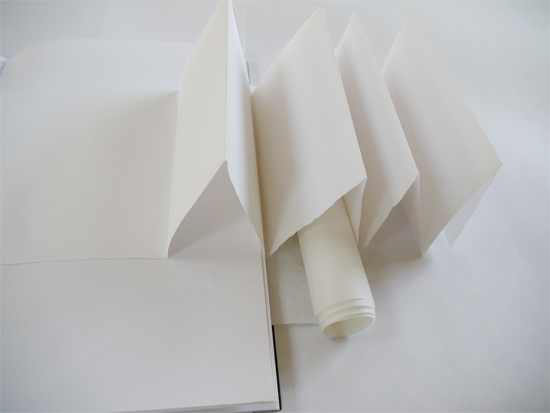 So for example you come across a page with an envelope and it prompts you to start collecting. You might create spaces which contain mini sketchbooks for little theme projects. The idea is to be as creative and think as laterally as you can and so that when you are working in your sketchbook, you are not only inspired by the world around you, and you are not only inspired by what's in your head, but you are also inspired by the sketchbook itself.
So have fun when you are doing this, and think as laterally as you can, and also remember that when you are creating content in your sketchbook, you are still free to keep changing the shape and the structure and the nature of the pages. That's part of the fun of working in a sketchbook. So is isn't a one off process, it is a starting point, and hopefully you'll keep coming back to it as you continue to work in your sketchbook .
So most of all have fun, and think as creatively as you can, think like a child!
Add to favorites