Many thanks to Nottinghamshire County Council's Inspire, Culture, Learning and Libraries for facilitating the AccessArt Village in Nottinghamshire.

Their dynamic Inspire Arts Service shared the original call for participation in AccessArt Village across libraries and schools in Nottinghamshire.
This grew to be one of AccessArt's most exciting collaborations and resulted in stitched work donated from across the county and across generations.
Many thanks to embroiderers from Burton Joyce, Carlton, Hucknall, Kimberley, Kirkby-in-Ashfield, Southwell and Worksop Libraries, who joined in – and all 56 pupils form year 4 at Berry Hill Primary School in Mansfield who "thoroughly enjoyed using fabric and stitches to explore their settlements topic".
A special thank you to everyone in the county who participated; for their generous contributions and sharing in the building of the AccessArt Village.
AccessArt is absolutely delighted that Mansfield Central Library are hosting this very special, collaboration, on its tour around the country. Many thanks to the Inspire Arts team for making it happen, and a special thank you to Sarah Baker who coordinated the project.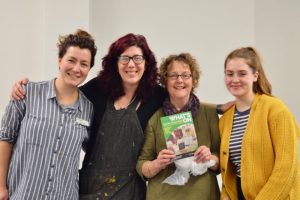 The AccessArt Village will be in the library for the build up to the festive season from –
Please find out more about visiting the The AccessArt Village Mansfield Central Library, or see our other venues here.
The pictures below show the exhibition being set up to the finished display – complete with a festive touch!
[ngg_images source="galleries" container_ids="20″ sortorder="1047,1051,1045,1044,1046,1041,1043,1042,1035,1036,1040,1039,1038,1028,1029,1030,1031,1032,1033,1034,1037,1049,1048,1050″ display_type="photocrati-nextgen_basic_thumbnails" override_thumbnail_settings="0″ thumbnail_width="100″ thumbnail_height="75″ thumbnail_crop="1″ images_per_page="100″ number_of_columns="5″ ajax_pagination="1″ show_all_in_lightbox="0″ use_imagebrowser_effect="0″ show_slideshow_link="0″ slideshow_link_text="[Show as slideshow]" slug="The-AccessArt-Village-On-Tour:-Mansfield-Central-Library" order_by="sortorder" order_direction="ASC" returns="included" maximum_entity_count="500″]
AccessArt is a UK charity (1105049) and our aim is to inspire, enable and support visual arts education in the whole community.
We have thousands of subscribers from the UK and overseas, making for a dynamic and diverse creative community. We receive no core or revenue funding, instead we rely on membership income to help us create new resources for the benefit of all our members. We keep membership fees as low as possible.
Add to favorites