This week we're going to introduce you to two drawing exercises to get you thinking and experimenting with how you might use drawing and mark making in your sketchbook.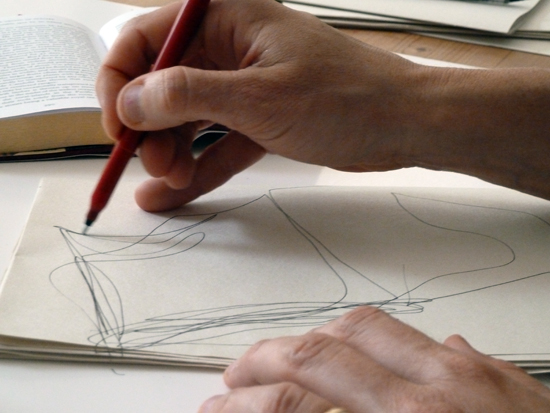 You will need drawing materials you are familiar with and maybe some that you've always wanted to try such as;
Graphite,
A variety of soft and hard pencils,
Black pen,
Ink and nib,
Coloured felt-tips,
Oil Pastels,
Chalk,
Charcoal.
All of these materials are optional.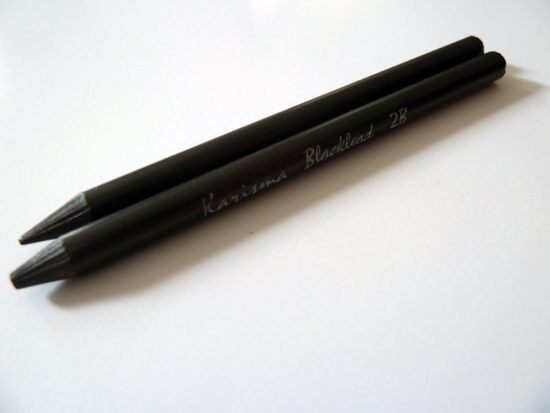 Sketchbook
You may want to work in your sketchbook, or you can use a folded sketchbook, as demonstrated below, to get you working quickly and focus you in.
The brilliant thing about this particular book is that once folded you can work in a linear way – from front to back, and then open it up to see all the drawings on one page. In this way you can make connections between drawings and examine them both as individual and as a unit. Once folded you will have eight panels or pages to work on. You can then fold the book back in on its self, thus enabling you to work on the other side. Almost like having two books in one, so giving you sixteen panels, eight front and eight back on which to work.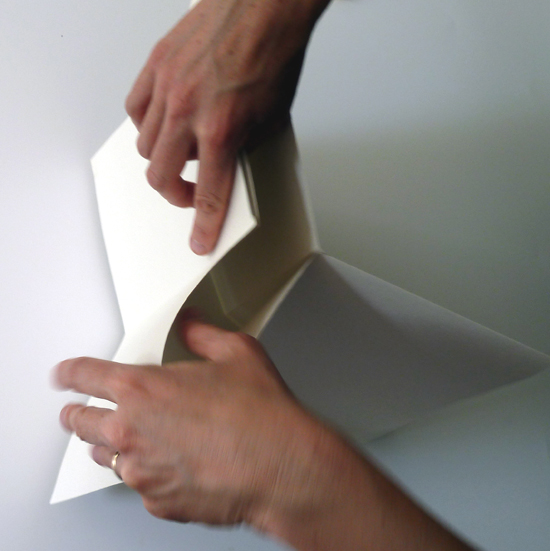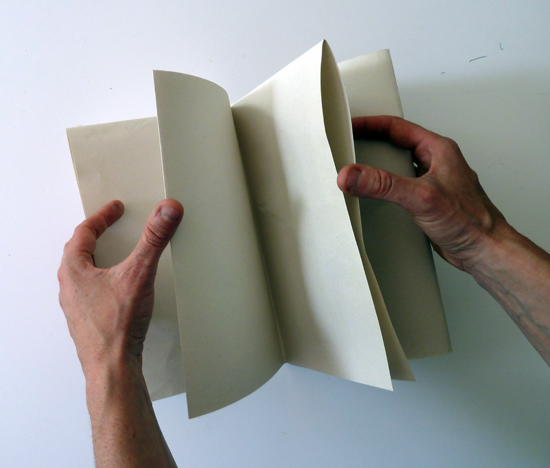 How Much Time Will I Need?
We suggest working on eight drawings in quick succession and completing them within a given time frame – if you allow approximately 10 minutes per drawing you will need an hour and twenty minutes, uninterrupted, to finish each exercise. You may want to work more quickly on each drawing and complete the task in half the time. We do not recommend getting bogged down on individual drawings but working quickly and fluidly on a series.
So, if you choose to do both exercises, you will need two clear passages of time of approximately one hour each.
Objects to Draw
For this exercise you will need to gather a selection of random objects from around the house, outside or both. It may be fun to have a mixture of man made and natural objects – but the selection is entirely up to you. The objects can be completely random and unrelated to each other, but ideally about the size of a fist – or a little bigger. Objects such as a hairbrush, bowl, conche shell, mug, pine cone, grapefruit, computer mouse, bracelet, soft toy, glasses, bunch of keys, pile of coins etc. You will need eight objects.
Exercise One
This exercise is to focus you in on drawing and mark making and to explore the sketchbook as a safe and personal space to explore drawing.
You will need a clear place and a bit of room to work in, either on a table or the floor.
Spread out your objects on a large piece of white paper or a white sheet or neutral table cloth.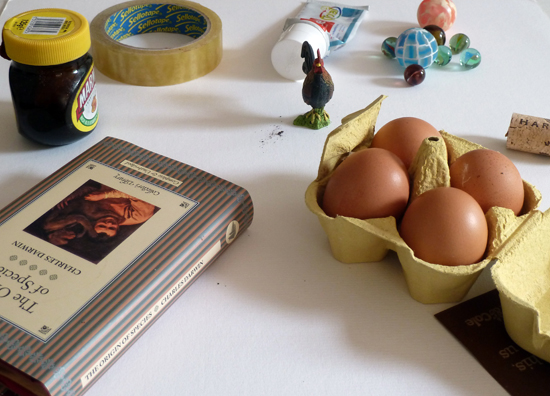 Clear your mind and look at your objects.
By the end of this exercise you will have eight drawings of eight different objects.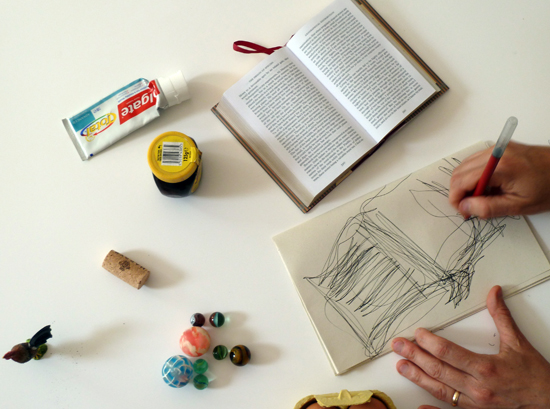 Choose a drawing tool. It may be something like a nice soft pencil or graphite or we suggest a black pen. Black pen is ideal as it will help you make marks which are permanent and strong. Try not to worry about not being able to rub out marks. Remember that a sketchbook is a place for exploration and not finished results. It's a place to challenge ideas and experiment with technique and process.
Work quickly and deliberately. Start on the first page of your book and choose the first object that meets your eye in front of you. Make a contour drawing of it by following your eye around it's surface and using a line to map out the shape you see in front of you. You may want to set yourself the challenge of not taking your pen off the paper, just keep looking at the object in front of you and taking your pen for a journey around the page.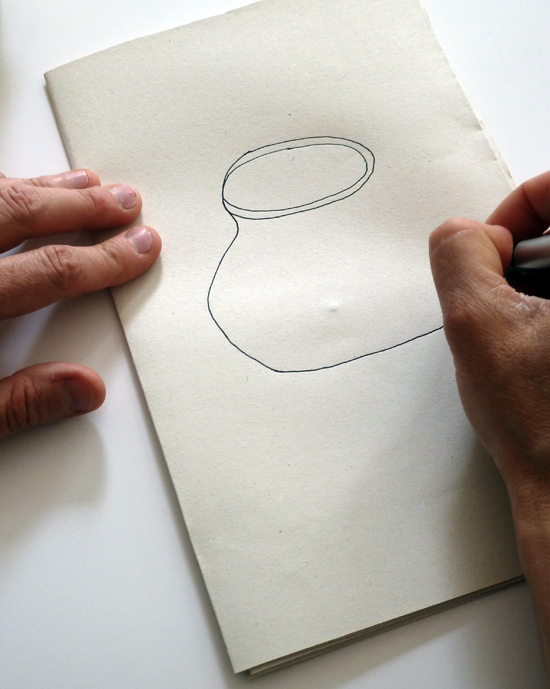 Try and fill the page and don't get too bogged down into detail.
Allow yourself a few minutes for this task and don't get distracted by worrying about what your drawing looks like.
Now, quickly and deliberately, turn the page and without thinking too much, move onto drawing the next object.
Do not move the object, but draw it how it is without worrying about how it is presenting to you (i.e if it's facing backwards don't turn it around).
Keep your pen moving and fill the page with this object. Just keep drawing. Allow the pen to explore the paper and you keep your focus on the object. You may want to experiment with the weight of the line/s that you are making. Sometimes pushing down and then relieve the pressure and barely touch the paper. Again, allow yourself only a few minuets with this object, and then, when you are satisfied, turn the page and your attention to a different object. Again, don't move it – but look at it where and how it is. Keep going like this until you have filled all eight pages of your sketchbook with eight different objects. This is quite a demanding exercise and requires concenration!
Now flick back through your sketchbook and enjoy looking at the series of objects you have drawn.
You can also open up the sketchbook and see the objects on the page. How has your drawing evolved through the process of drawing in quick succession? Is there any relationship at all between these objects? What are those relationships?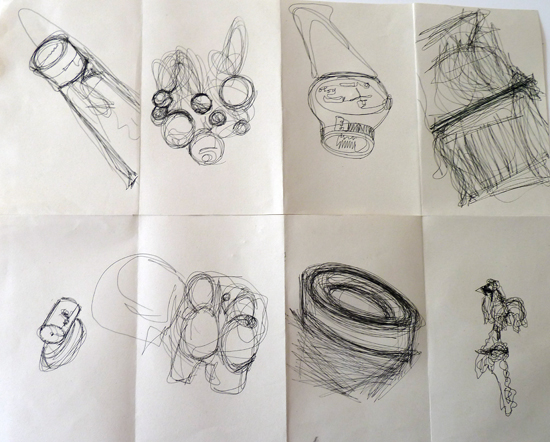 Exercise Two
Many thanks to teenagers from AccessArt's 'Experimental Drawing Class' for demonstrating this exercise so well.
This exercise is to focus you in on drawing and mark making and to explore the sketchbook as a safe and personal space to experiment with techniques, processes and developing individual technique and expressive style.
In this exercise you will see how, by exploring a single object, ideas and techniques may evolve.
You will draw one object in quick succession, but this time you will introduce different materials and techniques into the process. We hope that you will discover a sense of play and accidental discovery and really explore expressing yourself and something of the character of the object you are drawing.
We suggest that you use the same folded sketchbook as in the previous exercise. The beauty of this sketchbook is that it folds two ways, so once folded back in on itself you have clean pages to work on. Or you may want to work in the book you made in week one or make another folded sketchbook for the purpose of this exercise.
Choose one object.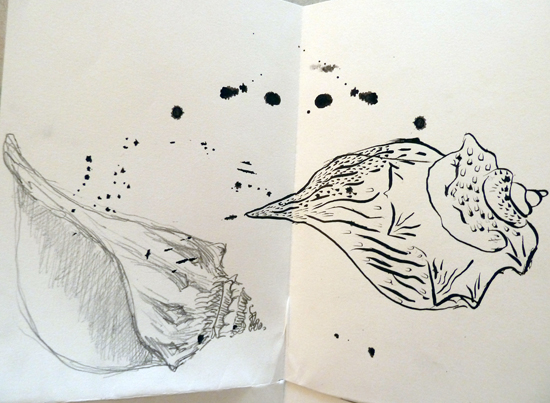 Choose a drawing material to start with. For this exercise you should have a few drawing tools around to choose from as you go along. It's useful to have ink and nib and wax crayons as well as black pen and graphite or pencil.
Start on the first page of your book and draw your object. Just draw the way the spirit moves you to do so, weather it be in pencil pen or straight for the more exciting stuff. Allow your self a few minutes for this drawing and then move on to the next, drawing the same object again. If you are stuck give yourself a challenge like to draw the object in a few lines, or change the material you are drawing with. Keep the fluidity that you achieved in the last exercise of working quickly and moving from one drawing to the next in succession. Allow yourself plenty of time to draw the object on all eight pages without interruption. Allow yourself the chance to explore, play and discover new ways of working.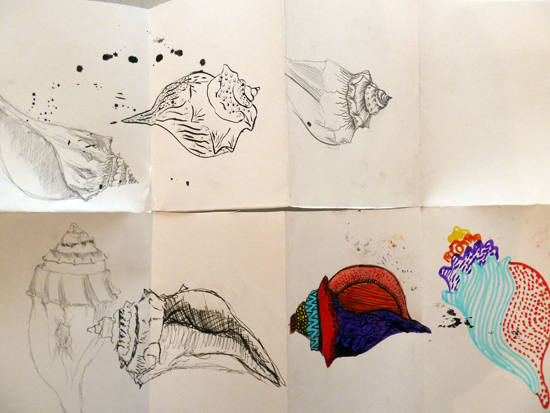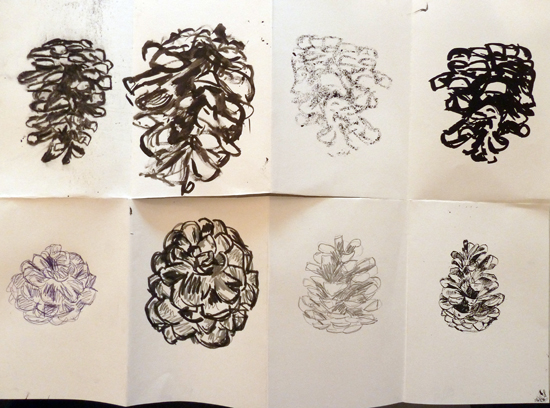 We hope that you have a fantastic time drawing in your sketchbooks and hope these exercises help you to over come any inhibitions you might have to getting started. If you are already familiar with drawing in your sketchbook, we hope these exercises will give you a chance to try out new materials and approaches.
Please upload your images to the links below:
Back to main "Developing Sketchbooks Skills and Approaches" page
Add to favorites