AccessArt is looking for visual artists who would like to be the face of AccessArt for up to 2 weeks!
AccessArt wants to celebrate the individuality and diversity of creative practitioners across the world. AccessArt is a very well-respected, award-winning organisation with a passionate global audience. We want to share this audience with artists – giving you a unique chance to represent AccessArt and tell the world about your work!
AccessArt will be giving a visual artist prominent screen space on the home page of AccessArt for up to a 2 week period, before handing the screen space over to another artist.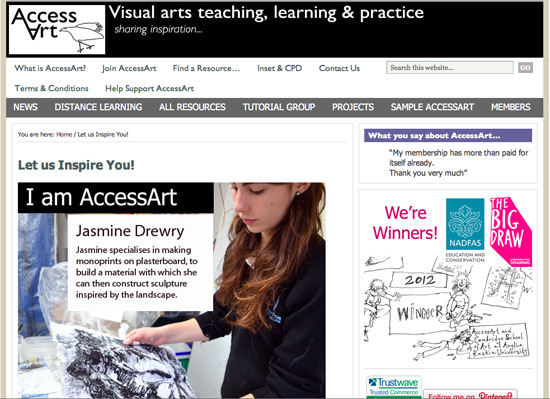 How does it work? What are the benefits of being chosen as an "I am AccessArt" artist? 
As an "I am AccessArt" artist, we will create two spaces for you within the AccessArt site. The first space will be prominent screen space on the home page of AccessArt – so you'll be the first thing our global audience will see when they visit AccessArt. This space will contain an image of you and/or your work, your name and a summary paragraph.
This will then click through to a second page which will feature you and your work in more detail, giving you plenty of room to share your processes and outcomes. You might include text, high quality images, video and links. AccessArt will do all the work to create the page, you just need to provide the content.
The second part of this page will contain a "bridge" – a text or image based suggestion aimed at our users giving them ideas, activities, inspiration, guidance or references which might help them be inspired to act by your approach. This bridge can either be created by yourself as artist (for example you might have experience of facilitating art based upon your own work), or we can create it for you.
As the idea behind I am AccessArt is to help artists promote themselves to new audiences, we will of course help by promoting your pages via all our usual methods. Each marketing campaign reaches over 50,000 users via our members database, our e-newletter and social media. While you inspire our audience, we'll push a global audience your way enabling you to make new connections.
Once your two weeks are up, the second featured page will be archived within the AccessArt website so you'll still benefit from ongoing exposure to our audience.
There will be no financial compensation for this opportunity. Contracts will be signed which will ensure you keep copyright of your work whilst allowing AccessArt a license to use the images as described.
What would I have to do in return?
All you would need to do is send us (when invited) high quality images of you and your work, plus text describing a particular aspect of your practice/work. It's important to understand that by being featured on AccessArt, you are demonstrating you believe in the core values of AccessArt, namely that through sharing we can together inspire each other and work to nurture the highest levels of creativity.
Whilst we want to see images and read about your work and practice as an artist, it is vital to us that we can provide a "bridge" to our audience – some way that they can be inspired by your work – and driven to act creatively themselves. If you also work in education, then maybe you can help us create this bridge in the form of a suggested activity which appears on second page of your feature. Otherwise we as editors and curators of AccessArt will suggest a bridge, as described above.
We also hope to encourage comment and debate about your work via a comment box at the end of your second page. You'll probably want to reply to these comments and take part in the debate.
As with life – the more you put in the more you should get out!
Is there a deadline?
This opportunity is ongoing. The first "I am AccessArt" artists will be featured around September/October 2013. You can apply at any time.
What kind of artists are you looking for?
Open to visual artists:
of every discipline
from every country
of every level of standing – from students just starting out to established international contemporary practitioners.
How will we choose the artists?
We'll use our instinct! We're looking for artists at all stages of their careers, so experience is not necessarily a prerequisite. What is important is that we see that you share our enthusiam and belief, that you are passionate about what you do, and how you share what you do.
How do I apply?
Complete the form below and we'll be in touch!
Add to favorites