Visual Arts Planning: Exploring the Culture of a Country
If you are a member of AccessArt then please use this form if you would like to suggest a visual arts planning topic that you would like help with. You can see all of the current topics in our visual arts planning series here.

---
Below are a selection of resources that can be used as jumping off points for an exciting exploration of a country's culture.
Please feel free to add links to other resources, or share your experiences and ideas, via the comments box below.
Interpreting designs and imagery
Wax Resist with Coloured Inks and Sgraffito on Foamboard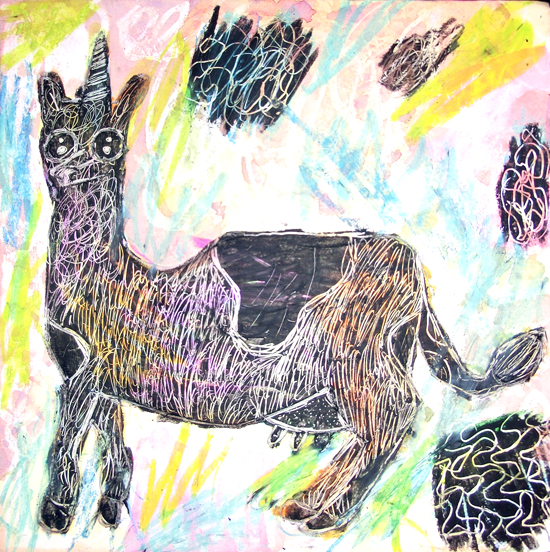 In a workshop led by artist Eleanor Somerset, children explore mark making and textures. Drawings of imaginary animals are transferred onto foamboard and transformed into magical creatures using wax resist and coloured inks and oil pastel sgraffito techniques.
Chimera Drawings into Beautiful Terracotta Tiles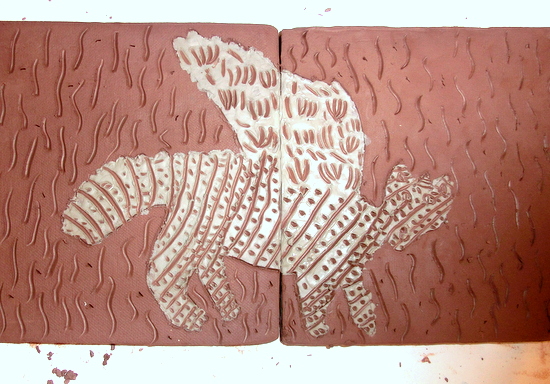 Eleanor Somerset shares a workshop on Sgraffito, or 'scratching' – an excellent technique to explore mark making with all age groups. Drawing into leather hard, red clay tiles to create designs using mark-making can be even more effective when done through a white earthernware slip, to reveal the red clay beneath.
Monoprinting with Oil Pastel and Carbon Copy Paper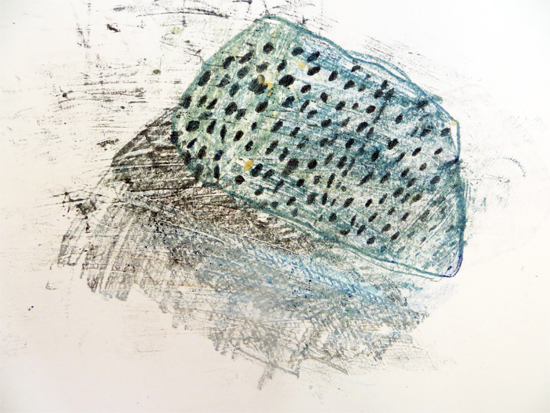 Create simple monoprints with carbon paper – children love the element of surprise as they peel away their carbon paper to reveal their print! The prints can be developed by working back into the surface to create layers of texture and also combining the carbon paper with oil pastels to experiment with colour and mass as well as line.
Drawing Tulips, Big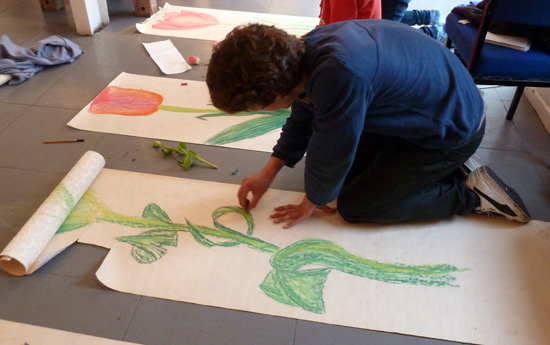 This drawing activity would be perfect for drawing motifs and can be adapted for any age. Working on a large scale, teenagers draw flowers on tall strips of paper in pastel and chalk – it provides a great opportunity for the children to really put their personalities into their drawings, as the tulips take on new qualities as they became larger than life.
Making Collographs with Andy Mckenzie: Week One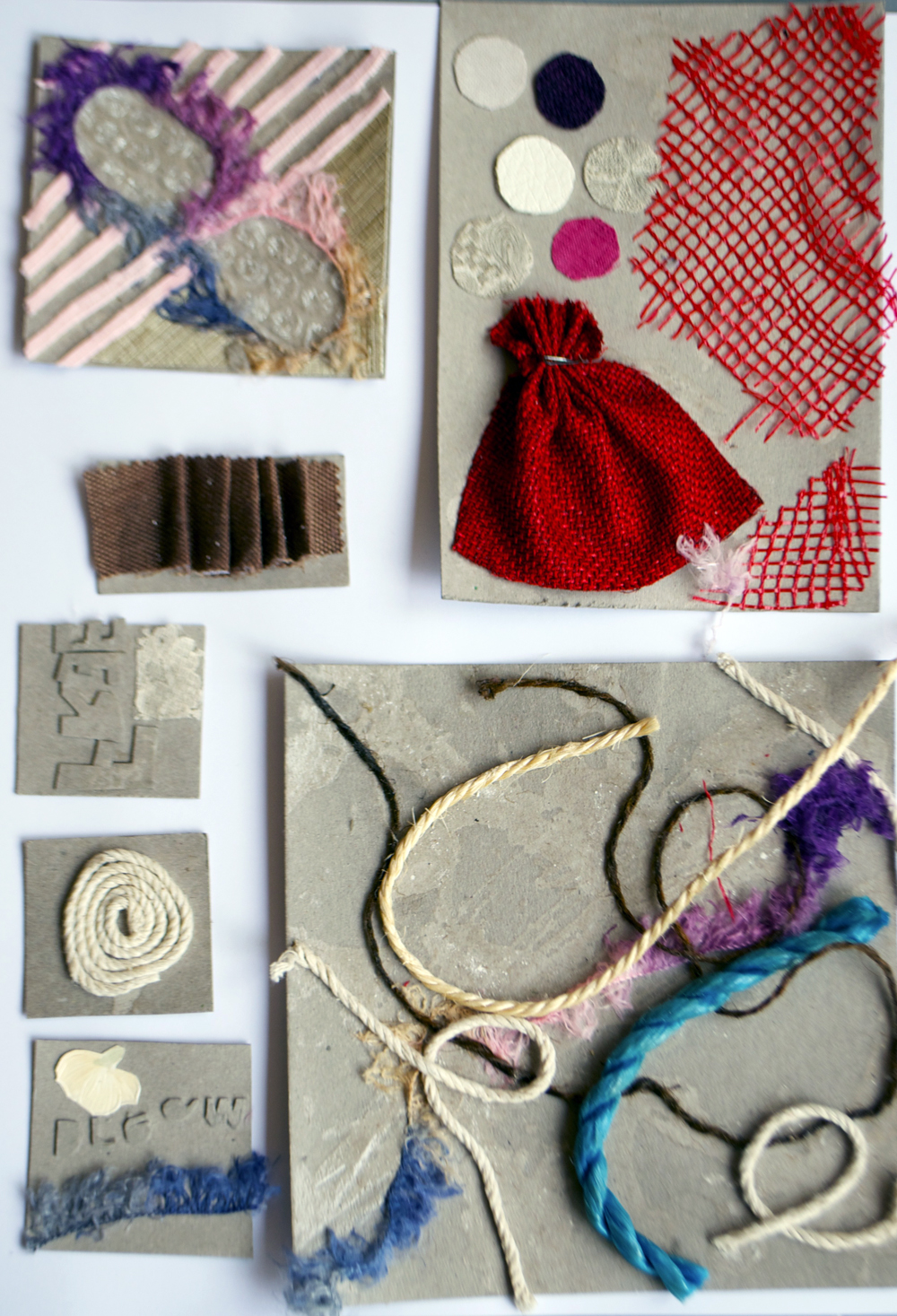 A two-part workship by artist Andie Mckenzie that can be adapted for any age. In part one, teenagers create small collograph plates making images with a wide range of media.
Making Collographs with Andy Mckenzie: Week Two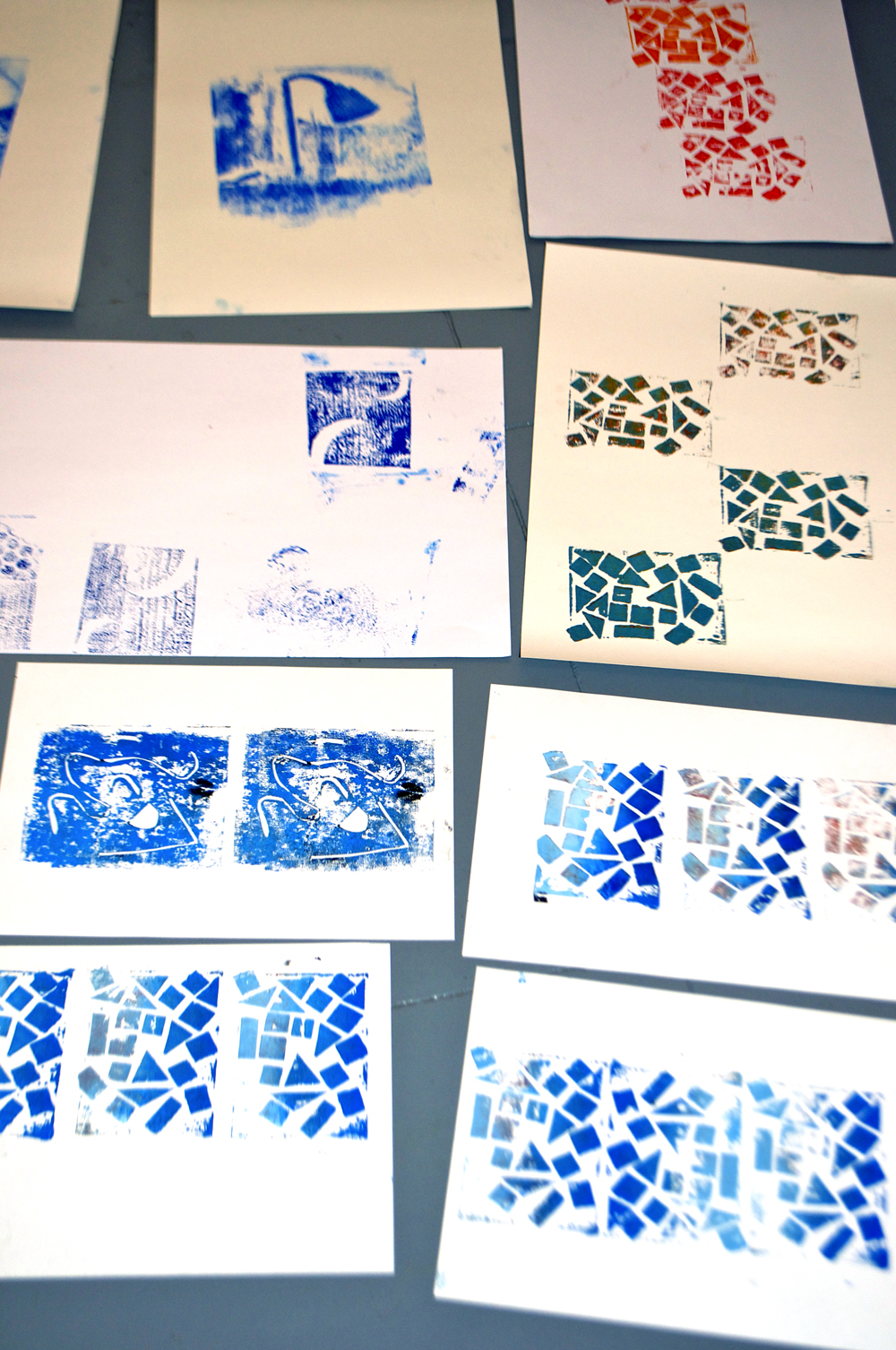 In the second part of a collograph workshop by Andie Mackenzie, teenagers take prints of their plates.
Pattern and Collage: A Whole School Workshop at Monkfield Primary School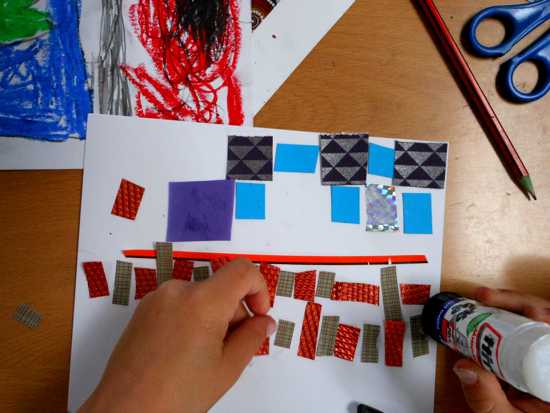 A creative project based on patterns from around the world using drawing and collage. It could be succesfully adapted for Reception through to Year 6 pupils.
Mayan Tabletop Eraser Printing Project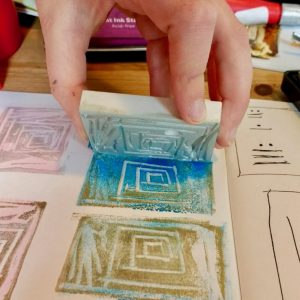 This is a technique that can be used by all ages but is a particularly wonderful printing process for little hands to explore carving with lino-tools, to create printing blocks with really effective results. After lots of experimentation with designs through sketchbook work, the final work was a piece of printed fabric inspired by the Mayans.
general Resources for printmaking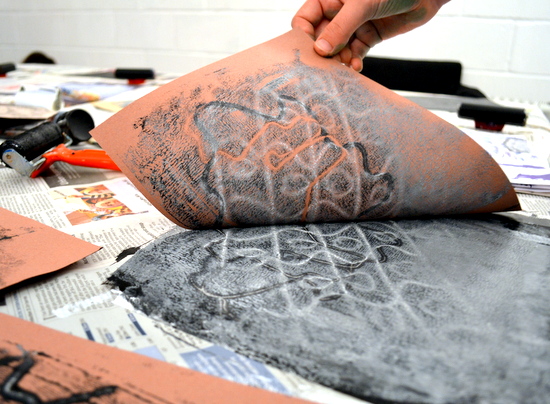 A selection of simple and accessible print making resources.
making Money! Drawing and Making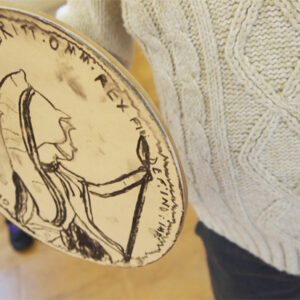 Paula Briggs leads a workshop for 6-10yr olds on making money. The children loved it and found it easy to find their own way to personalise their money depending on their interests (making pirate money, thinking about the Romans, portraying themselves as Queen, or designing a new coin – the "infinity coin"!). Use this resource to explore the currency of a country.
explore Myths and legends through Theatre and Performance
SHIPWRECKED! A SHADOW PUPPET PLAY BY CHILDREN AGED 10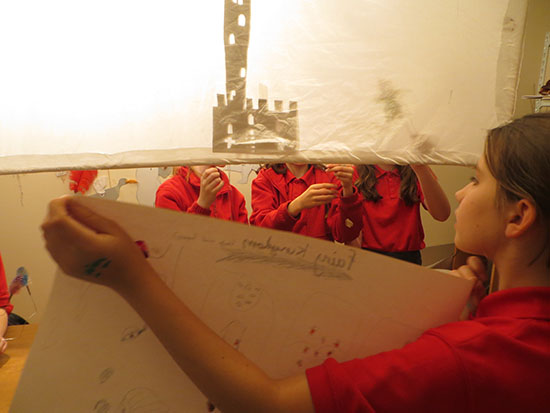 A creative collaboration between children who inspired each other to explore materials and the quality of shadows through the creation of a range of wonderful puppets. They went on to devise a narrative for their play, taking it in turns to act as puppeteers to their own scenes, whilst other children watched and took on the role of critics. The scenes were then edited and presented as a small film.
SHADOW PUPPETS AND WHITEBOARDS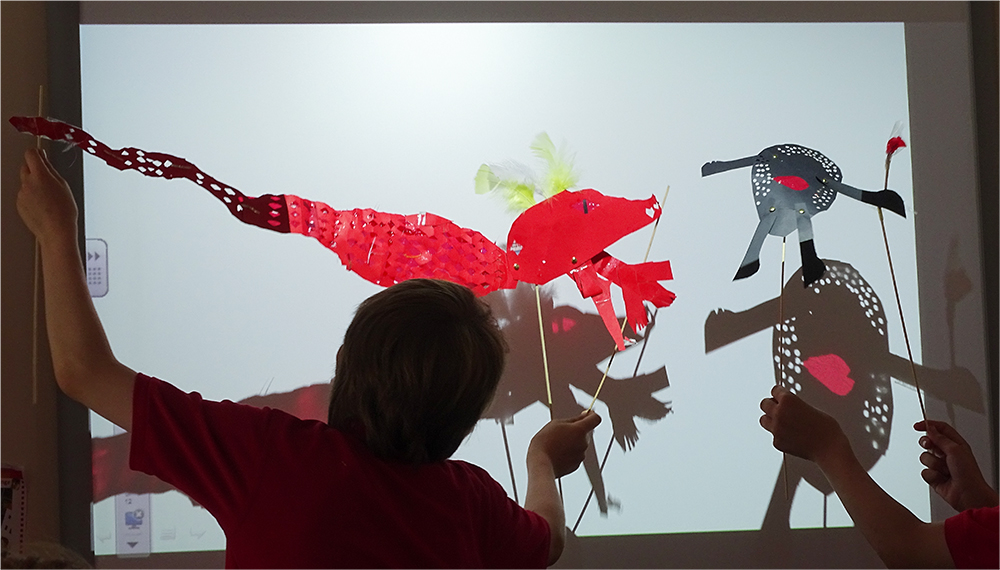 Make intricately patterned shadow puppets out of card and mixed media then create your own shadow performances on a white board.
TeENAGERS IMPROVISE A SHADOW PUPPET PLAY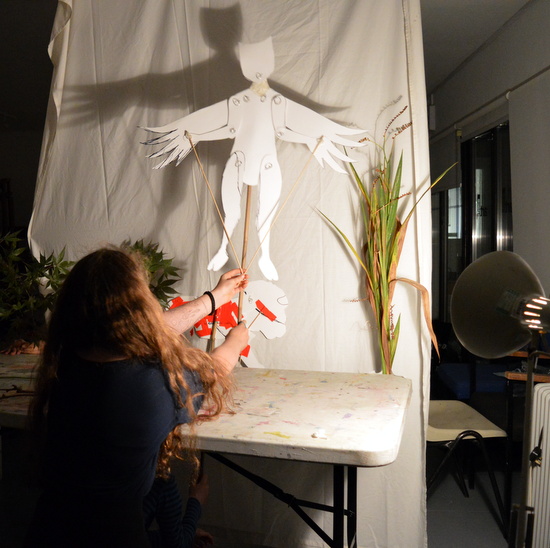 This exciting session for teenagers harnessed a collective creativity and explored notions of working together, with each individual's efforts contributing to a creative force. In this highly energetic workshop, completely directed and improvised by the teenagers themselves, they set up the stage, props, lighting, improvised a script, fixing puppets and making sound checks and then performed and filmed the final improvisation.
Exploring myths and legends through sculpture and drawing
Animal Sculpture and Collage with Students at Philip Southcote School, Surrey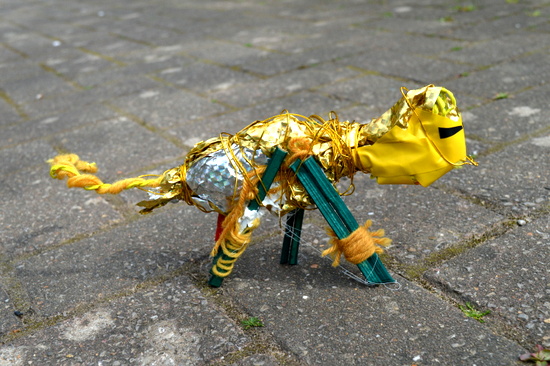 A two part workshop in which children experiment with drawing and collaging animals exploring texture and pattern. They build on this experience by taking their ideas into sculpture, making animal forms using tactile bundles of mixed media to represent parts or textures of animals.
Making a Sculptural Modroc Mask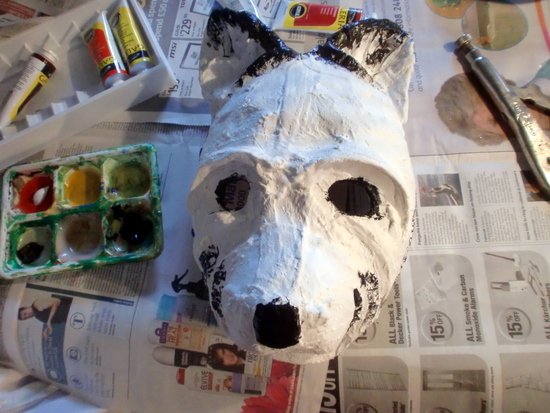 Modroc is easy to model when wet and sets into rigid forms – experiment to create your own characters and designs and let your imagination lead your hands in creating new and unexpected shapes and forms.
Year 3 & 4 Making Club: Animal Parade – Week One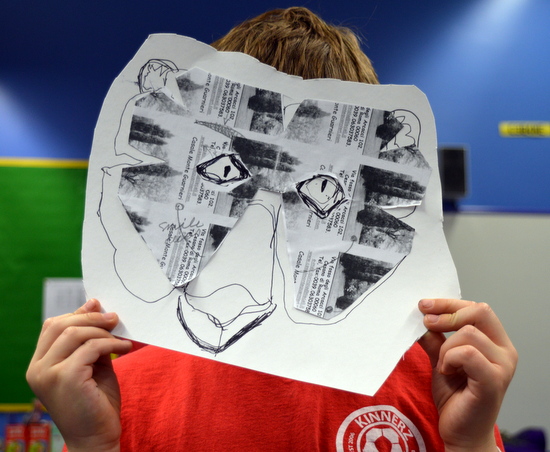 This one hour session, the first in a series of three workshops, was about creating initial animal mask designs and generating animal mask ideas.
Year 3 & 4 Making Club: Animal Parade – Week Two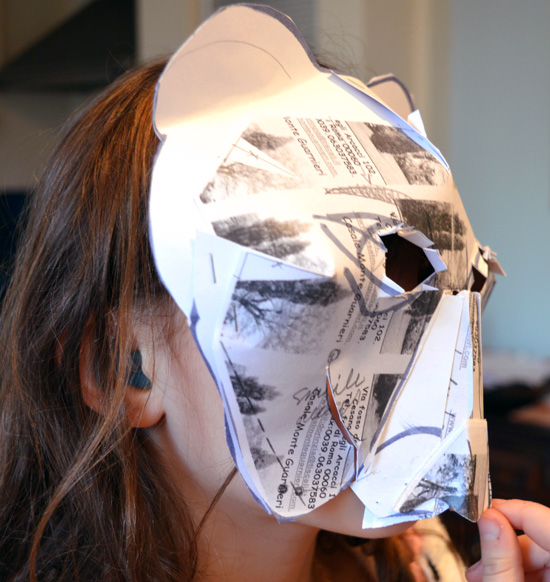 The second workshop in the 'Animal Parade' series: after choosing their animals and creating unique designs based on our Carnival Mask Template in week one, children cut and staple their creations to make them three dimensional.
Year 3 & 4 Making Club: Animal Parade – Week Three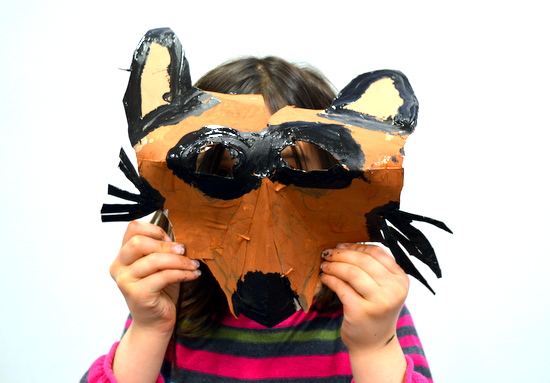 After having chosen their animals and created unique designs based on the Carnival Mask Template in week one, and then made their creations 3D in week two, it's now time to add the finishing touches and paint them! Children are encouraged to experiment with mixing paints and choosing colours to make their masks wholly unique and individual.
Plinth People: Sculptural Self Portraits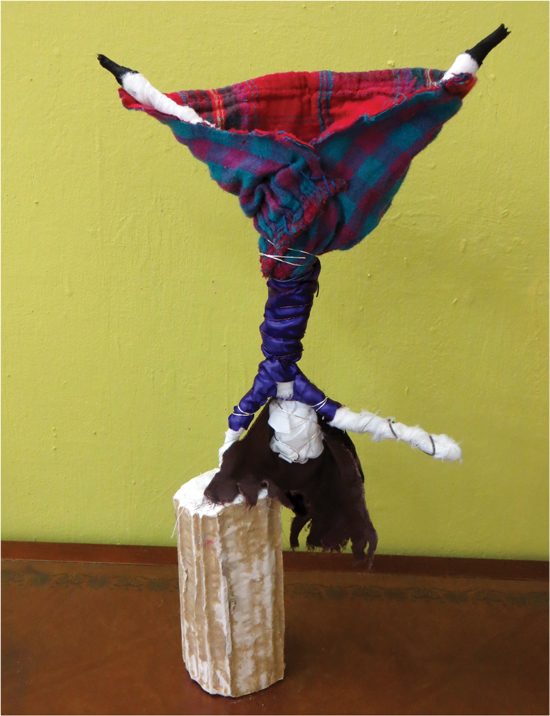 A wonderful resource in which children are encouraged to work freely, beginning with a balanced object based on the figure which they can then manipulate and add to. Using cloth and other soft materials, they create dynamic figures full of life and character.
Making a Marionette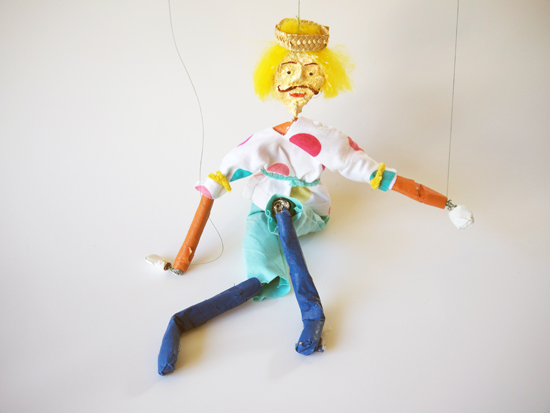 A fun activity suitable for all ages. Design a simplified version of a marionette – just the head and arms are attached to the cross bar with strings making it easier for children to control the puppets and less likely that the strings become knotted! There is plenty of opportunity to decorate the marionette by creating clothes, modelling faces and making props – and then you are ready to perform your own stories!
Illustrating Stories: Creating a Storyboard and First Dummy Book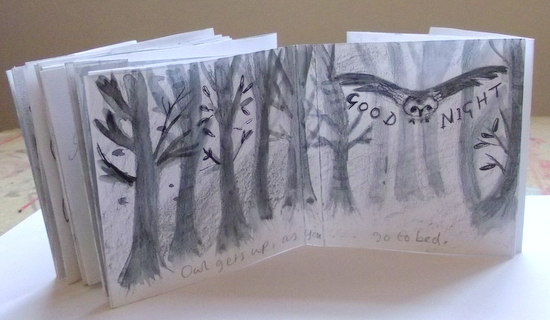 Illustrator Emma Malfroy shares her process in an exciting resource to encourage children to explore storytelling, drawing and collage and to create their own illustrated book with text and images.
looking at Architecture
making Plaster Reliefs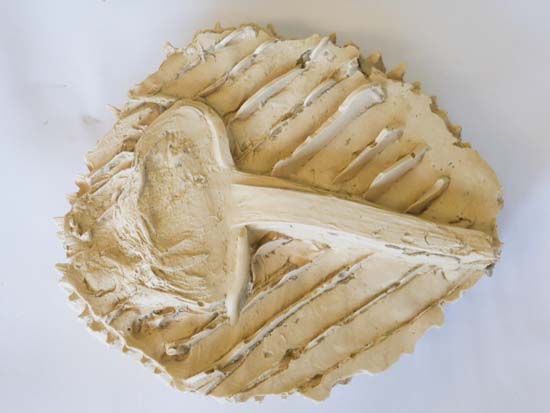 A resource that shares how to create create plaster reliefs using clay and foamboard moulds. Children are given the opportunity to experience negative and positive, to enjoy the process of creating an object from a space (making a mould, taking a cast), experience the different but complementary qualities of clay and plaster, and finally explore colour by painting the finished relief.
Gilding and a 'Touch of Gold'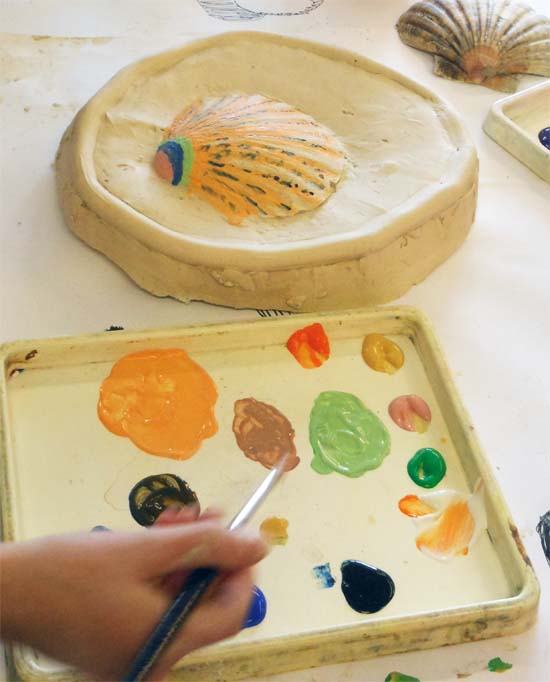 Create relief sculptures from cast plaster and then decorate them with paint, adding gold leaf for that finishing touch.
Houses from Around the World: International Day at Monkfield Primary School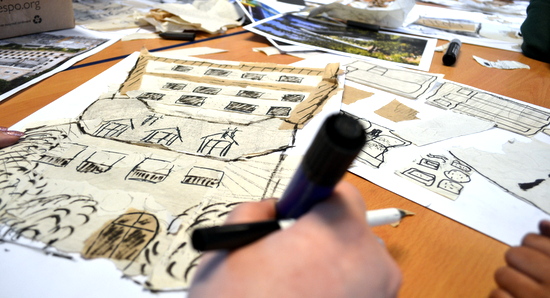 Using images of houses from around the world for inspiration, children explore mark making, line drawing and collage to create an image of their chosen building.
textiles and Pattern making
How to Make a Tessellated Design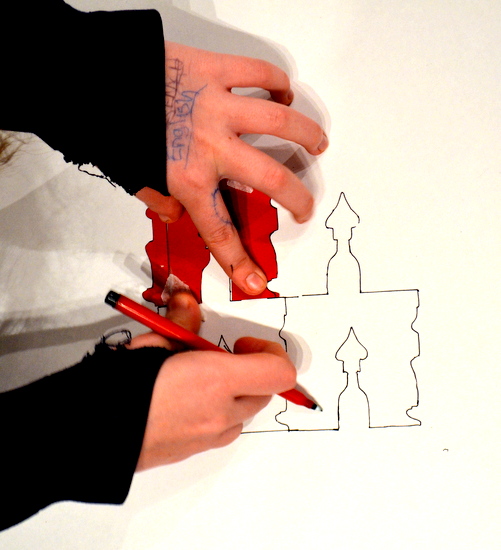 Teenagers show how they created their own cardboard stencils using a simple method and then drew round them to create a repeated design.
Making Textured Clay Tessellations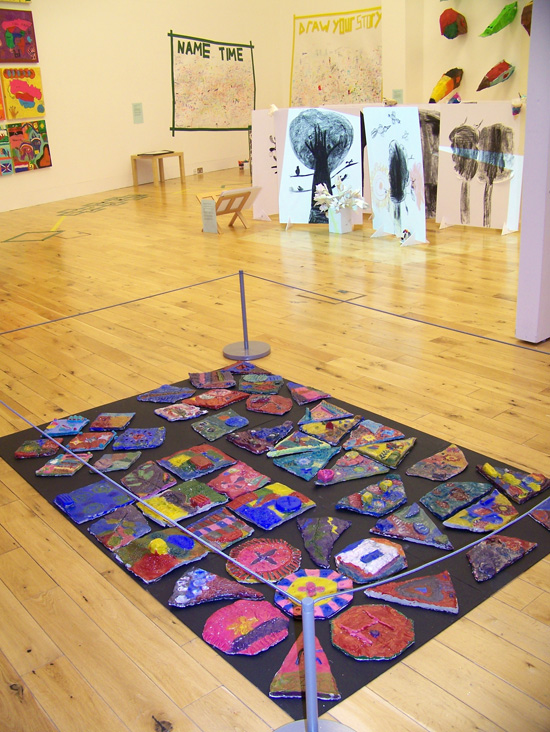 An activity suitable for 8-14 yr olds, in which children learn how to make shapes out of air-dried clay that can be displayed in a tessellated pattern either as a tiled wall or floor panel. The children are encouraged to bring their own ideas to the project, which includes mark making and observational drawing as well as looking at patterns.
Experimenting With Batik – Using Hot Wax and Dyes on Fabric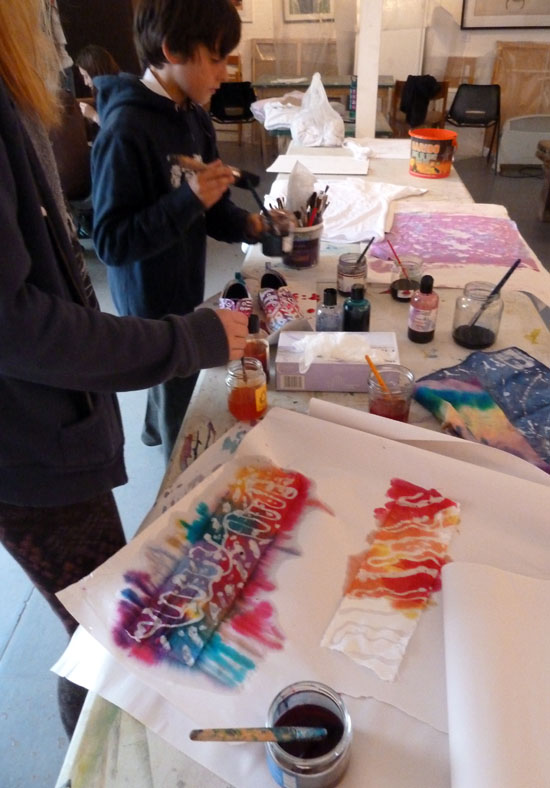 In this workshop teenagers work on various surfaces and explore a process which involves melted wax as a drawing tool and dye to add colour and reveal the design. The staged process is perfect for enabling young people to explore mark making, colour and design.
Making Batik Textiles in the Classroom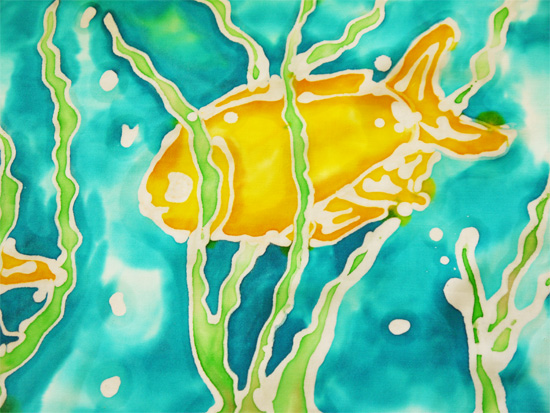 Teachers Natalie Easton and Mandy Pringle describe how to introduce batik to pupils. In addition to outlining a technique suitable for use in schools, they also share some tips for working with batik in a classroom situation.
Tie Dye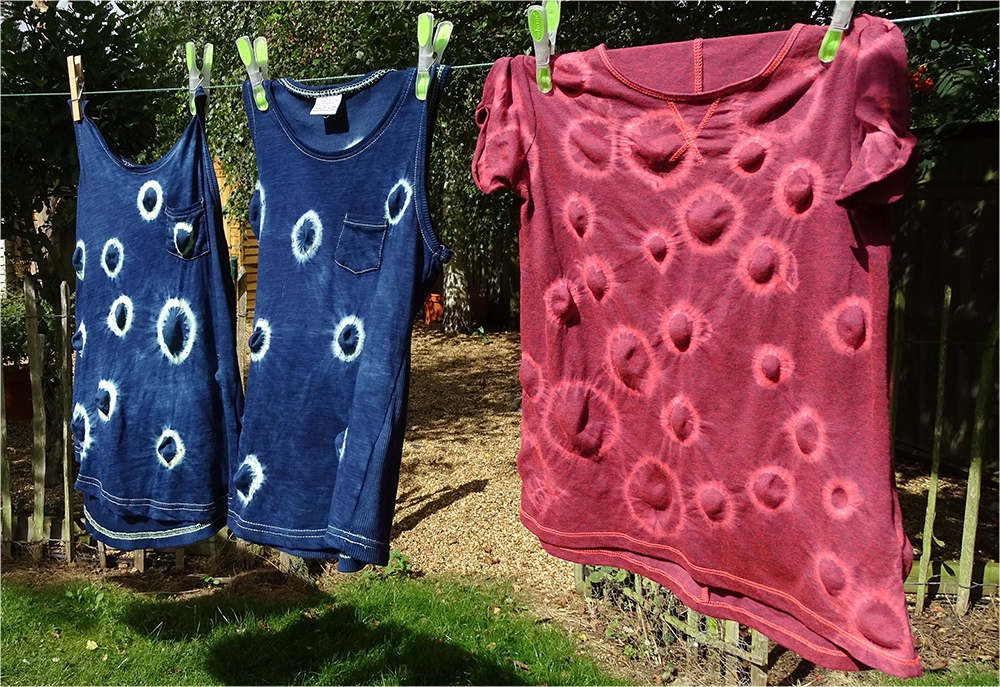 Tie dye is a great way to encourage a sense of exploration and risk taking – experiment with fastening small objects inside clothes, bound by string or an elastic band. Fold, pleat, scrunch, twist, dye and then unwrap to reveal your patterns!
Using Pastels to Capture Texture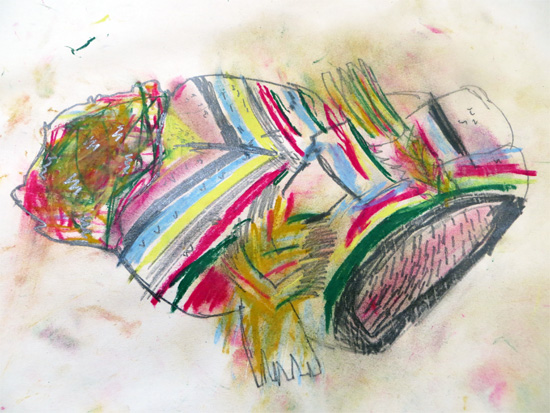 A beautiful resource to explore drawing textiles using pastels and graphite, to capture the texture of fabric.
Sculptural projects
The Friendship Tower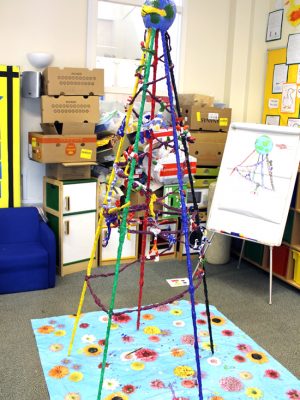 Artist Rachel Scanlon shares a project she facilitated at South Wilford Primary School for their arts week, based on Countries of the World. With the onset of the world cup all of the children were interested in discovering more about other nations. The school wanted a three-dimensional sculpture which involved their theme, as well as some training for teachers and whole school involvement.