Visual Arts Planning: Puppets and Dolls
If you are a member of AccessArt, please use this form if you would like to suggest a visual arts planning topic that you would like help with. You can see all of the current topics in our visual arts planning series here.

---
A collection of exciting resources that offer young children and teenagers the oppportunity to explore and develop a variety of skills through individual and collaborative activities: making, performance, simple theatre construction, filming and animation.
Please feel free to add links to other resources, or share your experiences and ideas, via the comments box below.
Making Puppets with mixed media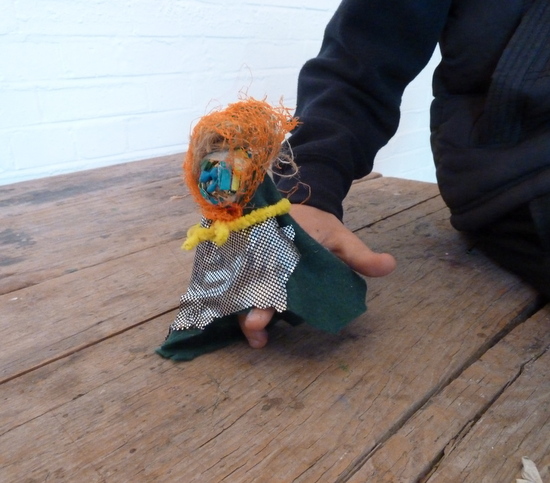 Create a hand or finger puppet in a fun workshop that encourages teenagers in a playful, child-like sense of making and exploration of materials. An activity that can be adapted for all ages.
articulated beasts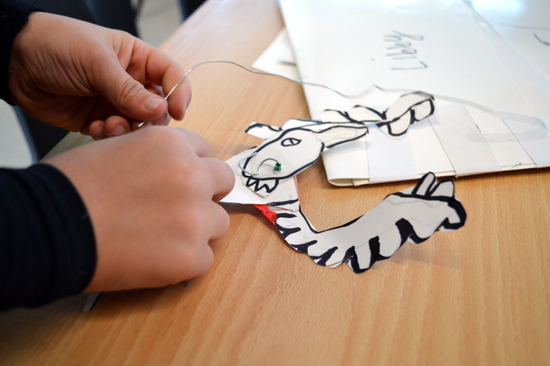 Young children use pliers, needles and wire to turn their contour drawings into wonderful, articulated beasts. They are encouraged to work independently and gain confidence in their own ability to use the tools with limited intervention.
year 3 & 4 making club: animating articulated beasts
In this hour long session, pupils worked in pairs taking it in turns to be the photographer or the animator. They shot a series of photos of their articulated drawings using digital cameras and then animated them using basic stop frame animation. Finally, chopsticks were used to transform the drawings into articulated puppets full of character.
Articulated and animated drawings by teenagers at accessart's experimental drawing class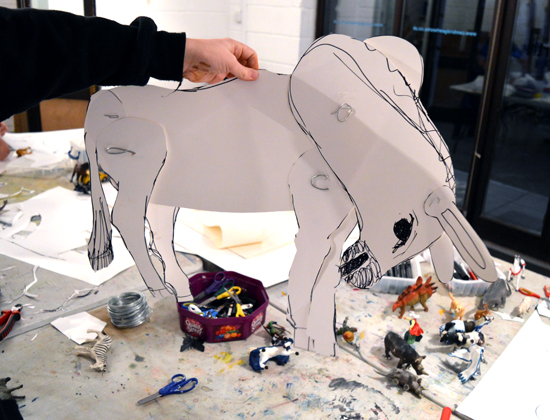 A workshop enabling teenagers to explore simple construction and engineering challenges, to make their own individual articulated drawings out of basic materials. Ipads and phones were used to produce short animated films to record movement and then the drawings were turned into marvellous, articulated puppets by the addition of sticks. In 'Teenagers Improvise a Shadow Puppet Play' below, see how they developed their ideas into an exciting performance!
animating puppets using mobile phones and tablets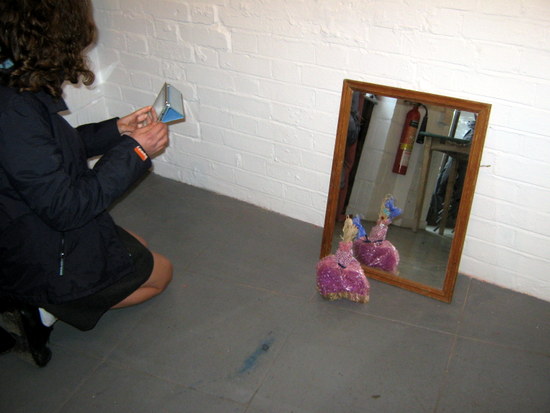 Bring your puppets to life by animating them with video, camera and apps, readily available on phones and tablet devices. This exciting and accessible workshop brings together an array of skills from collaborating together, creating playful vignettes or scenes to mastering personal handheld, digital technology as a creative tool.
teenagers improvise a shadow puppet play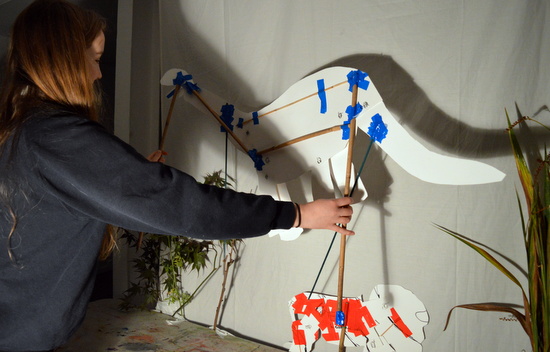 This exciting session for teenagers harnessed a collective creativity and explored notions of working together, with each individual's efforts contributing to a creative force. In this highly energetic workshop, completely directed and improvised by the teenagers themselves, they set up the stage, props, lighting, improvised a script, fixing puppets and making sound checks and then performed and filmed the final improvisation.
Shipwrecked! A shadow puppet play by children aged 10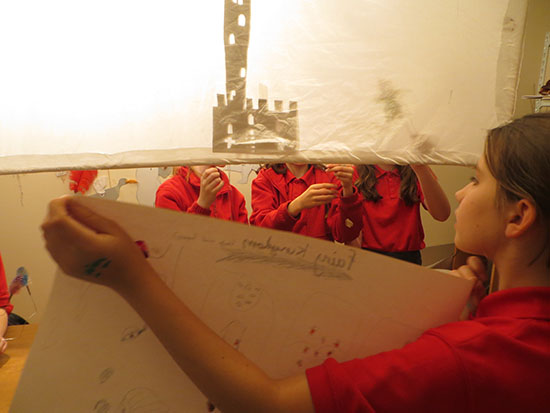 A creative collaboration between children who inspired each other to explore materials and the quality of shadows through the creation of a range of wonderful puppets. They went on to devise a narrative for their play, taking it in turns to act as puppeteers to their own scenes, whilst other children watched and took on the role of critics. The scenes were then edited and presented as a small film.
Shadow Puppets and Whiteboards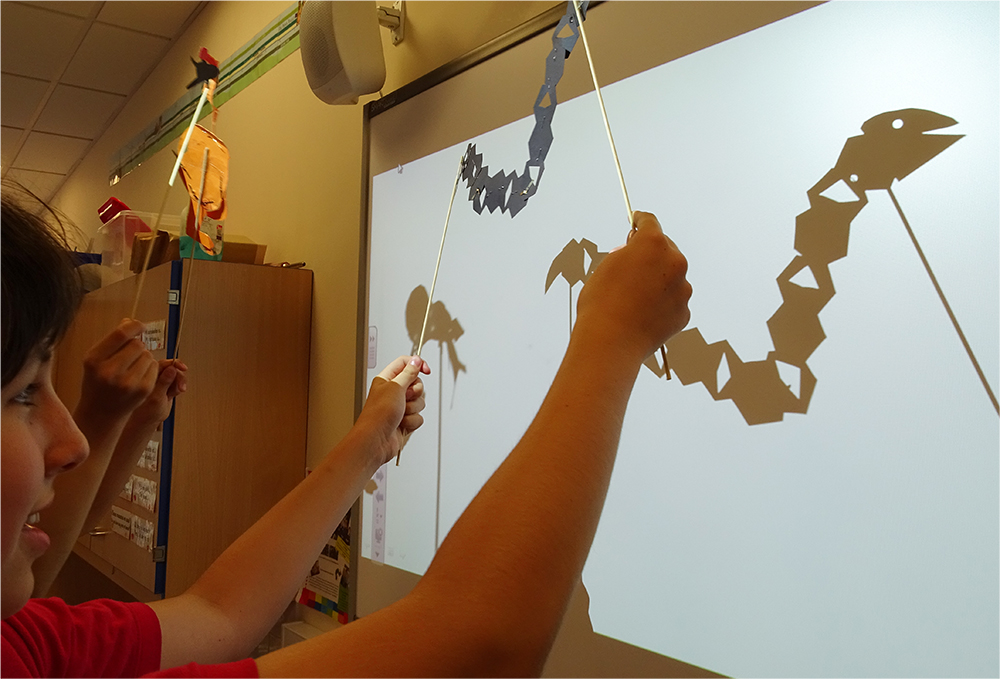 Make intricately patterned shadow puppets out of card and mixed media then create your own shadow performances on a white board.
making finger puppets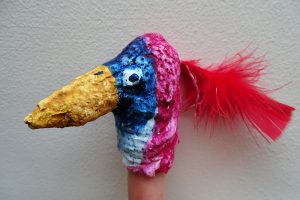 AccessArt and Mencap have got three great ways for you to make finger puppets depending on your time or level of expertise. Starting with a simple print, colour, cut and stick and moving on to a full blown sculptural version, we hope you are inspired to make some puppets and possibly put on a show!
making a marionette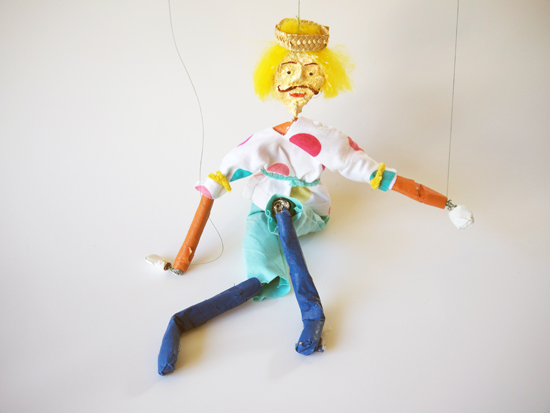 A fun activity suitable for all ages. Design a simplified version of a marionette – just the head and arms are attached to the cross bar with strings making it easier for children to control the puppets and less likely that the strings become knotted! Each body part is made separately and joined to its neighbour by wire. There is plenty of opportunity to decorate the marionette by creating clothes, modelling faces and making props.
Rio 2016! – sporty/sunbathing dolls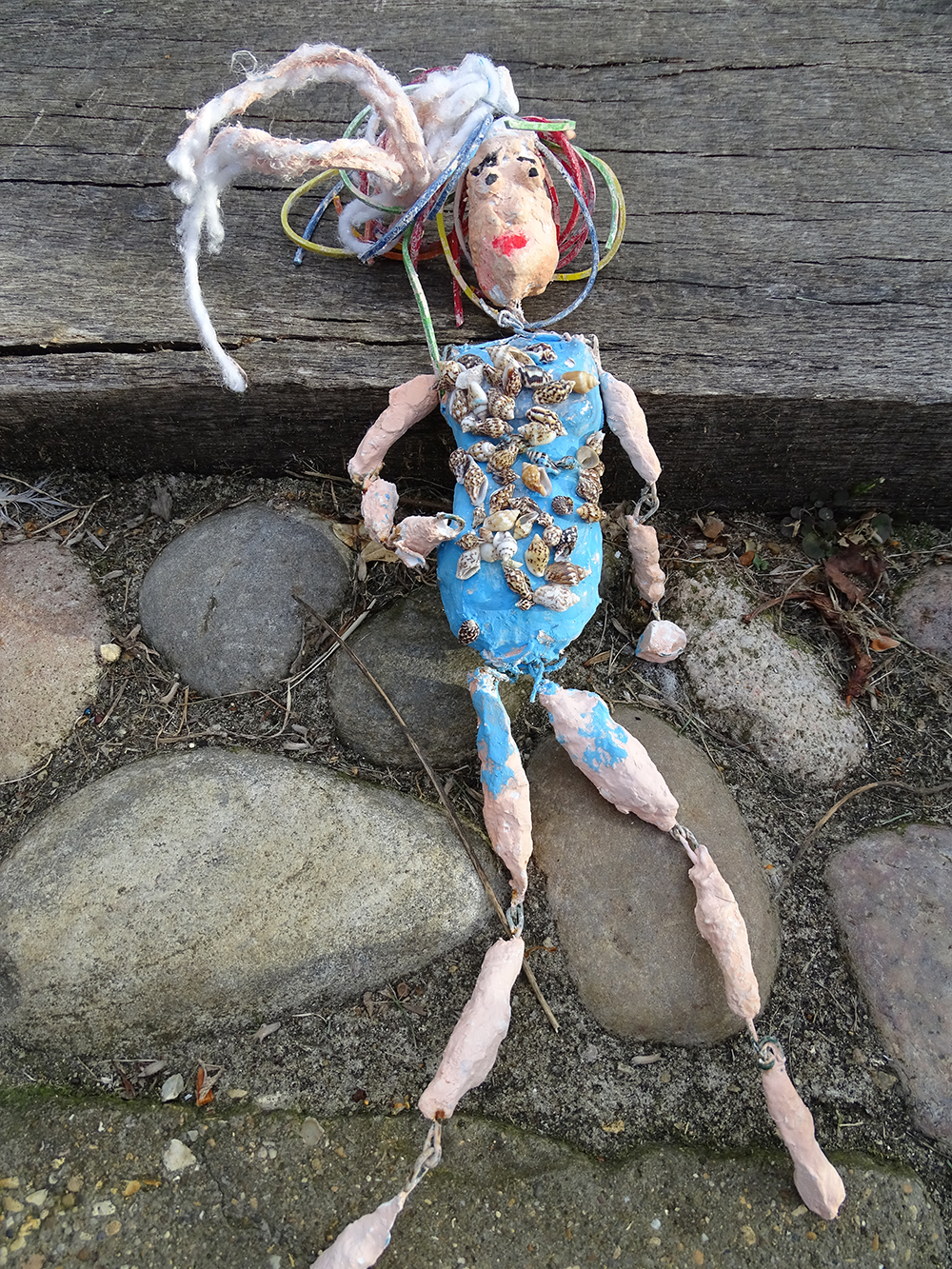 Inspired by Rio 2016, the AccessArt Friday Club made dolls from modroc and wire, exploring costumes and personality! These dolls started out on their journey as marionettes but by the time the children had connected all the body parts the dolls were so satisfylingly "floppy" that they decided to keep them as dolls rather than puppets. To turn your doll into marionette, see the resource above 'Making a Marionette'.
barbie and Ken transformation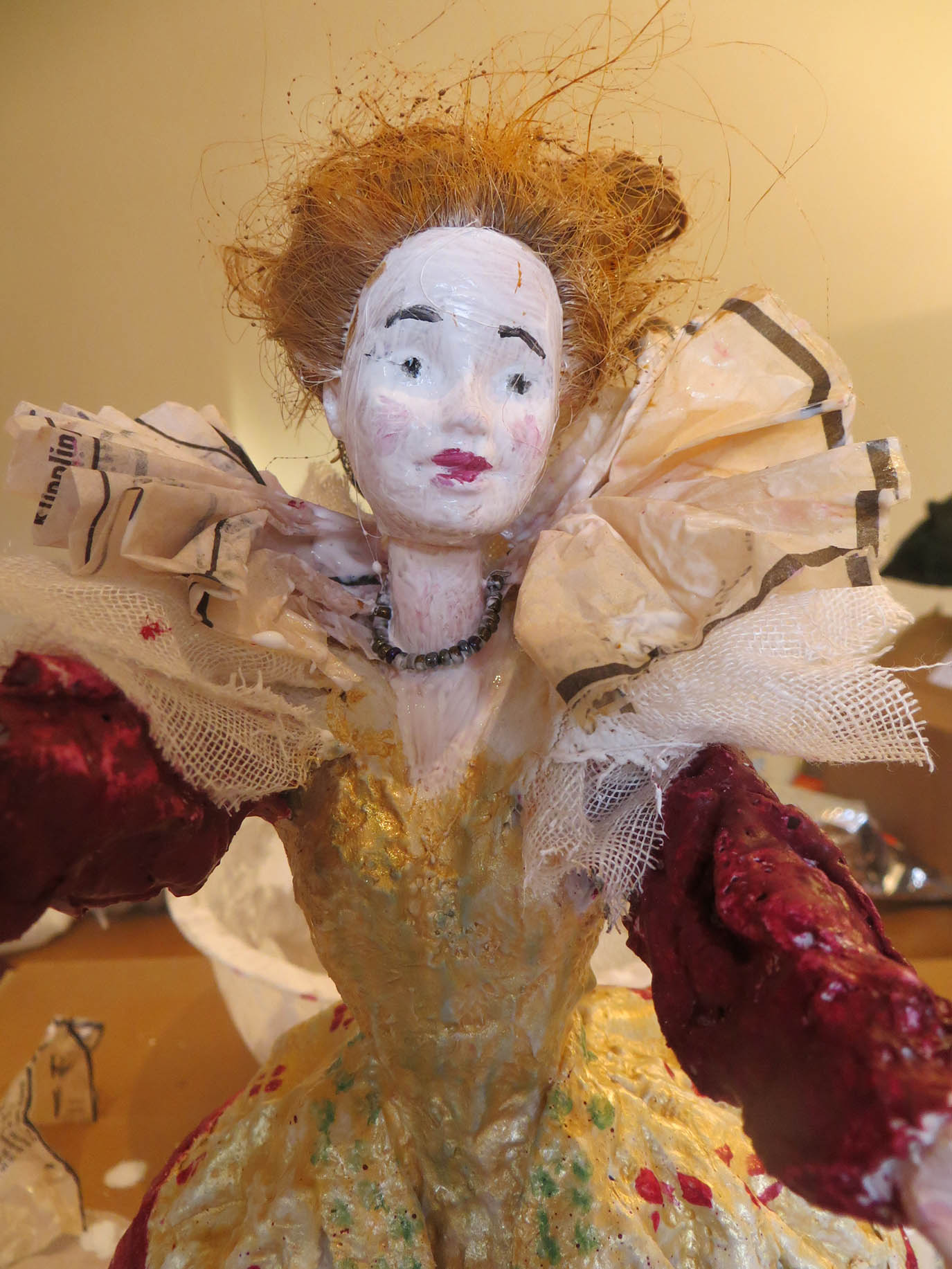 In this adaptable resource, children transform Barbie dolls (and Ken!) using paper, fabric, modroc and paint. They had great fun researching and designing costumes and exploring appropriate materials to construct their creations.
ghosts, dolls and beads – 'making' inspired by objects at cambridge and county folk museum
A practical hands on making session for teenagers inspired by the museum's collection of eclectic local objects. They explored the museum's 'Handling Collection', watched a demo on how to mix plaster and had the opportunity to experiment and play with a variety of materials and processes.
Making Worry Dolls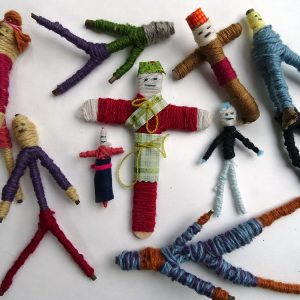 AccessArt and Mencap have created three great ways for children to make their own worry dolls. This provides children not only with a great opportunity to practice their making skills, but also to create their own very special "friend" who can listen to their fears. We start with the simplest suitable for Key Stage 1 children and move on to slightly more complicated versions. The great thing about all these dolls though is that they are full of idiosyncrasies and can help teach us to accept and celebrate our differences!
teenagers work on an art project for the community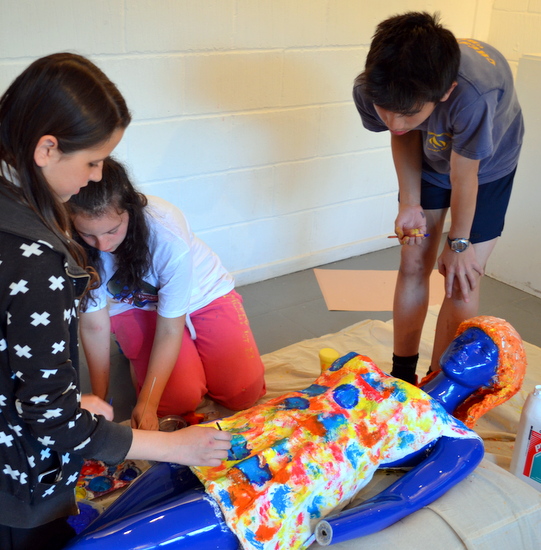 The students of AccessArt's Experimental Drawing Class work together to solve the practicalities and requirements of a community project brief, transforming mannequins into artworks. The colourful sculptures were then installed around Mitcham's Corner, Cambridge as part of a campaign to reinstate a sense of identity and community to a residential part of Cambridge.