What's in a Name?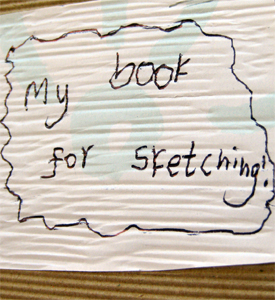 The variety of names that schools have given (or considered giving) their sketchbooks, suggests that they have really taken on board the range of functions and formats they may have. For example:
Thinking Books
Sketch Books
My Space
Journal
Notebook
Morning Book
Scrap Book
Each name brings with it its own preconceptions and connotations, which it is important to challenge and widen.
The diversity of names is encouraged within the Sketchbooks in Schools project and schools should continue to explore different options. However there is a risk that this breadth is translated into an "anything counts" attitude. It might be useful for schools to define what isn't a sketchbook. This is probably mostly clearly defined by looking at intentions rather than outcomes.