Drawing Together, Working on Shared Drawings & Being Inspired by Each Other
By Paula Briggs
At previous workshop sessions with older children we have explored how we can make a shared drawing, by making marks on a communal piece of paper, in response to marks already on the sheet. See A Big Visual Conversation  and  Drawing Game - A Visual Conversation.
These are great icebreakers, but my group of 6 to 10 year olds have been working on their own drawings, many in their own sketchbook, for many weeks, and they are fiercely possessive of their drawings. I thought it might be a bit much to suddenly introduce the idea of a shared drawing - but at the same time I did want to give them the space to acknowledge how much they are learning from each other, and also to realise how adept they are getting at responding intuitively to marks on a page, as a way of progressing their drawings.
We used this exercise to help young children bridge these sometimes contradictory needs - to own your drawing, and yet  to be open, share and allow yourself be influenced by others. It proved to be simple and effective.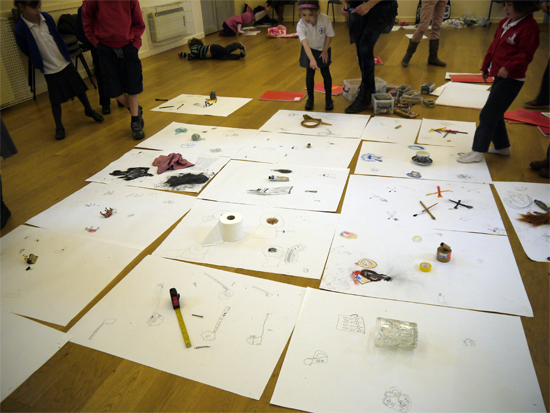 ---
To access all content, I would like to join as…
AccessArt is a UK Charity and we believe everyone has the right to be creative. AccessArt provides inspiration to help us all reach our creative potential.
---