Get Connected! Cardboard Robots with Movable Joints
In this table top post AccessArt team member Rachel Thompson shows you how to make a robot using scrap cardboard and split pins to create movable joints.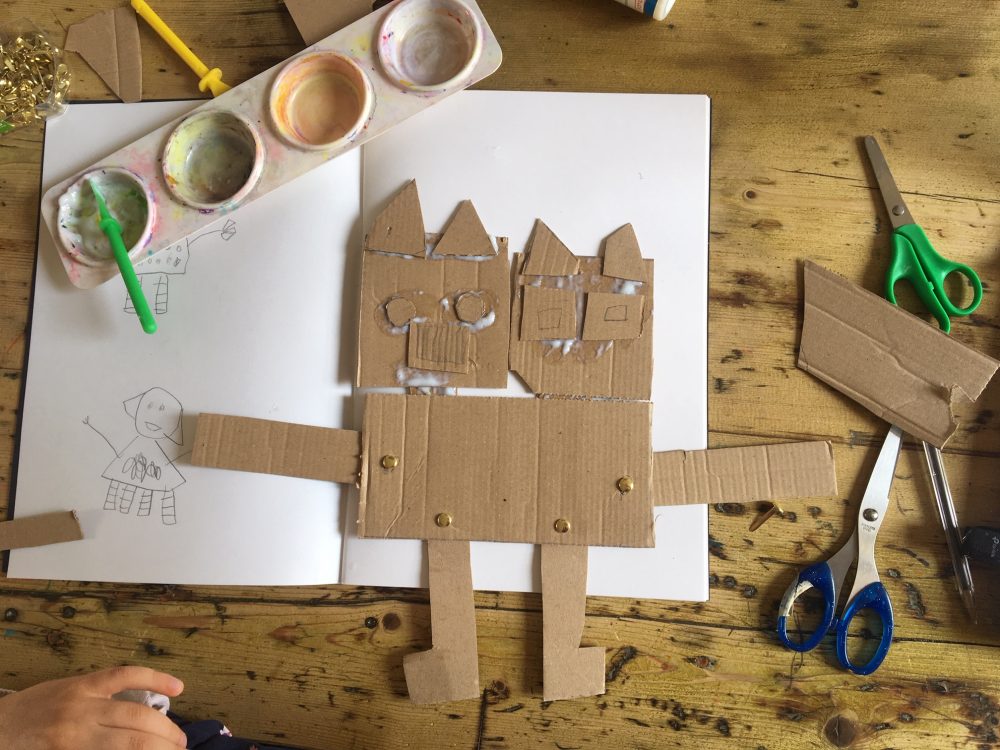 We've been having a few more deliveries recently. I like to think we have a relatively well stocked art cupboard at home, as a result of my inability to get rid of materials collected over the years, but also as a result of my daughter's much loved Godmother being an art teacher and regularly posting exciting new materials for us to try. Nevertheless, we have had a few extras delivered of late and with that comes...cardboard. Lots of cardboard!
I felt it was time to make something with it and with things feeling so...disconnected at this time, I thought we could try something that uses ways to connect materials together - so I decided on making a simple cardboard robot with movable joints. The 'get connected' analogy is perhaps lost on early years participants, but for us adults - maybe the pause for thought on connection might help us recall positive times of being together, and engage with the hope that we will re connect again, soon.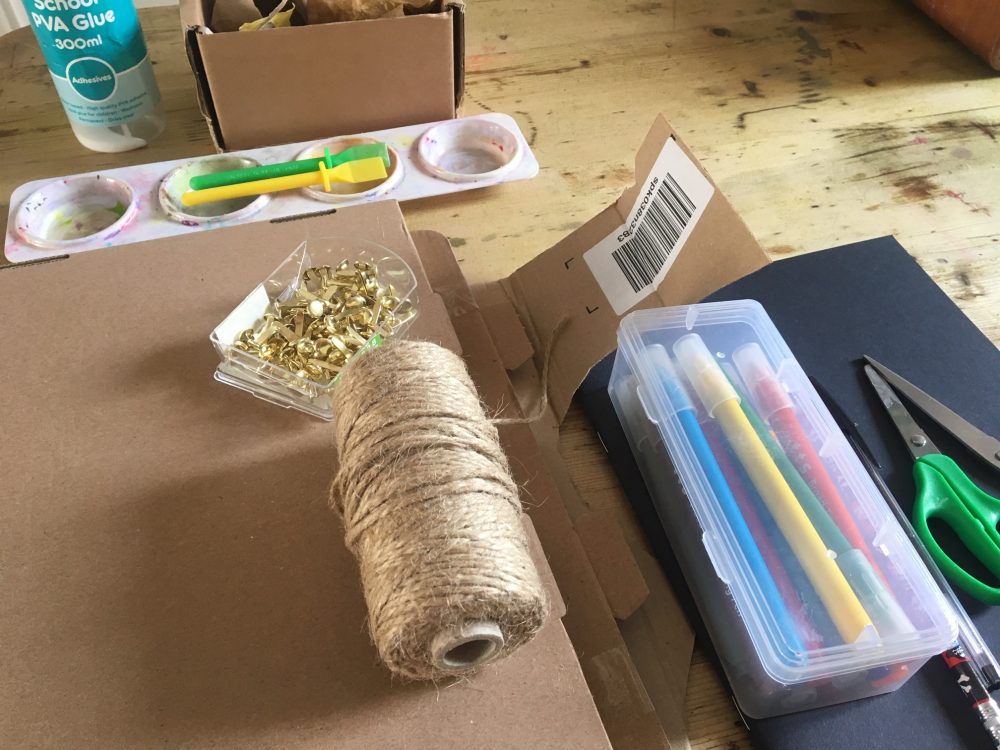 For this activity you will need:
Scrap cardboard boxes
Split pins for connecting the joints
String or gardening twine
PVA glue, glue stick and glue pot
Scissors
Paints and brushes and/or felt tip pens or other colouring materials
Paper or sketchpad and pencil for drawing designs
As a way to lengthen this activity as much as possible (I have a daughter who tends to triumphantly announce "all finished!" after about four and a half minutes of concentrated activity), I introduced the concept of 'design'. It's quite good to get young children familiar with the practice of careful thinking and looking, even if they don't fully engage with it straight away. For this activity, I wanted my daughter to think about how she wanted her robot to look, what shape were the eyes going to be and where? Would there be two eyes? Or more? What shape would the body be and so on. Leave them to stew over a few questions, hand them a sketchpad and pencil and give them a few minutes to think it through.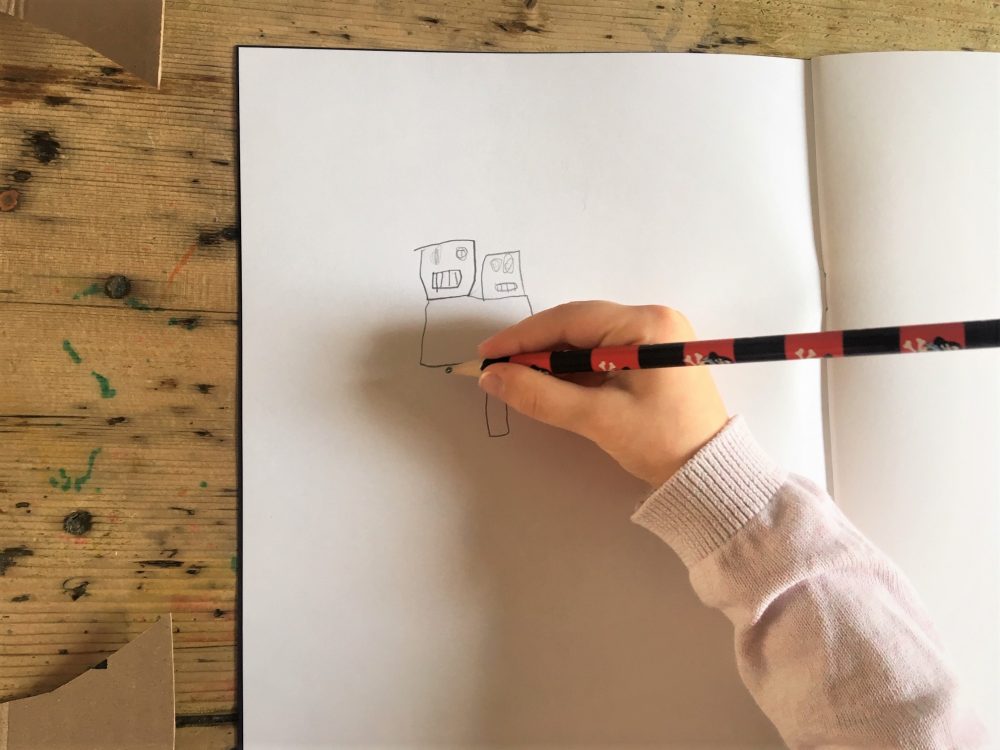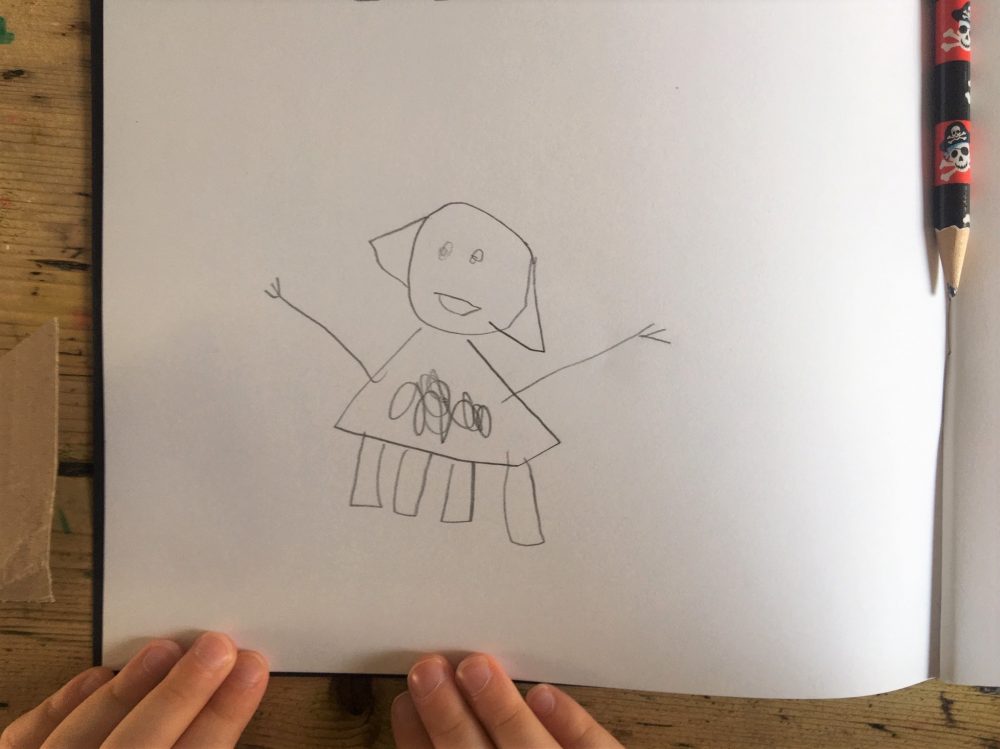 She came up with two designs, and the one with two heads was the one chosen.
Next, get the scrap cardboard and, referring to the pencil design, draw out the different shapes and components of the robot. Cut these out and assemble them. We did this first with the two heads.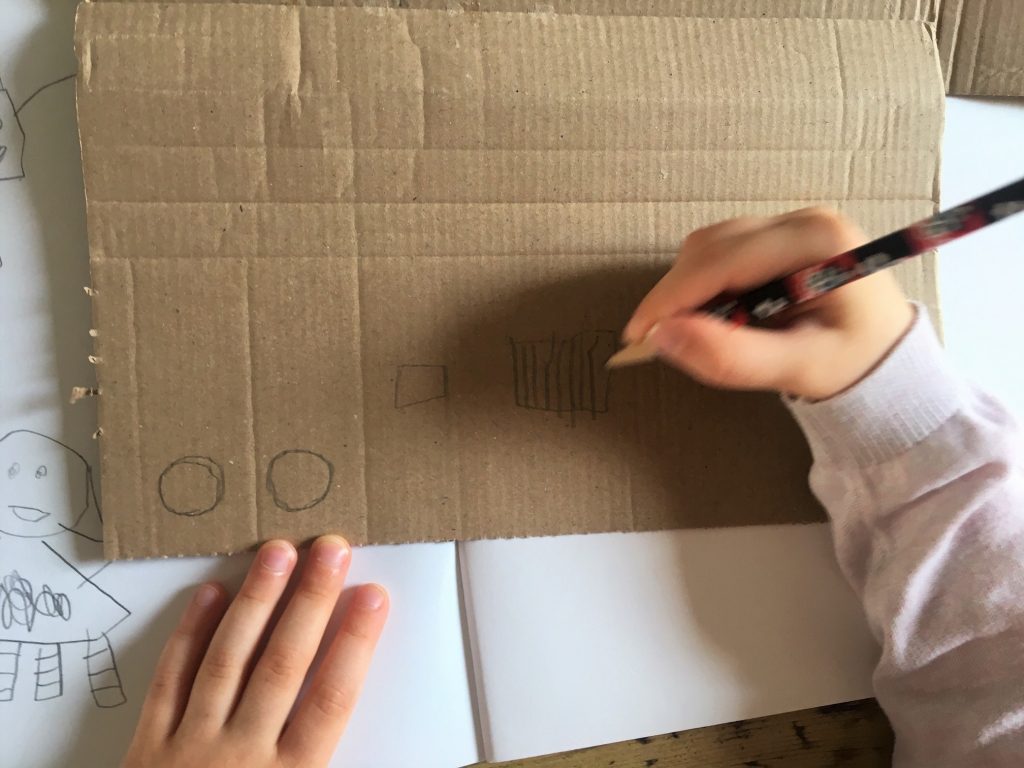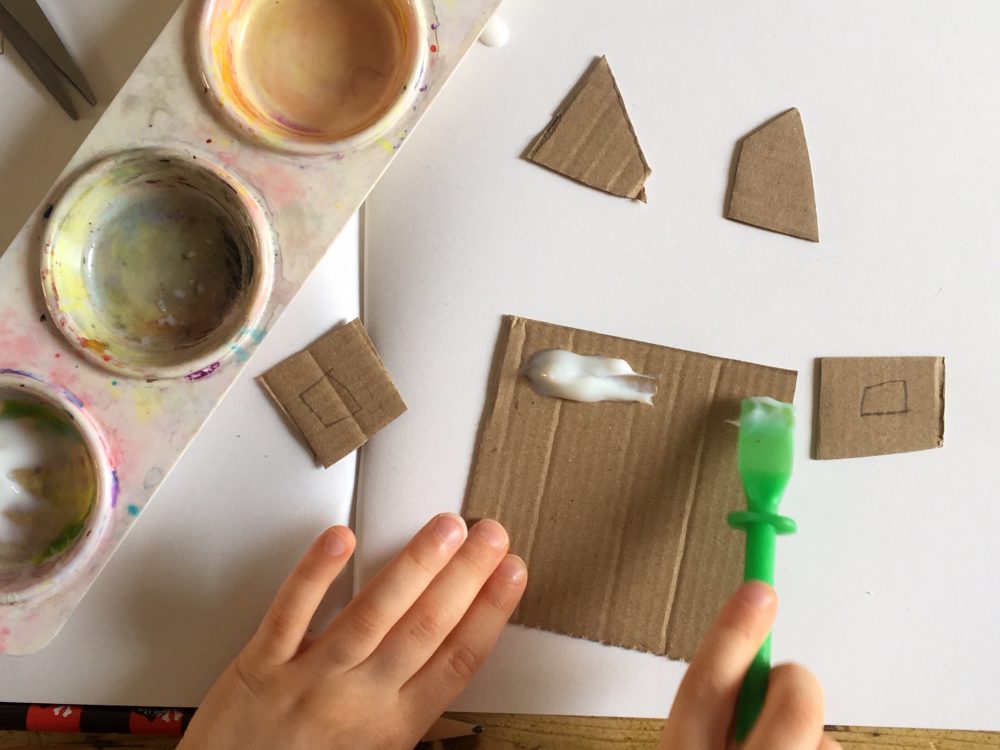 Using a larger square as a base to which to add the facial features, creates an interesting relief effect.
The finished heads!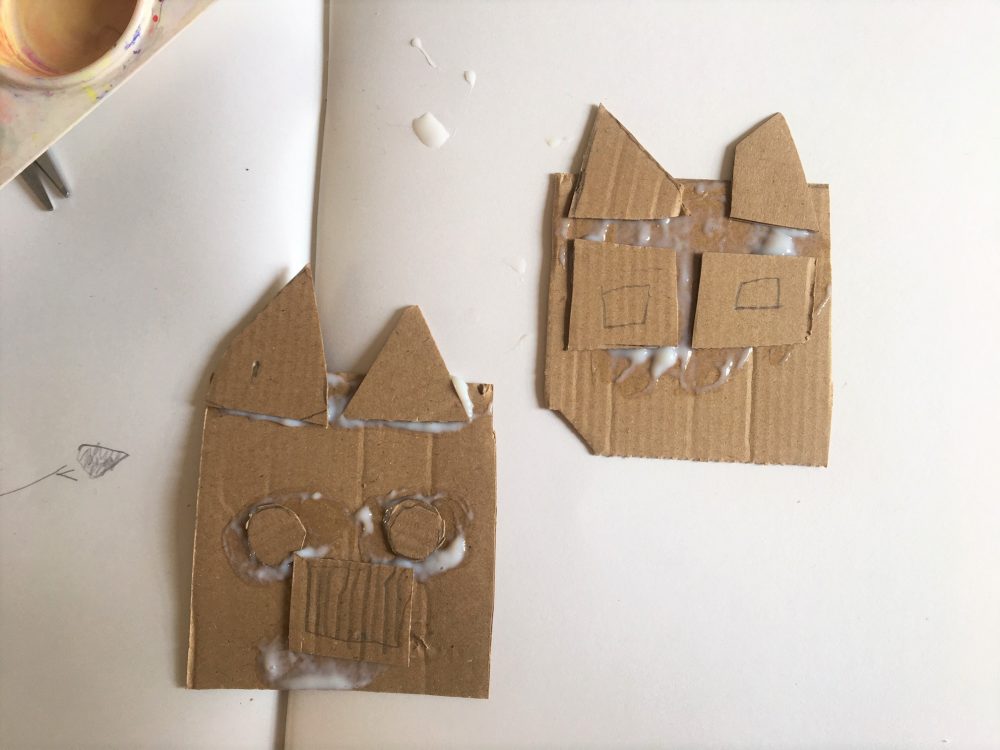 Next, take the pieces cut out for the body, arms and legs and bore a hole in each of the sides and ends, ready for connecting together with the split pins. Depending on the age you're working with, this may require adult assistance!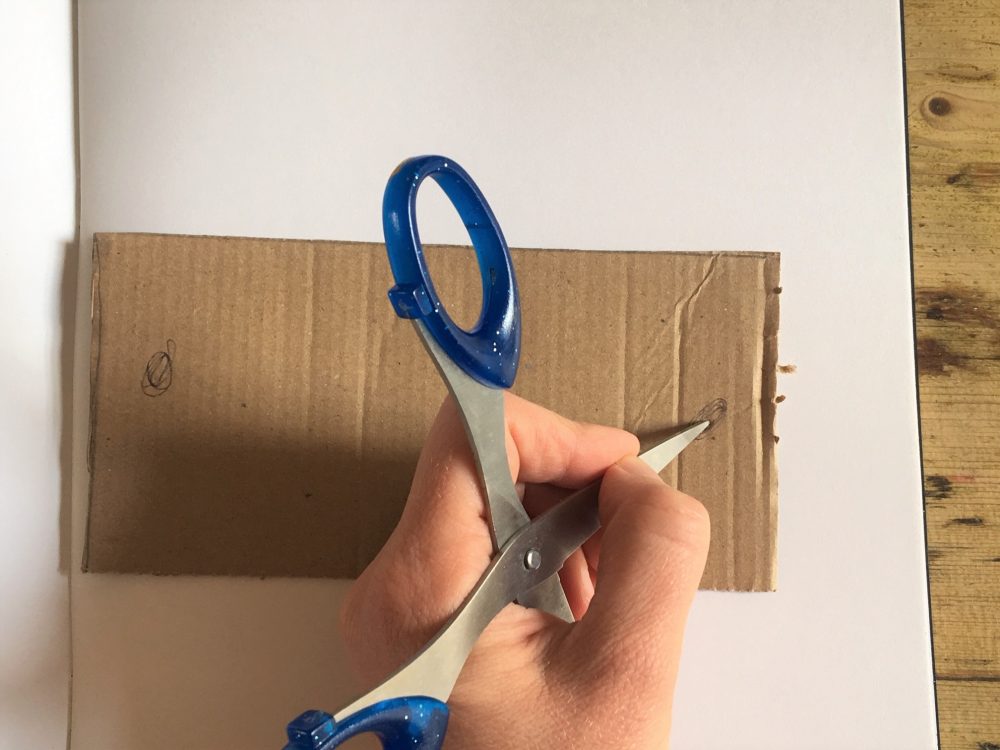 A larger rectangle piece for the body, with holes being pierced in each side ready for the arms.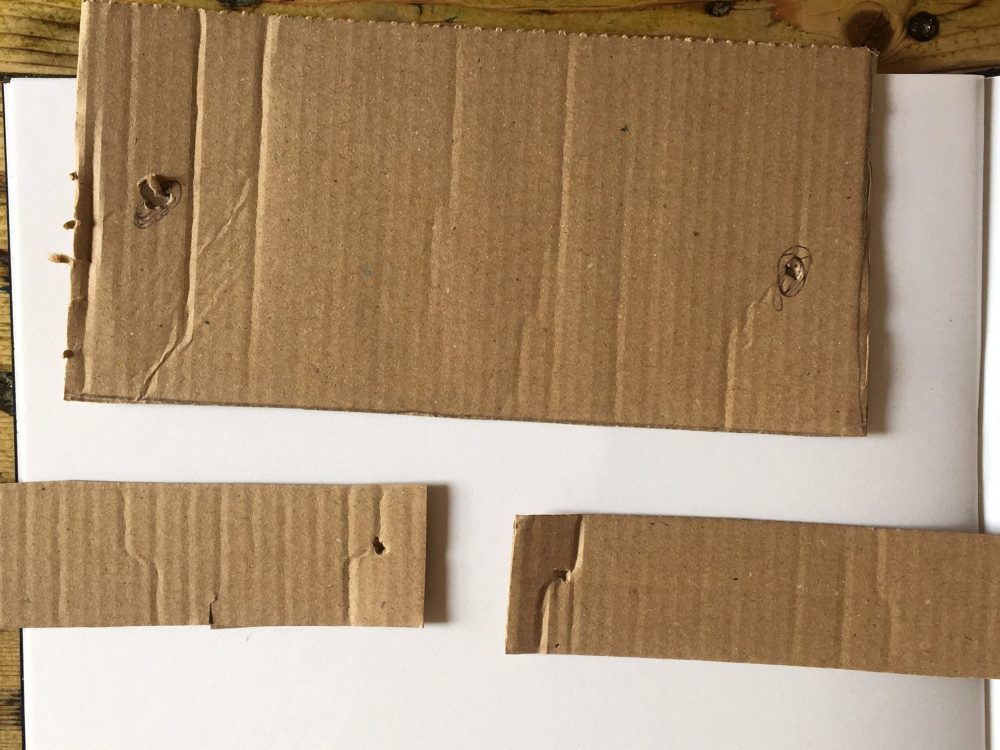 Attach the body pieces together through the holes in the body and arms. Show how the split pins work and encourage independence with this bit - it's a great opportunity to engage with some hand eye coordination!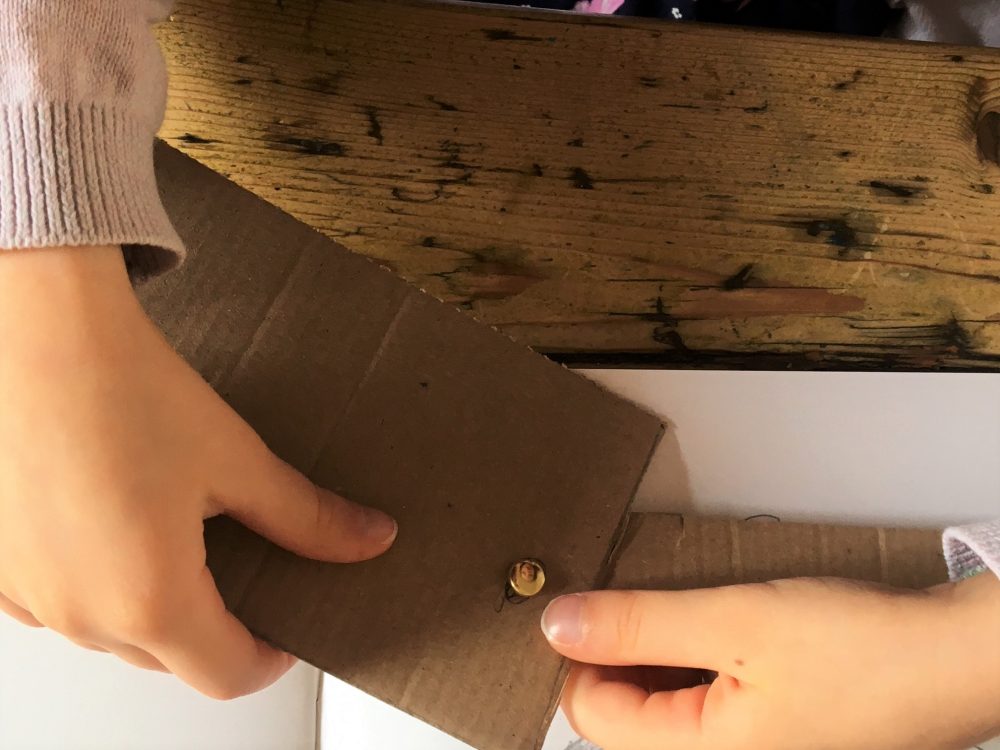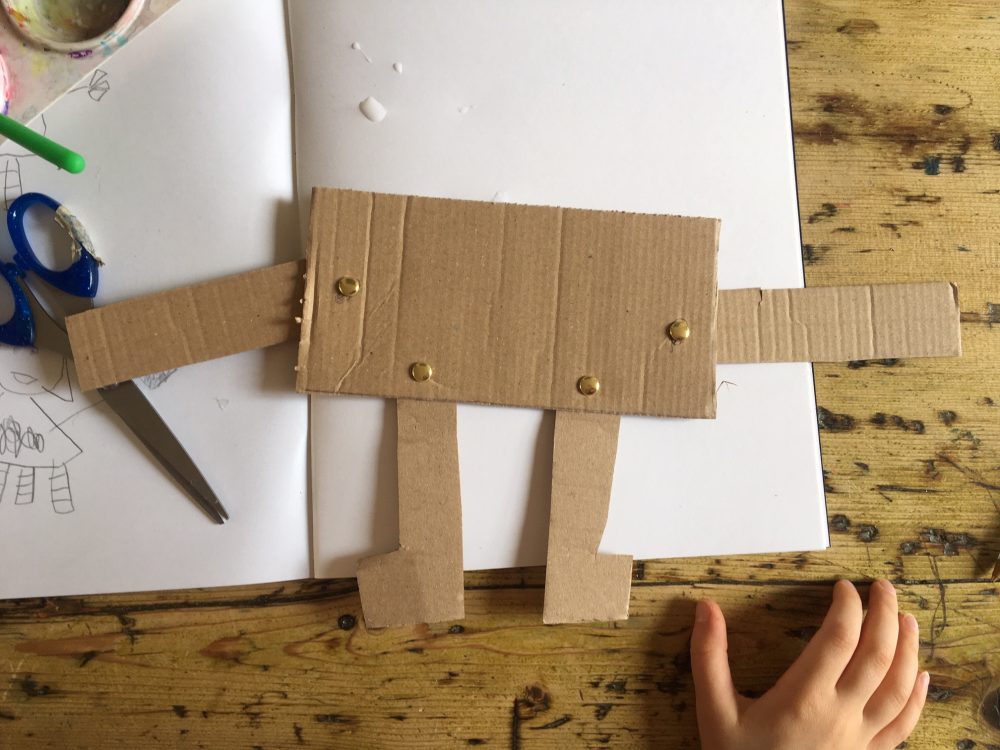 The legs and arms now attached and fully movable.
Next, it's time to attach the head (or heads, in our case). For this, you'll first need to brace the back of the body to create more of a support behind the heads so they don't start flopping over. You could still use split pins for this but the movement won't be quite a fluid as with the arms and legs.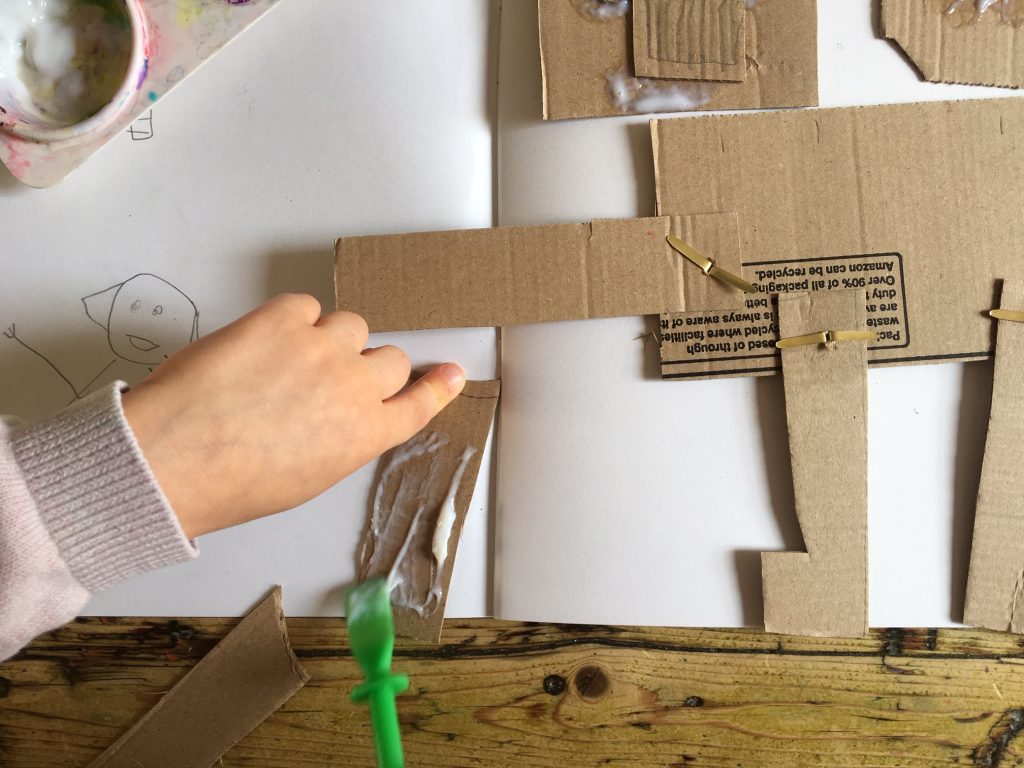 Cut two card strips and stick them to the back of the body. The strips effectively act as necks for the heads.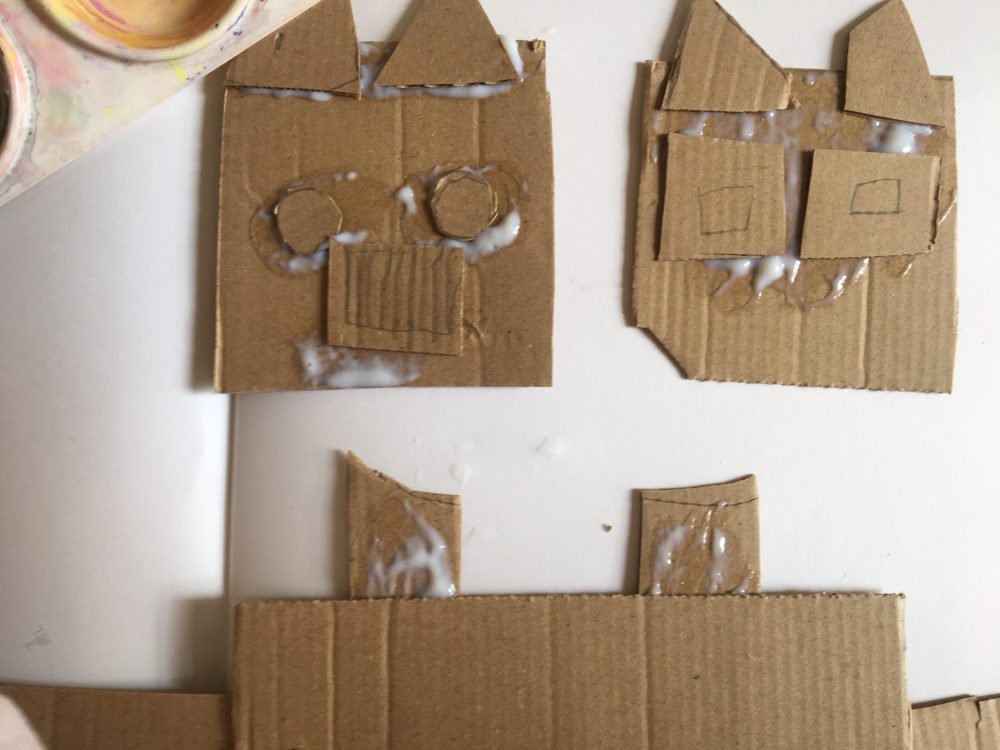 The Robot now has heads!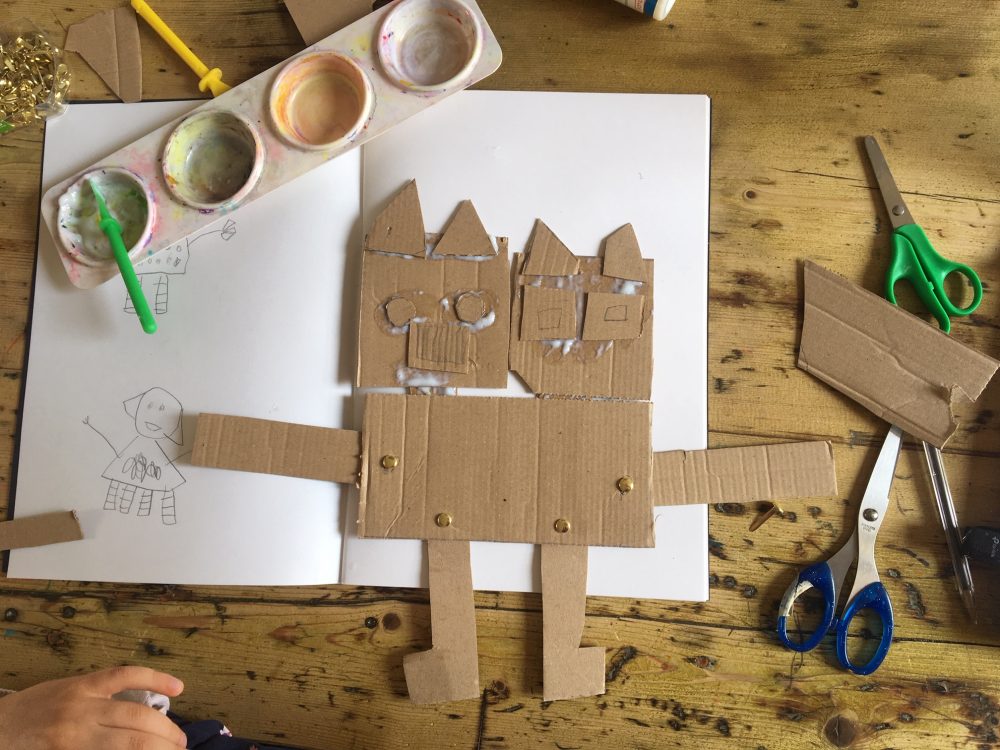 To introduce some variety, the final structural element we added before painting was the hands. For this, I suggested we use some gardening twine to attach the hands instead of the split pins. Again, this offers a great opportunity for careful dexterity, threading string through holes and learning to tie knots.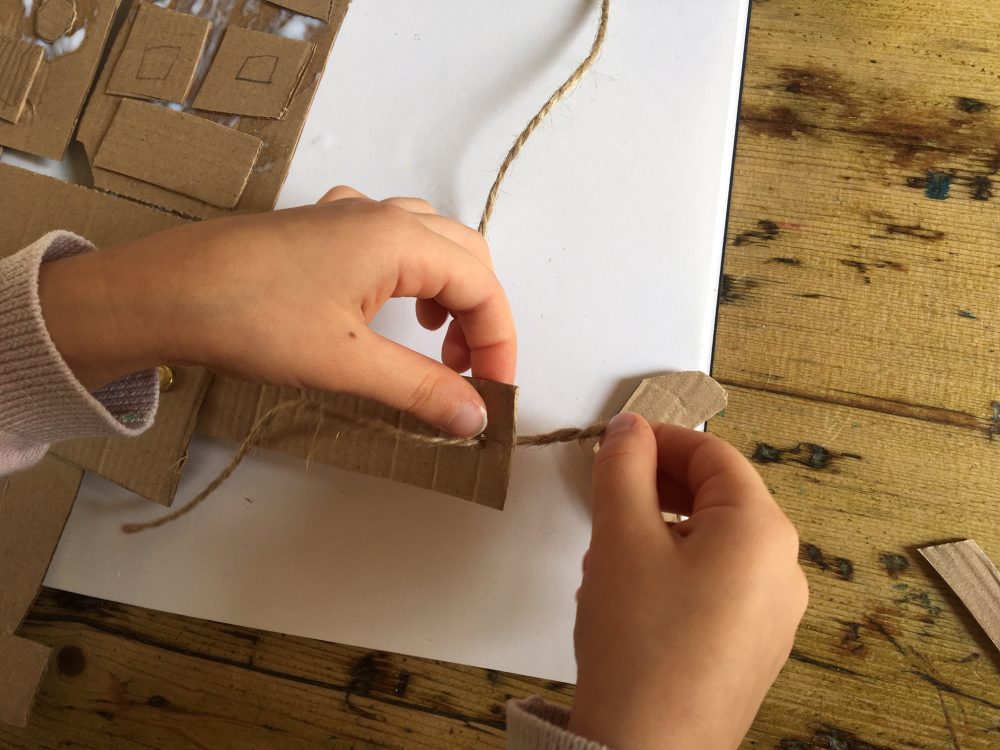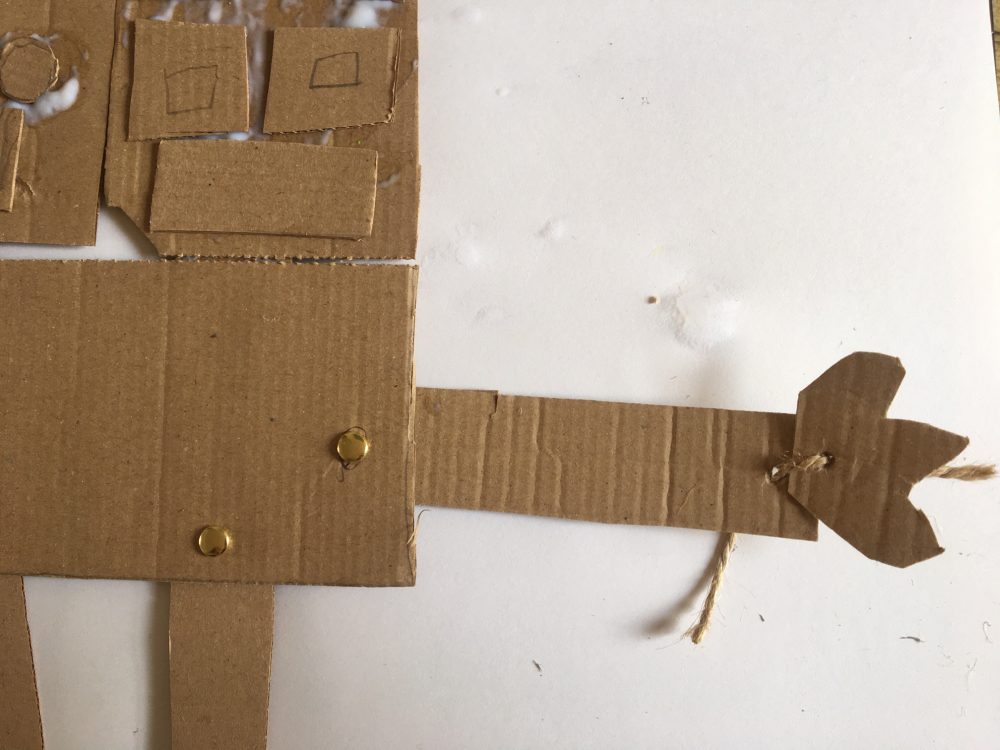 Leave the robot to dry thoroughly before adding paint. For this, ask your child to consider the colours and to refer back to their original design. Stepping back a bit at this stage is probably beneficial! Having said that, do encourage choice. What would they like to use to colour their robot? Getting to know what different art materials are and what effects they create is an important part of creative development and encourages confidence. My daughter wanted to use paints and felt tip pens but you could just as easily use wax crayons, chalk, charcoal - whatever you like!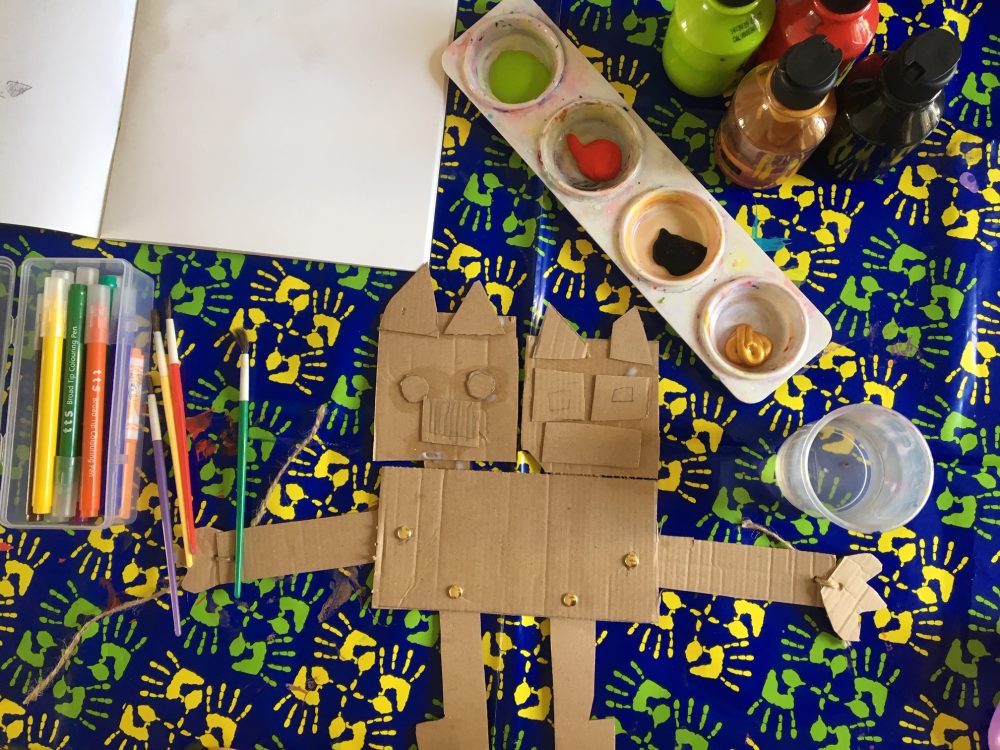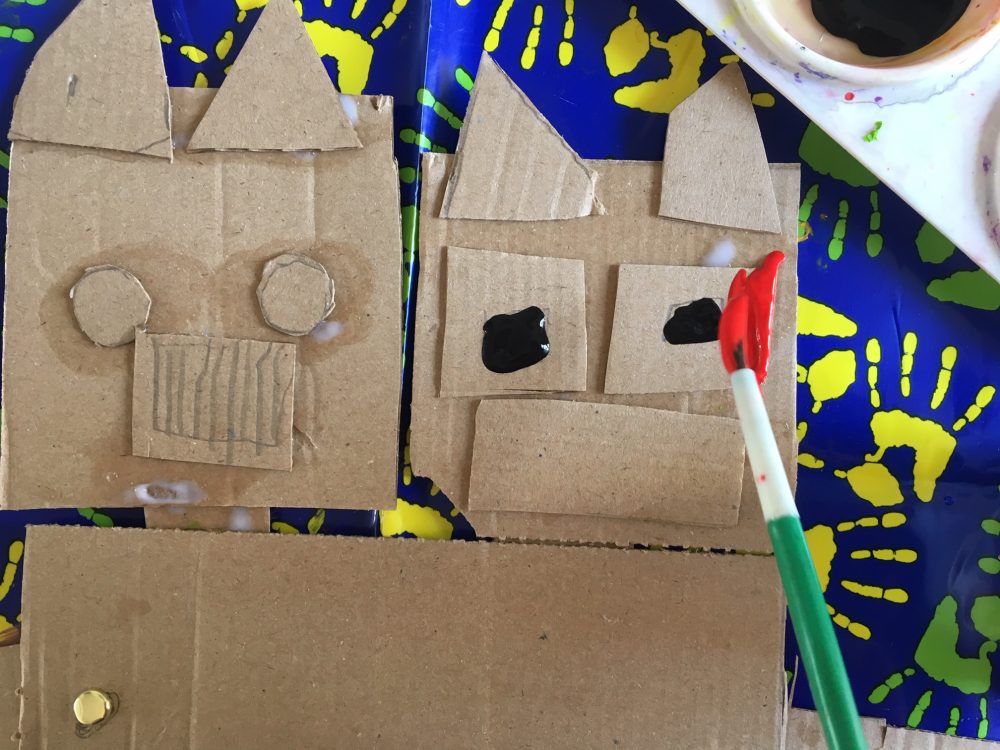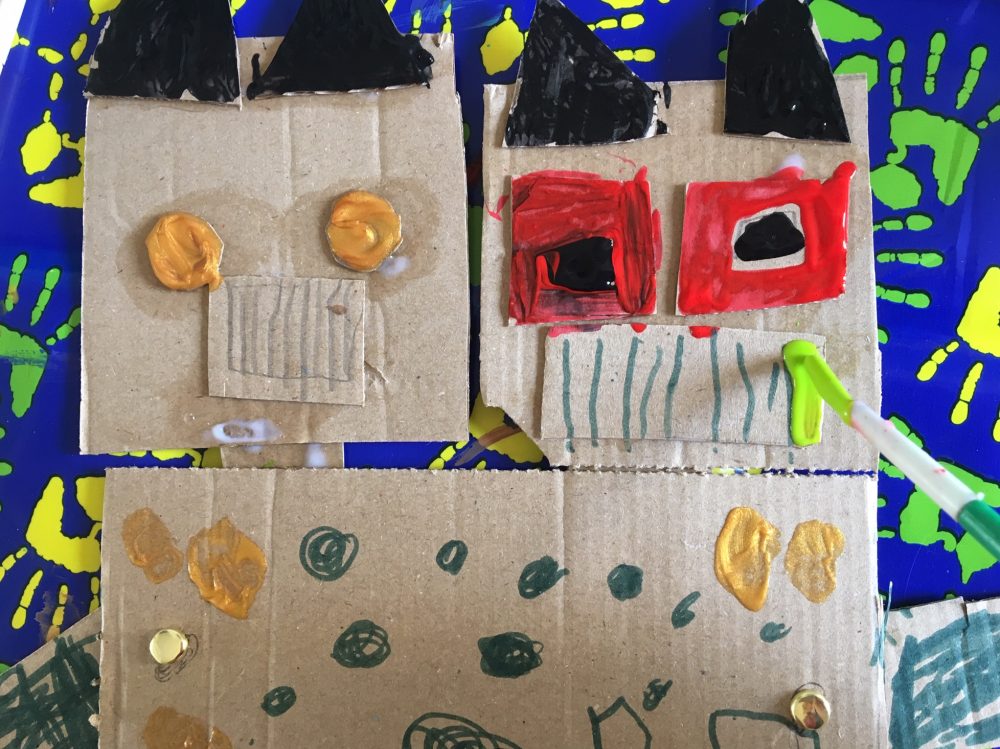 j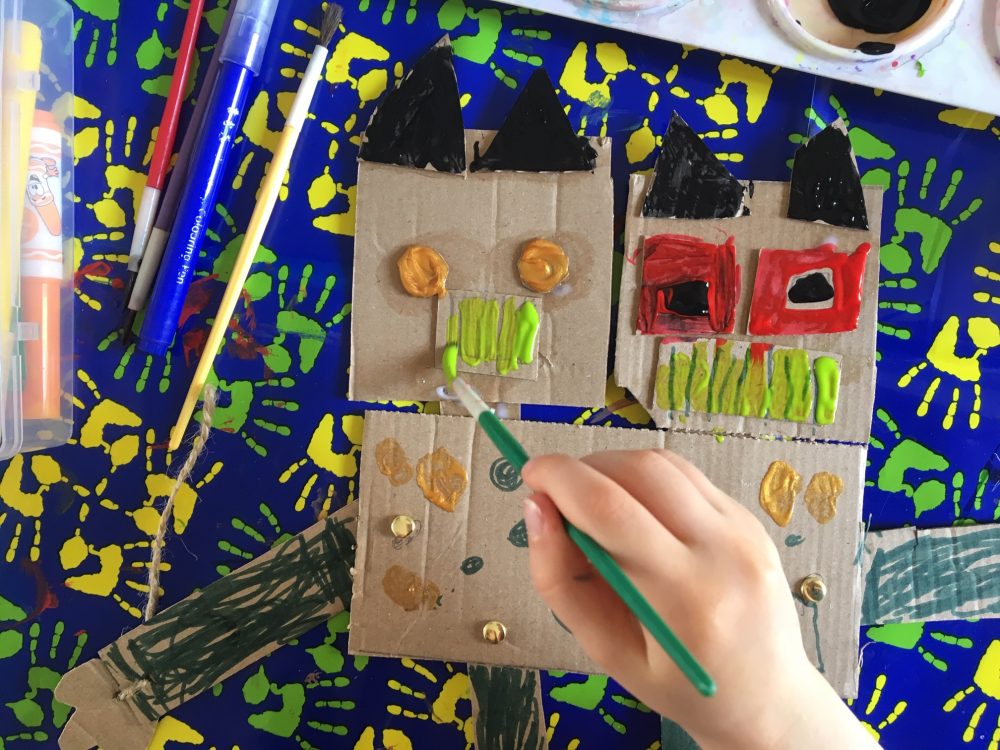 The finished robots can now be used for a variety of play methods, such as creating some more characters and making a puppet show. Simple puppets can be made using wooden sticks or straws and cardboard. If you have another cardboard box around, cut one side out and create a simple puppet theatre. Alternatively, create a collage backdrop on a page piece of paper or card depicting the world a robot might live in - perhaps even draw round some cogs or screws!
You can find more of Rachel's resources here.
---
This is a sample of a resource created by UK Charity AccessArt. We have over 1100 resources to help develop and inspire your creative thinking, practice and teaching.
AccessArt welcomes artists, educators, teachers and parents both in the UK and overseas.
We believe everyone has the right to be creative and by working together and sharing ideas we can enable everyone to reach their creative potential.