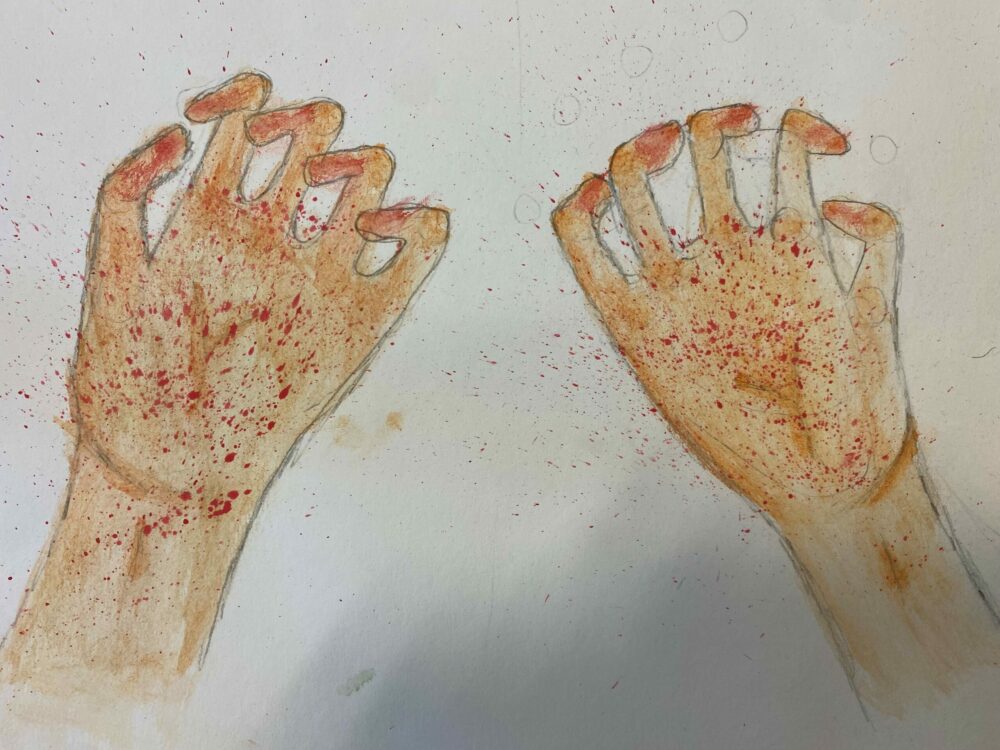 AccessArt is pleased to have collaborated with four schools from around the UK to deliver a series of visual art activities that aim to explore two of Shakespeare's plays: Macbeth and A Midsummer Night's Dream.
The project asks the following questions:
Can experimental and observational drawing activities help children gain an understanding of Shakespeare's plays, improve their knowledge of drawing techniques and their sense of creative confidence?
Can the complexities of Shakespeare's text, characters and themes be made more accessible to children's early or introductory explorations of Shakespeare, particularly for children who find written communication a challenge?
Can using visual arts activities enhance and complement existing methods of teaching Shakespeare in Primary and Secondary schools? ie through Drama and English Literature?
Some practical considerations:
Each session comprises of a warm up, followed by a starter discussion/context that then leads into the main activity. The warm up itself is standalone and is aimed at 'sowing seeds' that the class can then feed into how they approach the main activity. The main activity has more of an emphasis on objective but should remain as exploratory as possible.
The timings recommended for the sessions are approximate only. Depending on the structure of your timetable, you may wish to make some of the sessions longer or spread them over two sessions. These sessions focus on a selection of plot points of the play, but not all of them. The banquet scene with the ghost is not included for example.
AccessArt wishes to extend our thanks to the schools participating in this project! Thank you to the teachers and children at Ridgefield Primary School Cambridge, St Matthew's Primary School Cambridge, and Tweeddale Primary School Surrey. 
A brief introduction to the play Macbeth:
Macbeth is an atmospheric horror story that takes place in a wild and lonely part of Scotland. Written around 1606, it opens with three witches meeting on wild Scottish moorland. We learn that they plan to meet Macbeth, a Scottish General. Macbeth returns from battle a celebrated hero. Along with his friend and fellow soldier Banquo, Macbeth stumbles upon the witches on the moors and the witches tell of their prophecy that Macbeth will soon be the new Thane of Cawdor and later, King.
Igniting Macbeth's ambition to become royalty, and encouraged by his wife, Macbeth murders the King (Duncan) and later, Banquo.
Macbeth begins to feel he is indestructible and that his power is growing – but Lady Macbeth, despite her early encouragement, starts going mad with paranoia over what they have done. Then the loyal Thane of Fife, Macduff, begins to suspect Macbeth and flees to gather an army against him. While he is away Macbeth murders Macduff's family.
Macbeth's murderous deeds are eventually discovered and the play ends with Lady Macbeth committing suicide and a final battle where Macbeth is decapitated by Macduff.
Session One: Heath Landscapes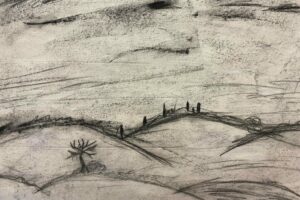 Session Two: Witch's capes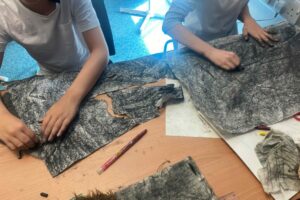 SESSION THREE: MACBETH PORTRAITS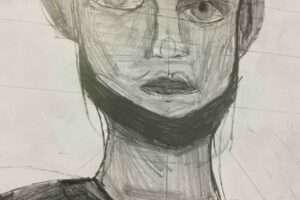 SESSION FOUR: MACBETH POSTERS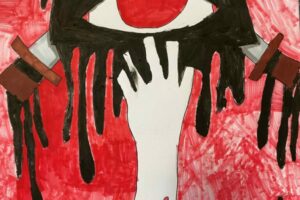 SESSION FIVE: OUT DAMN SPOT!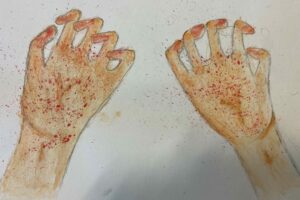 SESSION SIX: STORYBOARDS