Welcome to AccessArt's ongoing programme of creative zoom events. 
With the exception of the Introductions to AccessArt, most of our zoom sessions will be recorded. Recordings of the In the Studios sessions will be available to AccessArt members, and recordings of paid sessions will be available to paid ticket holders. 
We also offer tailored CPD for teachers – find out more here.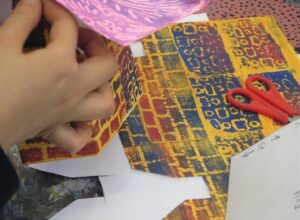 4.15-5.30pm GMT
The forth in our series of 4 CPD sessions for Art Leads and Newly Qualified Teachers will explore Printmaking.
In this session we will introduce you to the area and provide activities and key resources from AccessArt which you can then use with your staff in a CPD in your school at a later date. The sessions will be a mixture of theory and practice, and no previous knowledge of the area is needed.