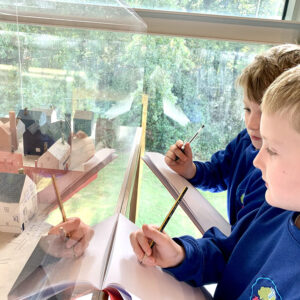 The aim of 'Our Creative Community: A Pupil-Led Project' is to get pupils to engage with their local area, inspired by artists who live on their streets. By facilitating a project similar to this in your educational setting you will be providing pupils with the opportunity to self-direct their own project and engage with their community.
This exciting project was designed and facilitated by art and craft specialist teacher Natalie Deane at Battyeford Primary School in Mirfield.
This project model is aimed at Key Stage 2 and 3 (ages 7-14), to be run outside of timetabled sessions, for example, in after-school clubs, community settings or home education. This project was run over a period of nine months with twists and turns based on the momentum of pupils. We hope that you can take this model and apply it to your own locality, providing pupils with insight into their creative community. 
Explore Our Creative Community: A Pupil-Led Project