A collection of sources and imagery to explore the work of landscape painter Kittie Jones.
Please note that this page contains links to external websites and has videos from external websites embedded. At the time of creating, AccessArt checked all links to ensure content is appropriate for teachers to access. However external websites and videos are updated and that is beyond our control. 
Please let us know if you find a 404 link, or if you feel content is no longer appropriate. 
We strongly recommend as part of good teaching practice that teachers watch all videos and visit all websites before sharing with a class. On occasion there may be elements of a video you would prefer not to show to your class and it is the teacher's responsibility to ensure content is appropriate. Many thanks.
This resource is free to access and is not a part of AccessArt membership.





Kittie Jones
Kittie Jones is a fine artist based in Edinburgh. She graduated from Edinburgh College of Art and Edinburgh University in 2008; she currently works from her studio at Coburg House Art Studios in Leith and regularly exhibits around the UK.
"My work is concerned with the experience of time spent looking and interpreting the natural world. I am drawn to places which have an abundance of nature – sea bird colonies, fertile coastlines and remote islands. On drawing trips I will settle in a promising spot and start to develop work from there. The energy in the work comes from the constantly changing elements of the natural world – birds moving in and out of vision and the shifting quality of weather and light. " – Kittie Jones
Questions to Ask Children
What kind of atmosphere does Kittie capture in her work?
How does mark making add to the painting?
How do the paintings make you feel?
What other inputs do you think Kittie gets from painting outdoors? How do you think these impact her work?
Would you like to experience sitting and painting in the outdoors?
Pathway: Mixed Media Land and city scapes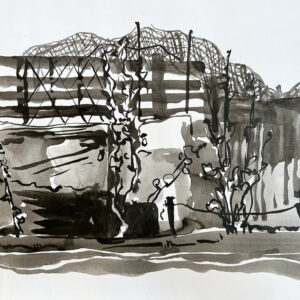 using sketchbooks to make visual notes