Sketchbooks present pupils and teachers with an excellent opportunity to share thoughts, and at the same time to create an exhibition or display which can inspire others to action.
Here's some ideas about how to display sketchbooks to create or encourage a more active and therefore engaging display. If you have more ideas, pls leave your comments below.
A sketchbook corner: Try REALLY HARD not to dismantle sketchbooks! Instead think about them as OBJECTS and think how you can display them as exhibits which can be touched. Think less about traditional ways of displaying artwork, and more about creating a corner or table which in itself creates a sense of visiting, sitting, enjoying – use cushions, a rug, a chair, a pile of sketchbooks… Allowing the audience to interact with the sketchbooks, and be less passive.
Create a sketchbook "wall": If some of your sketchbook work has been created on separate sheets of paper, compile a sketchbook wall. Don't make it neat and tidy, don't mount pages to display them – keep it what it is – a series of thoughts – let is look more like it is in a working artists studio, than a final exhibition. Its far more interesting and energetic that way.
Show context: If your sketchbooks were used to further another activity – e.g. design or research and idea which was then made, display all elements together so the context of the sketchbook can be seen.
If possible display pupils sketchbooks alongside sketchbooks from creative practitioners – including teachers.
Empower the pupils to decide on the display – this is all about self-directed learning after all!
Always think about how you can enable activity in the audience… Give your audience access to materials so they can write down their ideas, and start getting into the sketchbook habit – inspired by your display!
Comments below pls.
"I do have a more painless approach to amassing collections of sketches. I often draw on anything to hand; bus tickets, wrapping paper or writing pads. These get taped up onto my 'inspiration' wall in my studio alongside all of my art postcards. These little ad hoc drawings eventually get pasted into a 'scrapbook sketchbook'; which has become a loving collection of mementoes from those pockets of time in between making the tea and washing up, where I capture my life on a small scrap of paper found in the recycling bin. All of these scrapbooks and sketchbooks are my visual diaries." Emma Davies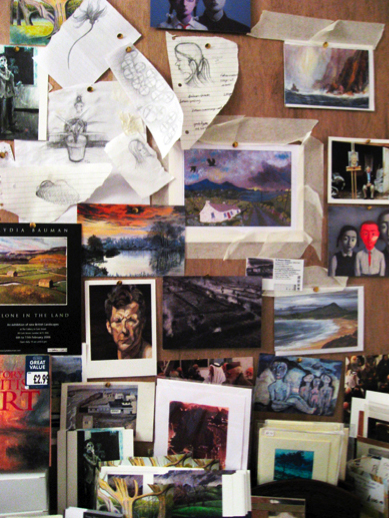 "We've set up a 'sketchbook box' in the corner of the classroom, filled with magazines, papers, and made sure that pens, chalks etc are available to them for whenever they want them." Fran
"I really want to share the sketchbooks with the parents, so we shall display them at the leavers' assembly, and again at an open day we will have next term. Our children and staff are still learning how to use them best. Some of our children, particularly the younger ones, have started notebooks and sketchbooks at home and bring them in to show from time to time. Artists' sketchbooks has been a very useful resource to help the children see how to use their books and how to be cool about what is in their book" Mary-Jane
Copyright AccessArt 2013 www.accessart.org.uk