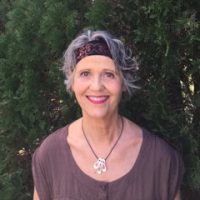 Kathryn Sjogren is a Venice, Florida based artist and teaching artist who "loves what she does" and "teaches what she loves".
Born and raised in Miami, Florida, her father was a vegetable farmer. She had many great adventures exploring her tropical environment as a youngster and her art reflects her love of nature. She has 30 years experience teaching art to individuals who have special needs including children, teens, and senior adults.
Kathryn has worked as a teaching artist in Florida, Kentucky, New York and England. She is a teaching artist/writer for Van Wezel, the city of Sarasota's Performing Arts Hall (Artworks for Schooltime Performances), teaching artist for AFTA (Association of Florida Teaching Artists), and a teaching artist for VSA Florida (The State Organization on Arts and Disability). Most recently, Kathryn has started an "Expressive Painting" program designed for seniors residing in assisted living and memory care centres.