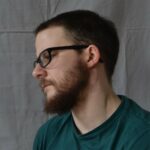 Lancelot Richardson is a freelance artist, illustrator and tutor based in Brighton, England. He works across a variety of different drawing and painting media, producing works from both observation and imagination. 
Drawing is a key component of his practise, in its own right, as the foundation for other projects, and as an important link between disciplines. He will draw almost anything, though he particularly enjoys drawing living things, landscapes, and moving subjects. Before switching careers into art, Lance did a masters degree in physics with astrophysics, and is still keenly interested in science and nature.
He regularly teaches at independent art school Draw Brighton where he runs life drawing sessions and creates blogs and videos on drawing for their online programme.