We'd like to introduce a couple of key core values of AccessArt when it comes to teaching sketchbook skills:
The teacher shouldn't make marks (of any kind) directly in a pupils sketchbook!
There's been lots of debate since we started this project about how we can protect the sketchbook as a place for pupils to call their own, and at the same time balance the potential need (when used within school) for a sketchbook to be seen by a teacher, or even to be assessed (this is a prickly area and we will create resources to kick start the debate very soon).
When sketchbooks are shared by a pupil, with a teacher or the rest of the class, we feel very strongly that we should be respectful of the pupils' books and their content (and so teach them respect).
Understanding how to nurture sketchbook work is the subject of another module (coming soon). There are two simple ways however which teachers might want to think about introducing as being courteous and non-destructive ways to feedback to pupils about their sketchbook work:
1) Post-it. Use post-its, or paper and paper clips, on sketchbook pages as a way of giving feedback on work, and helping with direction etc.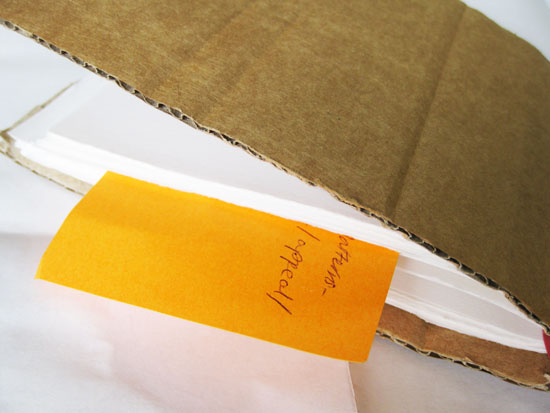 2) Invest in one-to-one. Pupils and teachers will find "tutorial" style feedback much more beneficial, although of course it takes more time. But if this kind of feedback is built in to the school day/week it really provides an opportunity to build an understanding of how the child is thinking, and promotes self-directed learning. It also works well in small groups too, so pupils can benefit from each others thought processes.
The teacher should try the activity too!
When pupils see the teacher trying the same activity as them it works for two (at least) reasons:
1) It's very empowering for the pupils to see the teacher "learning". It again promotes the idea of self-directed learning, and demonstrates learning as a creative and life long process with exciting outcomes.
2) Through trying the activity for themselves, teachers can benefit from a greater understanding of their own creativity, directly experience and understand more deeply WHY the activity is being undertaken, and actively think towards HOW the activity can be developed.
If you have any comments or suggestions re the above advice please use the comment box below.
"I agree with not writing in the sketchbooks, however does anyone else have a better idea than post it notes? When you're assessing sketchbooks as part of an art class, these can often go missing – resulting in some young people saying they never recieved it in the first place! Maybe a pro forma that could be stuck in the back and numbered pages? Does seem a bit long winded though….ideas welcomed!" Guerilla Embroidery
"I did a project with 17 year olds as part of a team/leadership building activity week for Skills Development Scotland, where we filled in a simply made sketchbook with drawings of what the students found difficult, important and what made them proud. It turned out to be a great record of achievement, a lovely souvenir, and one they all seemed to cherish. Research is continuing." Jenny Soep
"We used sketch books in school last year and they worked quite well, i don't agree with writing in the children's books either. Towards the end of the year i was working with groups of children and we talked about what content they had in their journal so i could ensure they had gathered the info they needed and guide them in their next steps to their learning. It was also a good opportunity for the children to share designs, good pieces of work and their ides with myself and others." Rachel Little
"I would suggest: that sketchbooks shouldn't be split into "school work" and "homework".
I have memories of sketchbooks in my school being given two states – the first: use the front for the work we give you to do, the second: turn your sketchbook upside down and use that end of the sketchbook for any sketching you might want to do at home. The problem I have with this is that it a) seems to imply importance of school work over home"doodle", and b) that really the sketchbook should be wholly owned by the pupil and all content should come from the pupil, whether its initiated by school or the pupils themselves. Maybe better to encourage separate sketchbooks for different types of activity – but all important…" Paula
"This has really changed the way I look at art within my classroom and also within in the school. As a new subject leader I didn't really know where to start, but this project has really made me think about how we look at art as a whole." Sam Franklin
"Another method which I promote to my teachers in West Sussex for giving direction is to use your own sketchbook in class to model or exemplify a point alongside the child. We often use strip sketchbooks [half A5 size]and encourage children who are reluctant to commit to the blank page to work over our own work or alongside it. This provides a useful scaffold / starting point for some children." Jane Sedgewick
"I agree, a sketchbook must remain personal and intimate to the individual who owns it, therefore, to maintain respect the teacher can give feedback in a manner that is non intrusive and yet supportive. Post-its brilliant approach!" Arlene C Marsh
UK Charity AccessArt welcomes artists, educators, teachers and parents both in the UK and overseas.
We believe everyone has the right to be creative and by working together and sharing ideas we can enable everyone to reach their creative potential.
Join AccessArt from only £3.50 per month and enjoy full access to hundreds more resources!
Join Us!
Add to favorites