We have been very impressed by the wide range of stitched techniques that have been used to create the many wonderful houses that we have received for the AccessArt Village Project. They range from beautifully embroidered surfaces to charming line drawings in stitch. The deadline for sending us a stitched house to add to the AccessArt Village is June 2017 . If you would like to contribute but are concerned about the amount of time you have available to make a house, this stitch activity could be for you. The project can be completed at one sitting or you can finish it over several small sessions.
Make a sewn drawing of your home and send it to AccessArt to be part of a touring artwork – Find out more details here!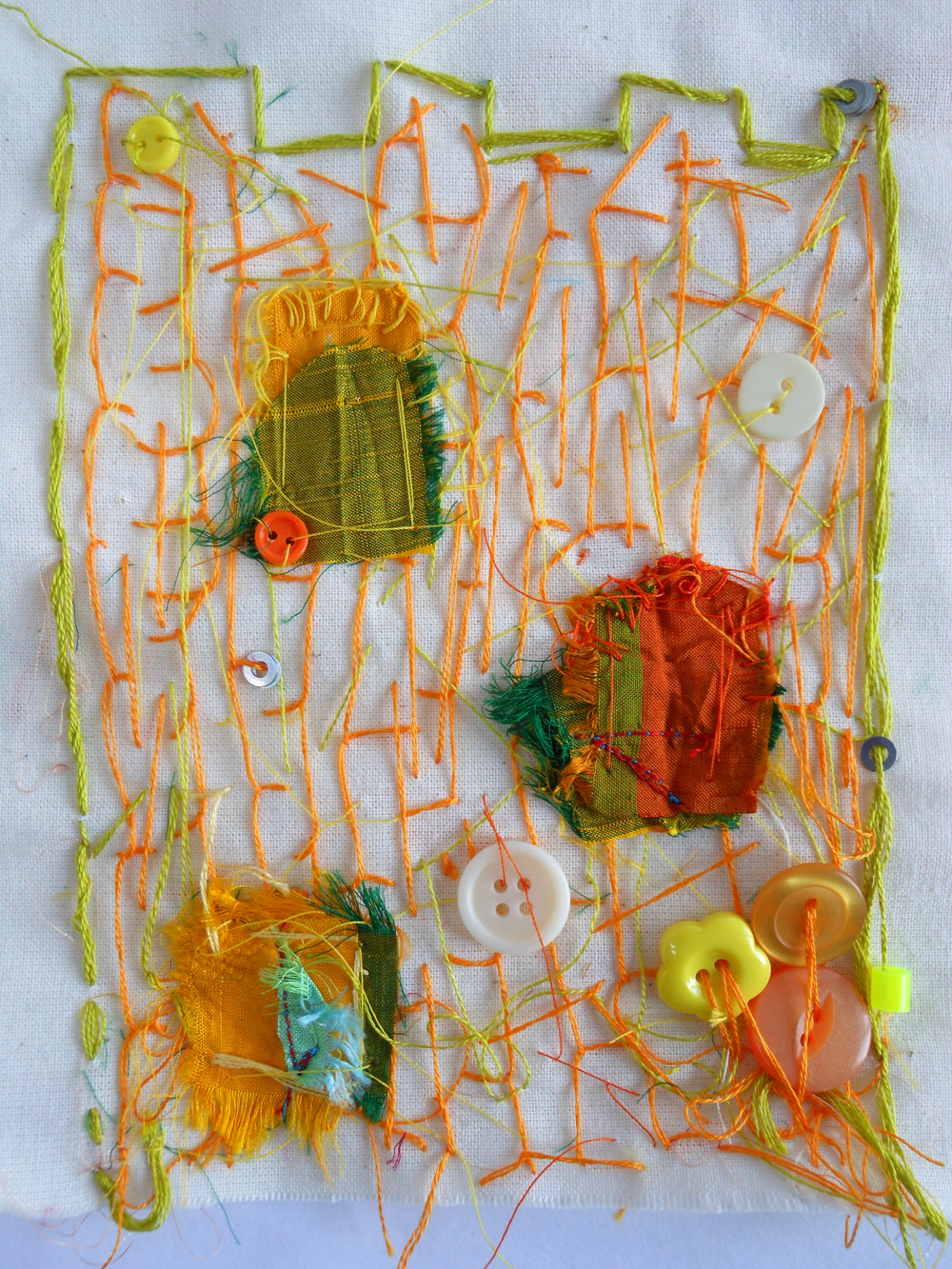 To Begin:
One way to approach embroidery/stitching is to think about it in terms of collage and mark making: hanks of wool and shapes cut from fabric can act as an equivalent to paint or coloured paper; stitches are very like the lines and marks you can create with felt tips, markers or coloured pencils. Stitches can also be used to attach found objects to the surface of the fabric: beads, buttons, washers…in fact anything that you feel has decorative potential. You can be as free and expressive with mark making/pattern/colour/texture as you like – there is no right or wrong way to make these kind of stitched 'drawings'. The key thing is to enjoy the creative process and to make what feels right for you, with as little or as much detail as you like!
As you would for a collage activity, gather lots of materials for your project – collect anything that you instinctively like or respond to, you might not use them all but you never know what might be just the right element to add to your stitched collage. Small packs of fabric pieces and threads can be bought online – if there are a group of you then you might be interested in our wool and calico bundles. For this activity, I used a medium weight calico as my base fabric to stitch onto but you could choose other fabrics.
If you would like some help on understanding basic stitches, choosing fabrics and making a drawing of your home to inspire your fabric collage then this page might be useful.
Exploring shapes/marks/lines with fabric and thread:
You might like to try a couple of small samples first or you could dive straight in! Shapes can be cut from fabric and the edges frayed to add texture. Fabric, threads and stitches can be layered to build rich surfaces. You can achieve exciting effects just using a straight stitch and playing with the scale of the line/mark, its direction and thickness. If you know other stitches then you could add those to your collage: cross stitch is a simple stitch that can be very effective when the crosses are stretched or layered. Again, there is no right or wrong way to make these stitches and if you don't like the effect then you can just take them out – or stitch over them!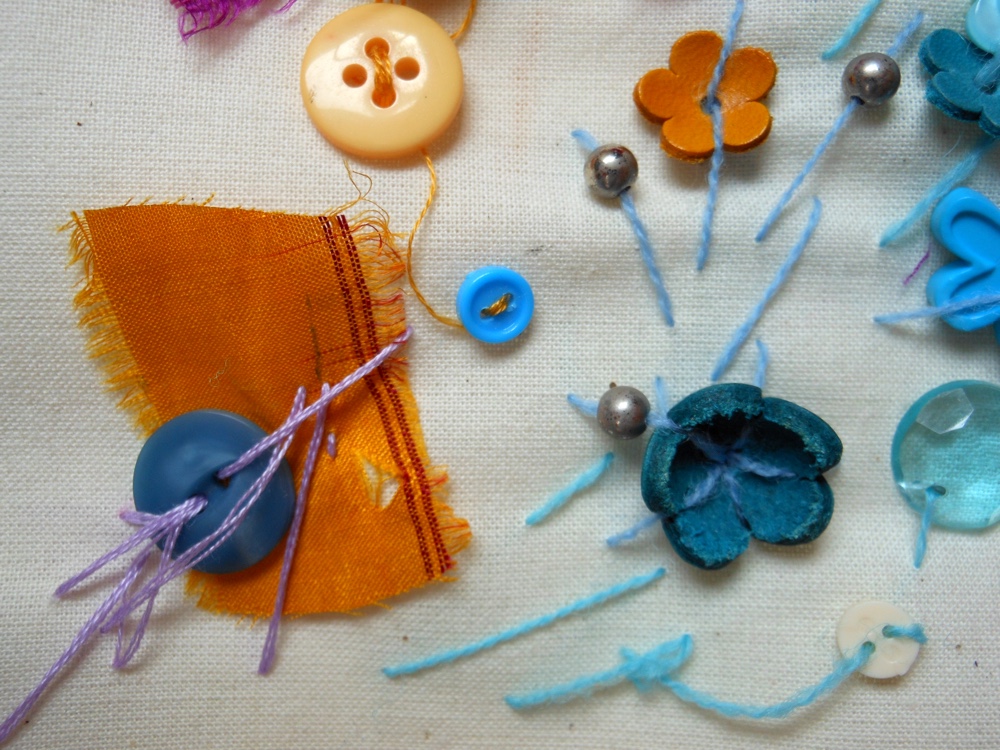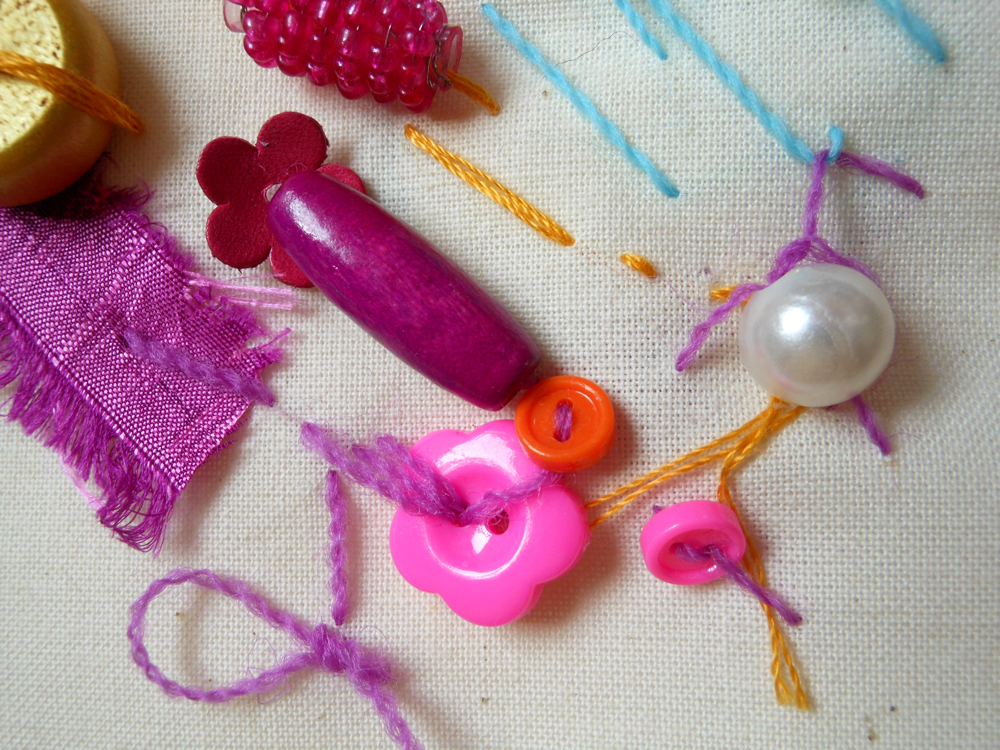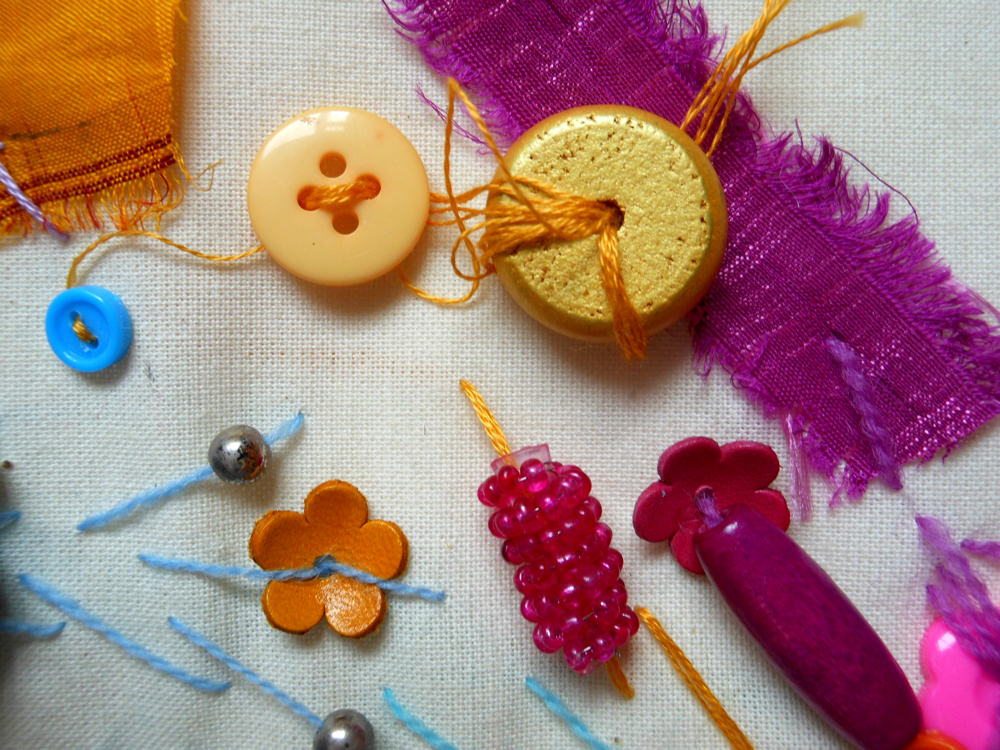 The first castle
I had stayed in a small castle on holiday and for this first 'house' I made a drawing from a photo in black pen to give me a jumping off point for my stitched collage. I worked straight onto the calico using fabric and thread to create my own version of the castle, with no clear idea in my head as to the finished outcome, just responding to the decorative effects of the materials and threads as I worked. I started out with a coloured shape just over A5 but realised that it might be easier to work at a size between A5 and A6 in the time available.
The collage was completed in just under an hour.
The second castle:
I used green embroidery thread to make a line drawing going around the edge twice to create a varied quality of line. I split a strand of orange embroidery thread (it's made up of six strands – find out how split them in this post) and used two strands to make straight stitches over the surface changing scale and direction. I overlaid them with yellow and green sewing thread using the same stitch process, occasionally adding buttons or small metal washers as I sewed. Finally, I applied some fabric scraps that had already been joined on the sewing machine (creating a small scale contrasting line of stitch), to the surface and added a collection of larger buttons.
The Third Castle:
Once you start stitching you might find that you want to take a bit more time and add further details. This is what happened with this piece – I completed it in about one and 3/4 hours. To start, I made a line drawing on the surface with a long scrap of fabric then began to build up layers of marks and adding blocks of colour.
The finished embroidered collages were made into models to add to the AccessArt Village: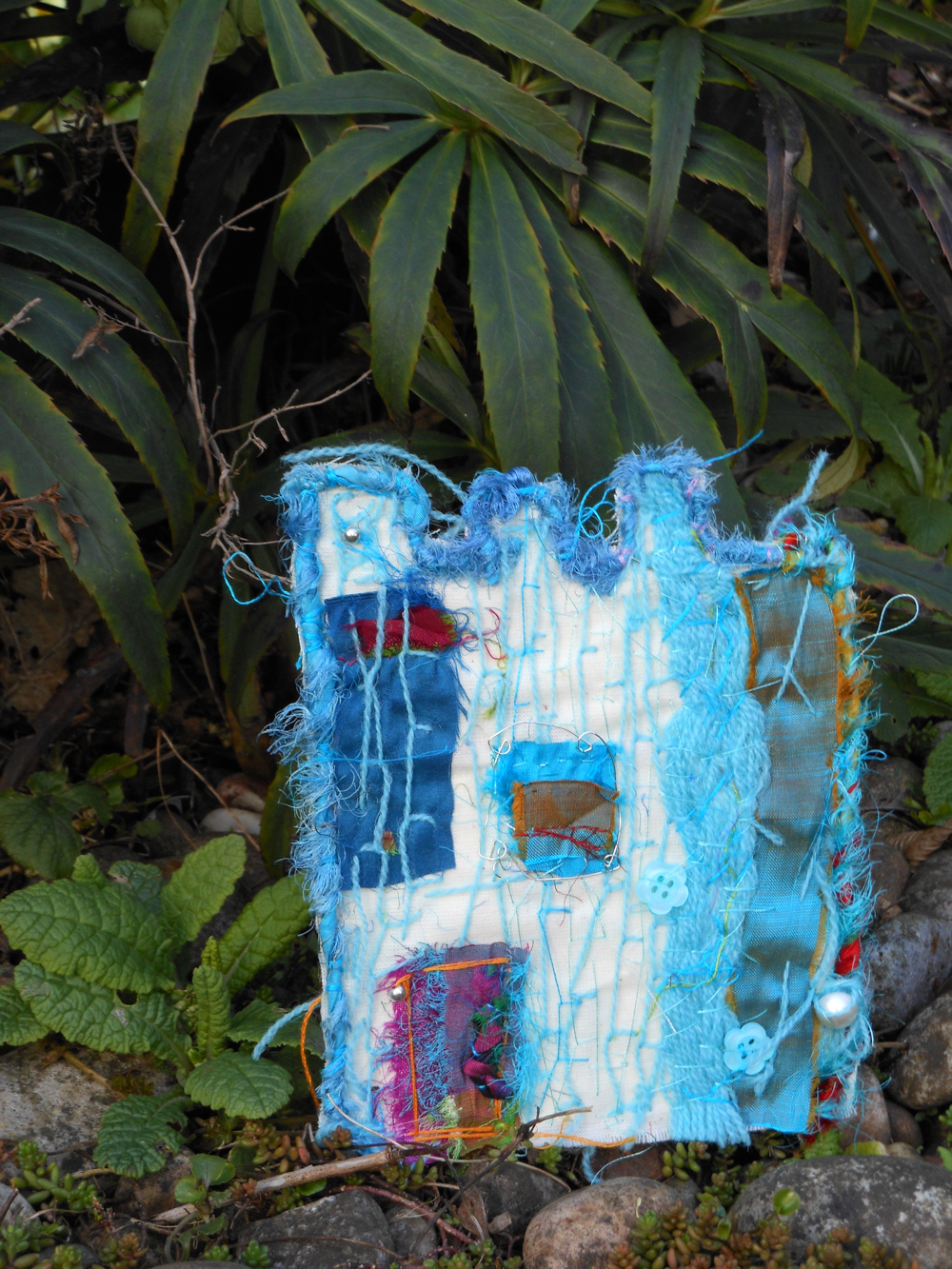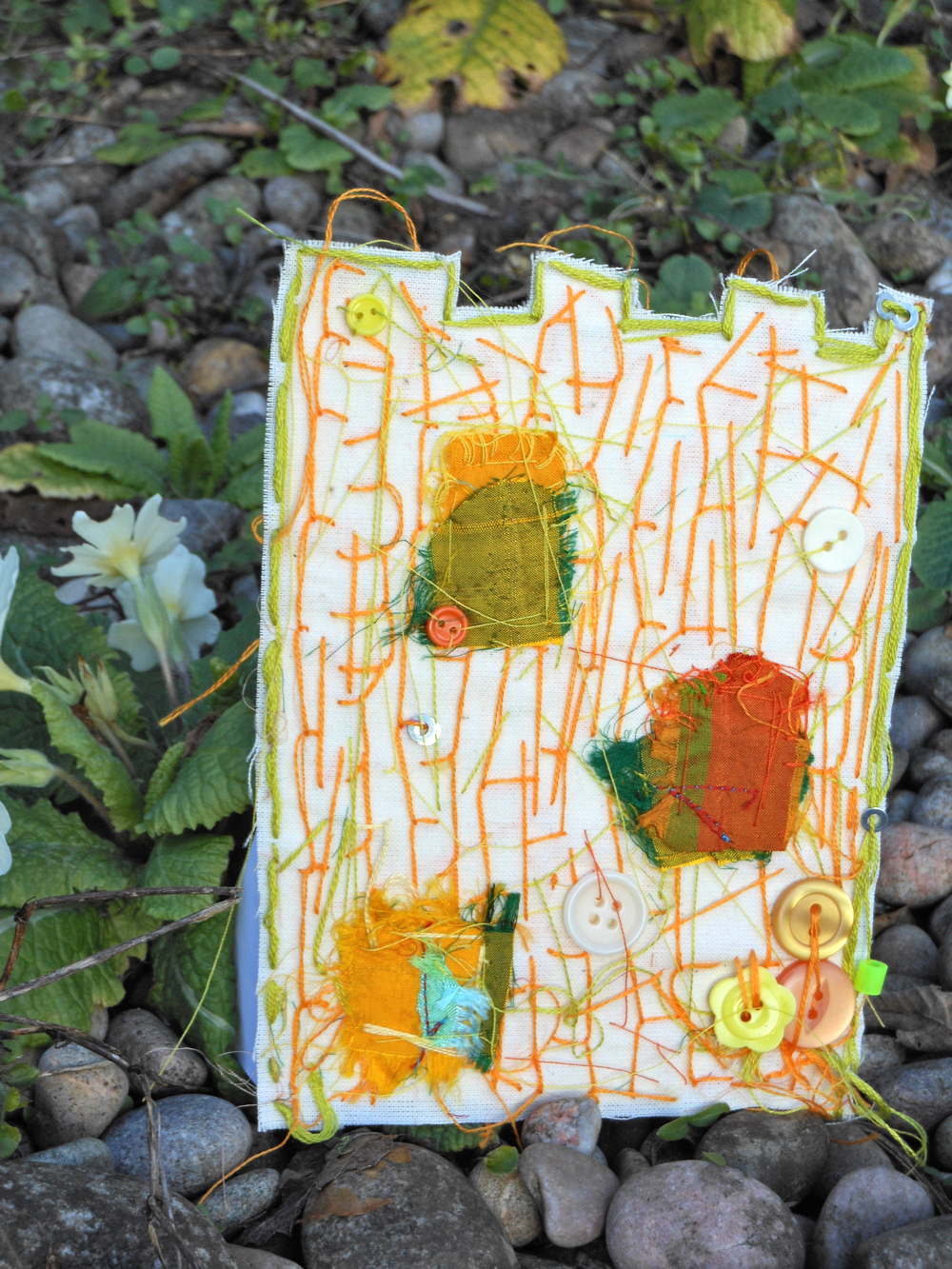 Make a sewn drawing of your home and send it to AccessArt to be part of a touring artwork – Find out more details here!
See other resources on making a stitched drawing of your home:
Draw Your Home: Collage, Stitch and Fabric Crayons
Collagraph, Collage and Stitch: Make an Image of your Home on Fabric
Many thanks to Appletons Wools for supporting the AccessArt Village Project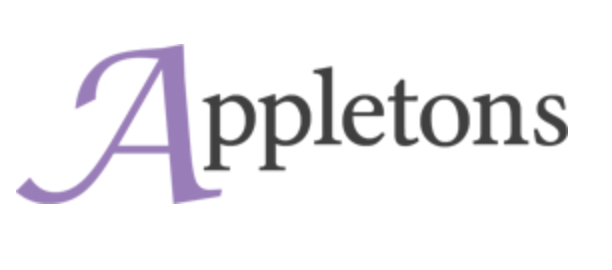 UK Charity AccessArt welcomes artists, educators, teachers and parents both in the UK and overseas.
We believe everyone has the right to be creative and by working together and sharing ideas we can enable everyone to reach their creative potential.
Join AccessArt from only £3.50 per month and enjoy full access to hundreds more resources!
Join Us!

Add to favorites