By Mostyn de Beer
In this resource, Mostyn de Beer, an art educator based in Stockholm, shares a workshop idea for children using old books as the basis for a flip-book style animation.
This session idea would work well with ages 8 upwards, and might be used to explore ideas about narrative and illustration.
Background to the Project
I try to find opportunities to recycle instead of buying in material, and to make use of things in my surroundings. I hold some of my art workshops in a studio above a library, and this leads to my having access to a good deal of useful material. One resource is the cardboard packaging that books come in, and another is old and damaged books that are going to be thrown away or recycled. I'm very keen on William Kentridge, and his work inspired me to use some of these books as part of a lesson on animation. Examples of his work can be found on YouTube; "William Kentridge: Fortuna" is a good example.
In my day-to-day teaching practice, I like to see how I can replicate techniques that children are familiar with from digital media, animation for example, but using old-fashioned media. One reason is to give children a break from using their phones, another is the lack of digital resources in the studio that I hire.
The Workshop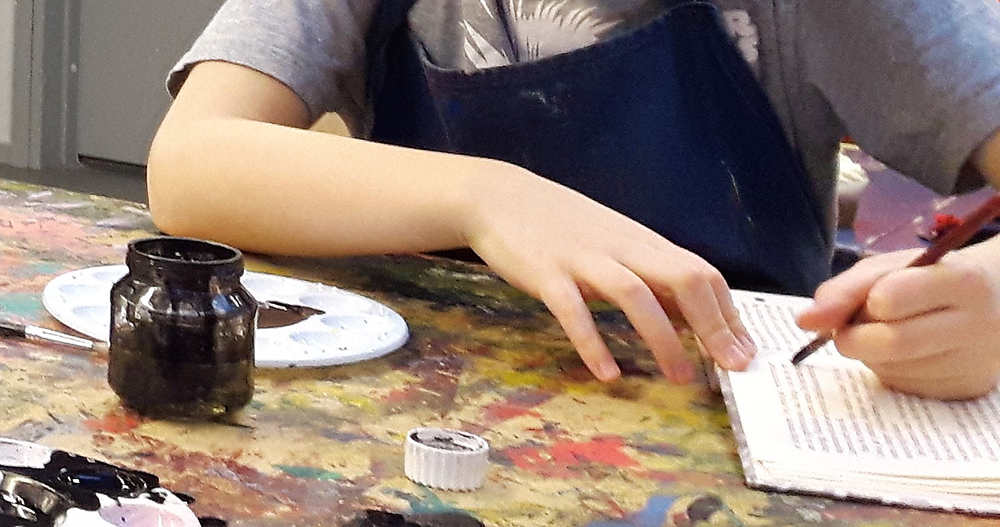 I was working with a group of six children between 8 and 12, in a workshop context. I provided them with Indian ink, brushes, slim wooden sticks, plastic palettes, water, and a pile of hardcover books. I intended for them to work quickly and gain some experience of using ink and brush. An important thing to remember is that ink can be very messy; children need protective clothing and it's an idea to cover the surfaces. It's worth mentioning at the beginning of the lesson that a little ink goes a long way.
Together with the children, we looked at Kentridge's work and discussed how rapidly flipping pages can animate a sequence of images. The important thing to remember was to draw or paint them all on the same side page, for example, on the right-hand page. The children were focused on what they were doing and at the same time seemed to enjoy the lesson a great deal. They enjoyed sitting and chatting while paging through and drawing in the books. I imagine that there was an element of the forbidden and iconoclastic about drawing in books which helped to make the lesson more appealing.
One child developed a very well-thought out animation involving a fisherman who casts his line out to sea, only to be eaten by an enormous fish.
Some of the other children produced sequences of seemingly unrelated images and I realized that I could have given them a more comprehensive introduction to the idea of a sequence of images. It might have been helpful if I had given clearer directions about what the sequence could contain: it could be an animation of a person moving around, as in the YouTube video about Kentridge, or it could be a narrative. This lesson could also be incorporated in a series of workshops based on how things move around. Instead of ink, the children could use charcoal or chalk pastels; this would be in keeping with the examples of Kentridge's work.
An idea for extending the lesson would be to encourage the children to make holes in the paper or deform the paper in other ways, like scrunching up or wetting.
---
This is a sample of a resource created by UK Charity AccessArt. We have over 750 resources to help develop and inspire your creative thinking, practice and teaching.
AccessArt welcomes artists, educators, teachers and parents both in the UK and overseas.
We believe everyone has the right to be creative and by working together and sharing ideas we can enable everyone to reach their creative potential.
Join AccessArt from only £3.50 per month and enjoy full access to hundreds more resources!
Join Us!
Add to favorites