With its dark and long nights, the winter is the perfect time of year to explore light and dark in drawing.
Candlelit Still Life
On a dark Tuesday evening, I set up several, small clusters of random, but hand-sized objects, (placed on black paper), ready for a session with teenagers at AccessArt's Experimental Drawing Class. Objects included: string, bulldog clips, exotic painted birds, pomegranates and apples, masking tape, pebbles.
I lit tea-lights and placed them next to the groups of objects, to create a subtle, flickering, one directional lighting effect.
Photos were taken in the near dark, so I hope that their 'atmospheric' quality, gives a useful enough idea of the session and its outcomes.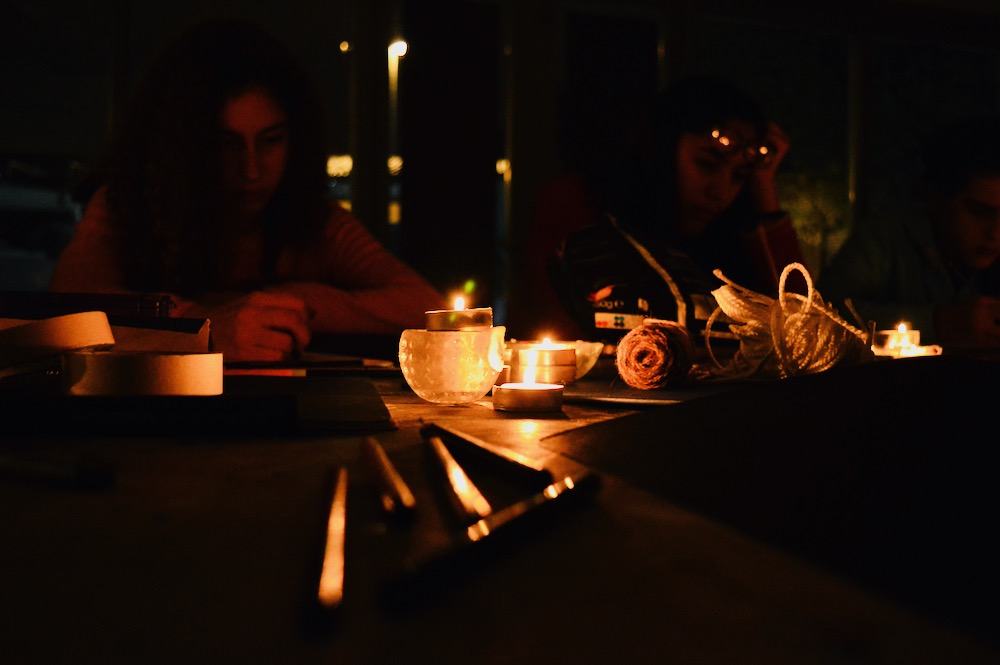 Working in Sketchbooks
I led the students on guided drawing exercises, in A3 sketchbooks. Working in sketchbooks was perfect for this session, as drawing in them encouraged students to be open, studious and spontaneous in their approaches, and also allowed for temporally linear outcomes to evolve.
I wanted students to think and feel beyond traditional still life, and break away from any preconceived idea about how they might approach their drawings or expectations of outcomes. I explained that these sketchbook exercises were about 'deconstructing' the view in front of them and finding 'composite elements,' that might work together as a whole on the paper. Students were encouraged to develop the quality of their line making and use intuition to create composition.
The results were hugely pleasing, in that the students were able to create bold, honest and abstract drawings, based wholly on the experience of looking and working on several drawings in succession.
Working with Line
In this one hour session, students worked with charcoal or graphite. Students started by looking at the shapes of the objects in front of them, specifically, how the shapes sat on the table.
They were then asked to draw thick, dark, undulating, lines; like ribbons, changing and twisting with the flickering candlelight.
Building a Drawing
Once initial strong lines were made, students were encouraged to look at their drawings and the still life in front of them, to find new elements and relationships – 'to find more lines'. They were encouraged now, not only to look at how the objects sat on the table, to inspire their line making, but also at the lines between objects. They were encouraged to work across the pages in their books.
They were also encouraged to work with speed, and if they felt that a drawing was complete, or resolved, to move quickly to the next drawing, turning over to the next page in the sketchbook. I encouraged them to use this as an opportunity to 'flow' between objects and to 'study' their relationships.
Finished Compositions
Many thanks to teenagers at AccessArt's Experimental Drawing Class for sharing their creative process and ideas with AccessArt.
UK Charity AccessArt has over 750 resources to help develop and inspire creative thinking, practice and teaching.
We believe everyone has the right to be creative and by working together, and sharing ideas, we can enable everyone to reach their creative potential.
AccessArt welcomes artists, educators, teachers and parents both in the UK and overseas.
---
Sign up to receive our email newsletter. By completing the form below you explicitly agree for us to send our email newsletter to you. We will not share your information with anyone else and you can unsubscribe at any time!

Add to favorites