In this post Vicki Ostersen shows how to get creative by replacing paint brushes with our hands and feet to make large scale collaborative paintings.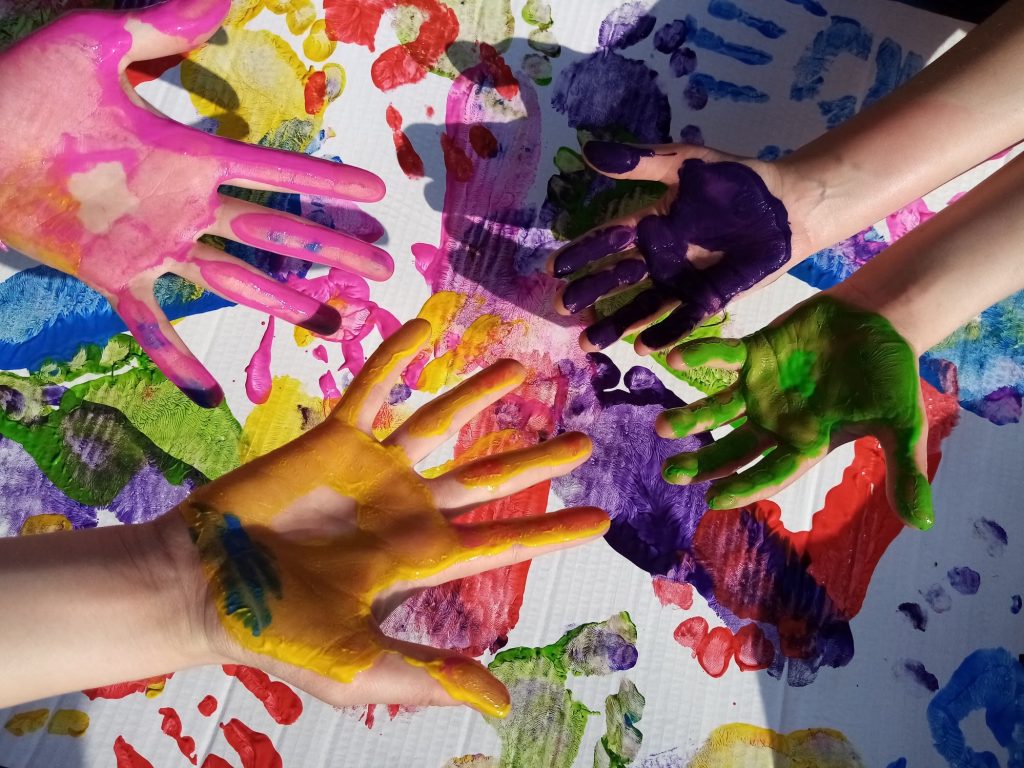 This is a painting project particularly suitable for outdoors, and can be done collaboratively between friends and siblings, but also individually. Enjoy an opportunity to work on a large scale outdoors rather than at a desk – using hands, feet, fingers and toes, rather than brushes to paint!
You will need:
Bright colours of squeezy, washable paint
Trays big enough for children to put their feet and hands in
Large, robust painting surfaces (We used a cardboard box, cut up and primed with white emulsion paint)
A bowl of water for feet and hand washing
Photos of plants and flowers
Soft pencils (6B is perfect)
Black marker pens, such as Sharpies
Coloured chalks
In preparation I cut up a big cardboard box and primed it with white emulsion paint to give a bright background so that our paint colours would be as clear as possible and 'sing'.
We squeezed a different colour of paint into each of our trays, and the children worked in pairs, deciding together which colours to use and when to paint with hands rather than feet. They had a washing up bowl full of water to wash hands and feet in so that the colours would stay vibrant.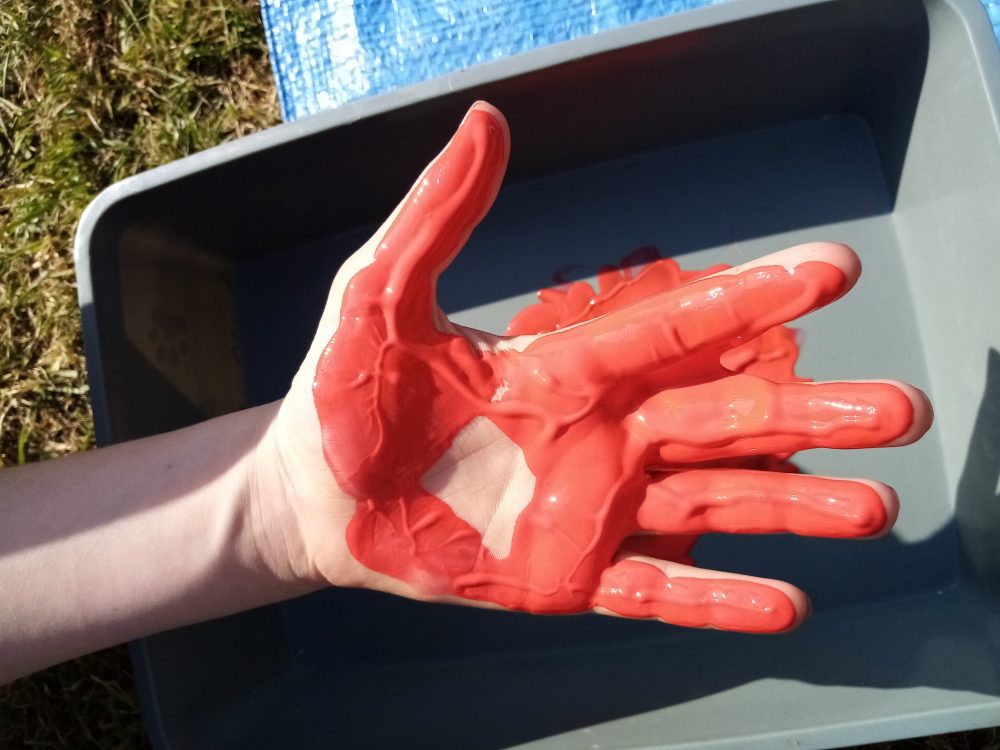 There were very few rules; I encouraged them to 'paint' over each other's painting, but I asked them to print rather than smear the paint on. It was up to them to decide together when the paintings were finished. It was lovely to listen to their conversations as they collaborated, and to see them experiment with layering images and colours. They enjoyed using different quantities of paint and applying varying pressure with each print. They quickly felt ownership of the process, and what started as a rather simple idea became artwork!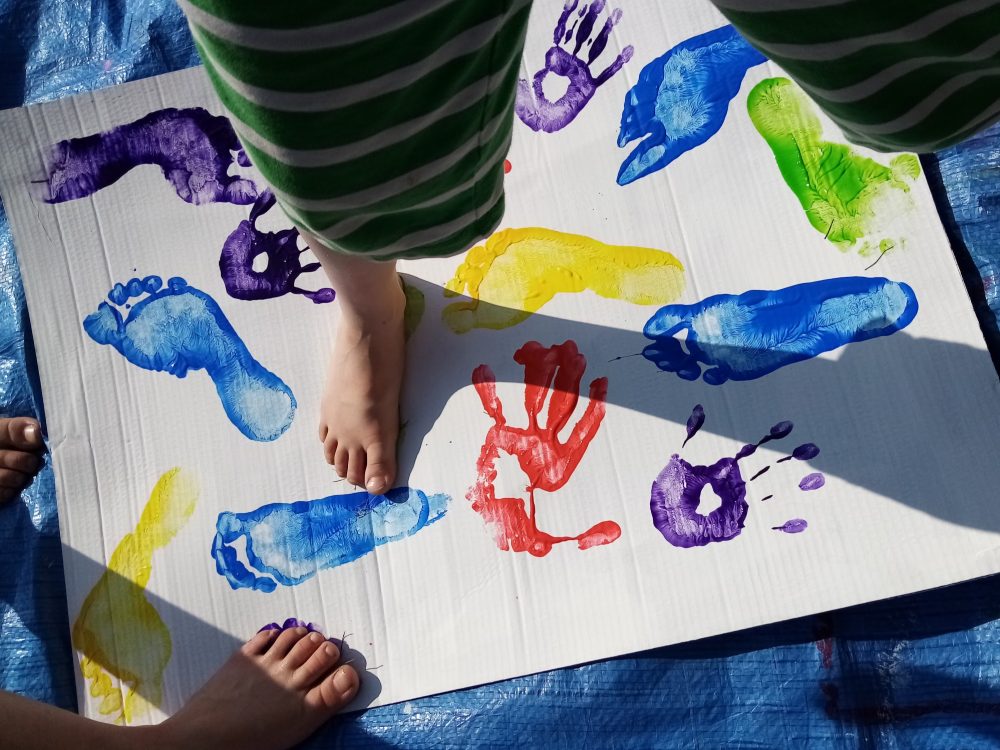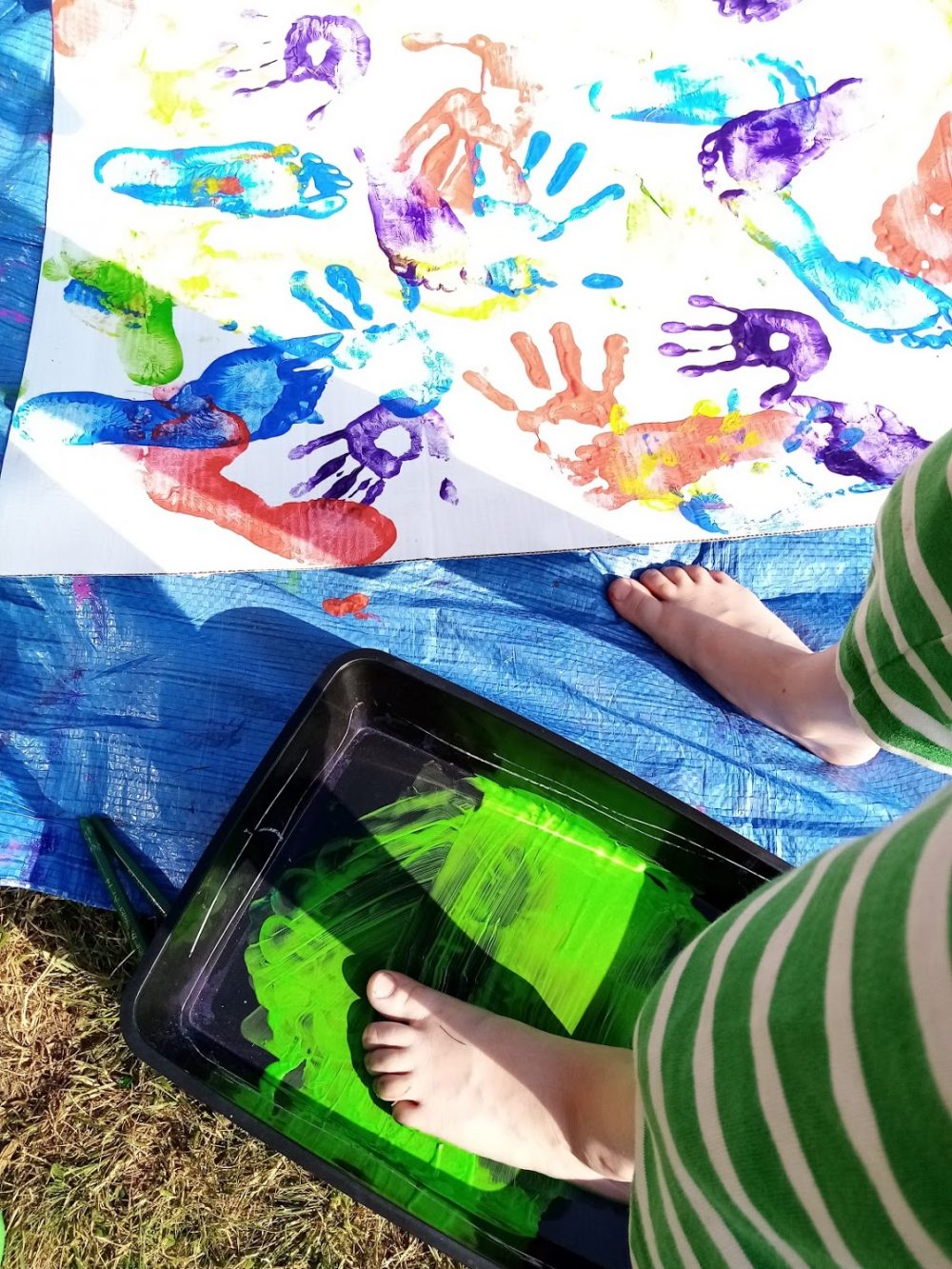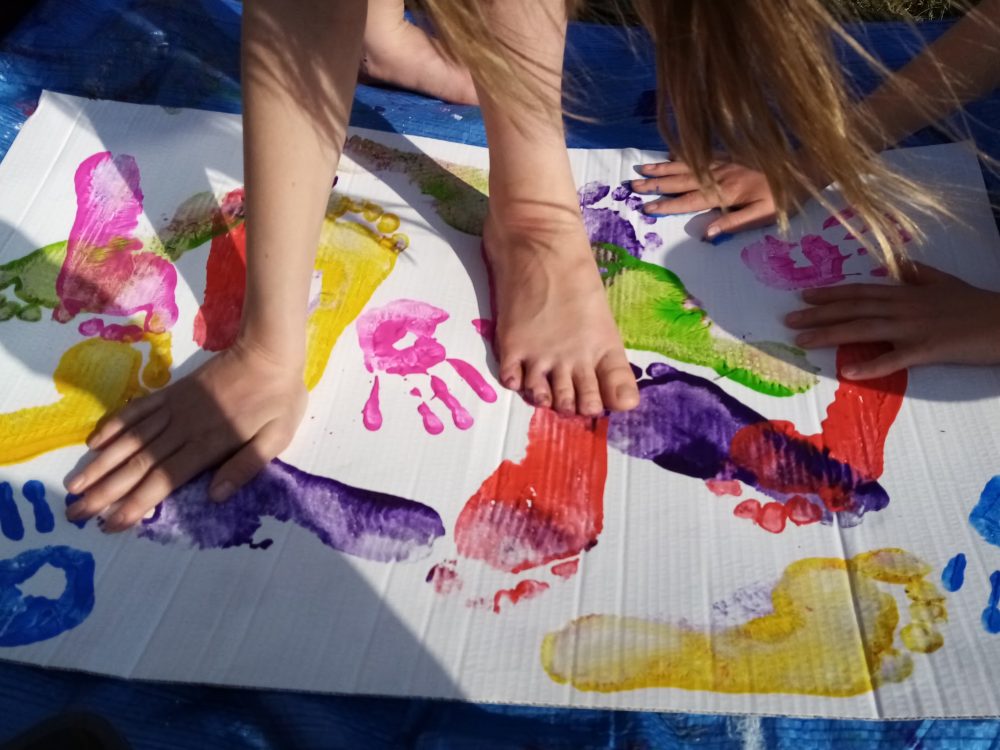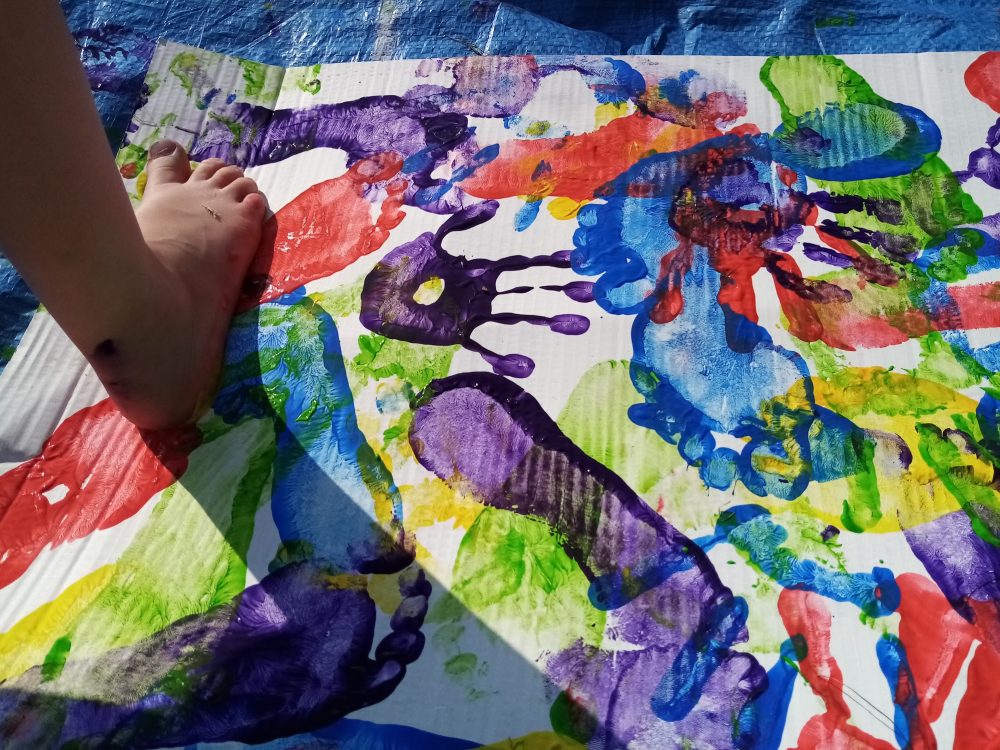 The hand and footprints were really clear on the white painting surface, and we loved how some parts were almost transparent while others were thick and gloopy. You could clearly see everybody's fingers and toes!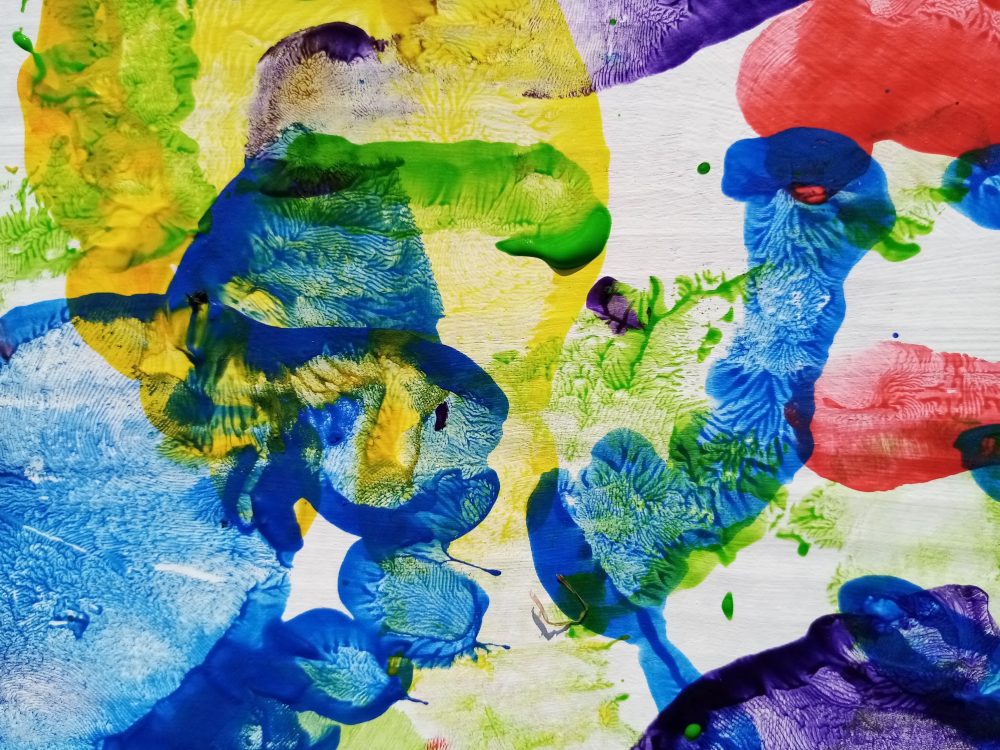 We left the paintings to dry and then I cut them in half so that everyone had their own piece of painting to work into. I gave the children a pile of gardening magazines and we looked through them to find flowers and plants they liked. We talked about how many differently shaped plants there are, and how they grow. They then drew plants of their choice on top of their paintings using 6B pencils. I encouraged them to use the whole space, and to think about the composition. Because the weather was so good, they decided to take their paintings outside so they could also draw from observation in the garden.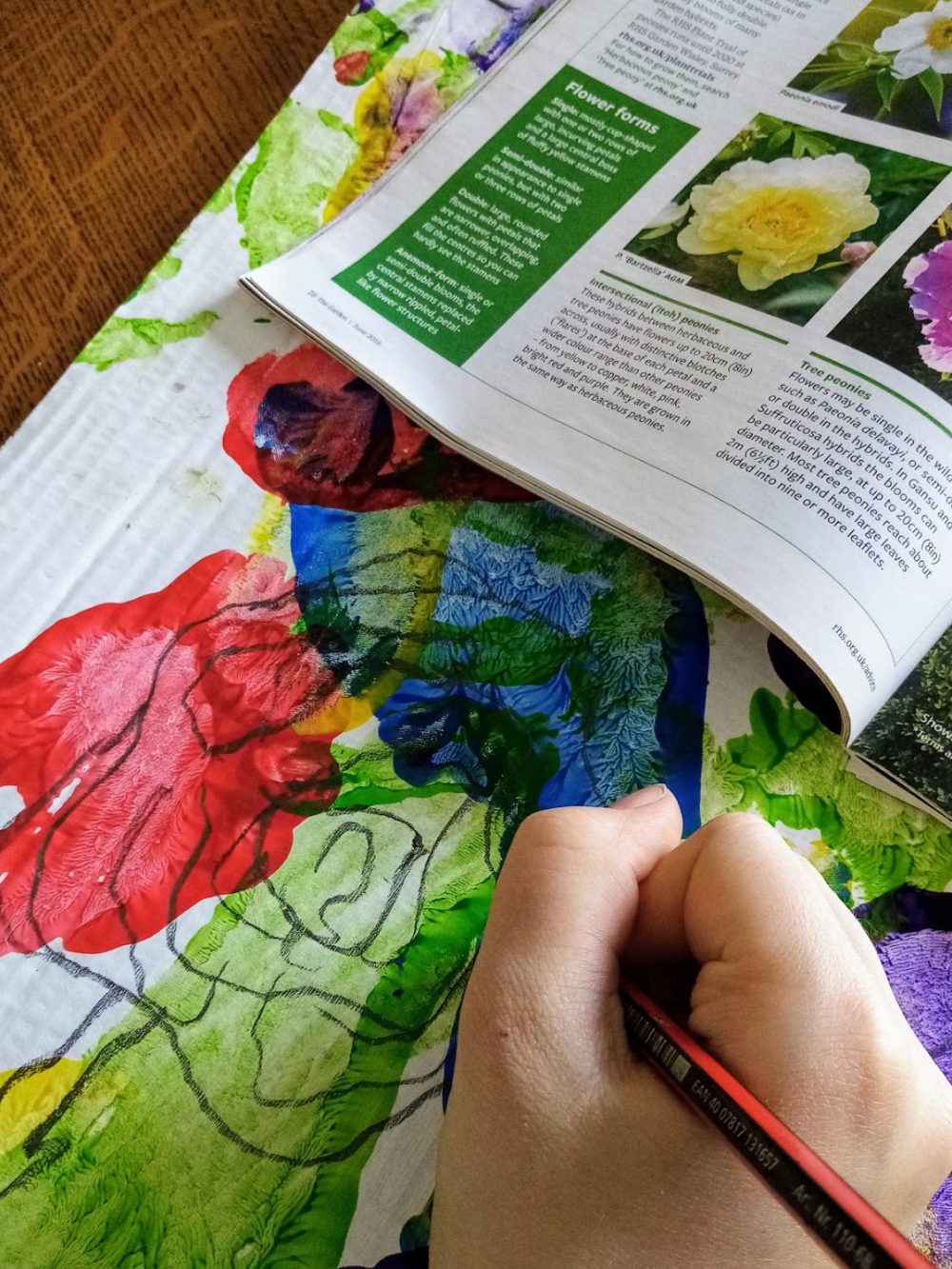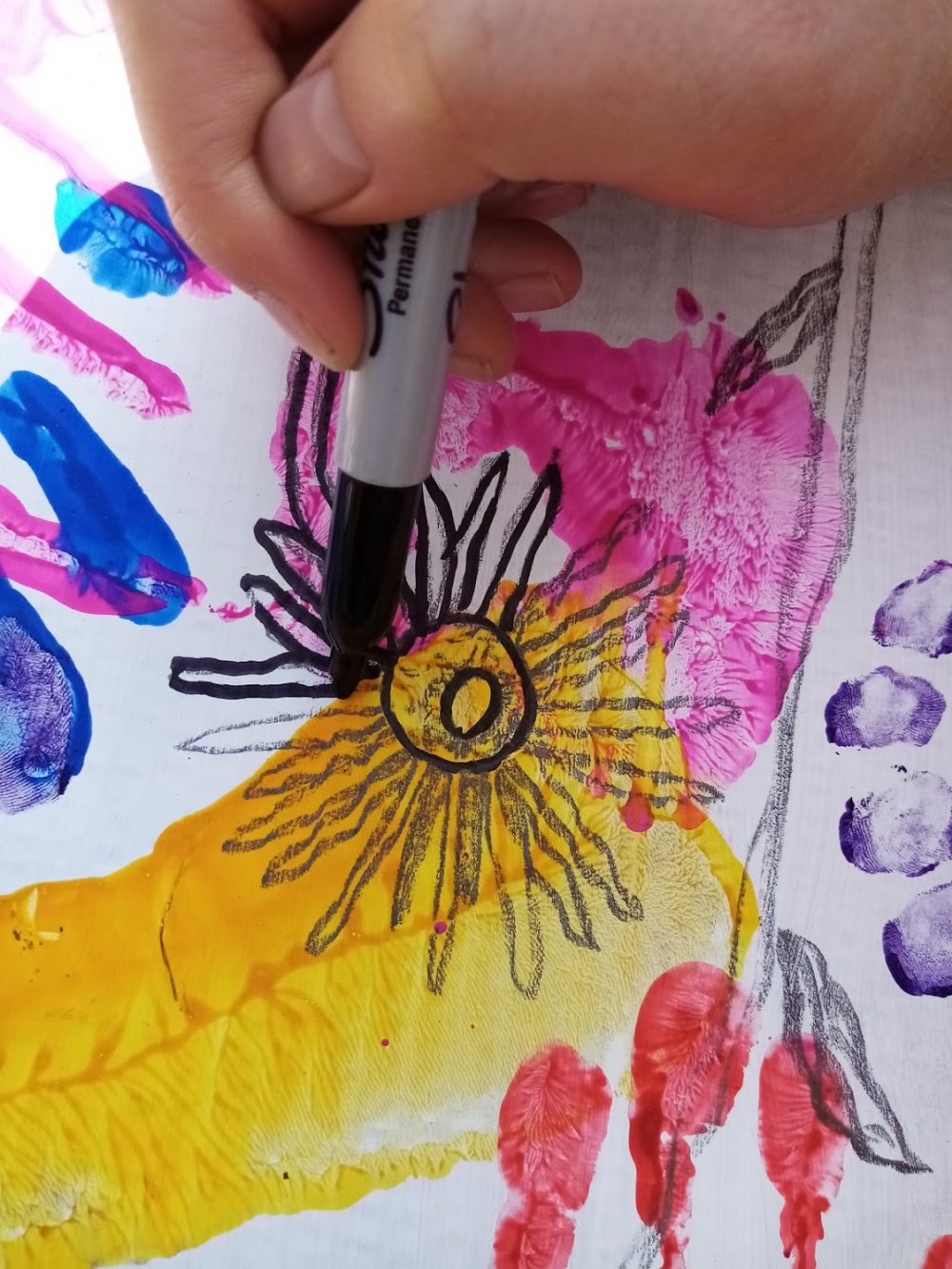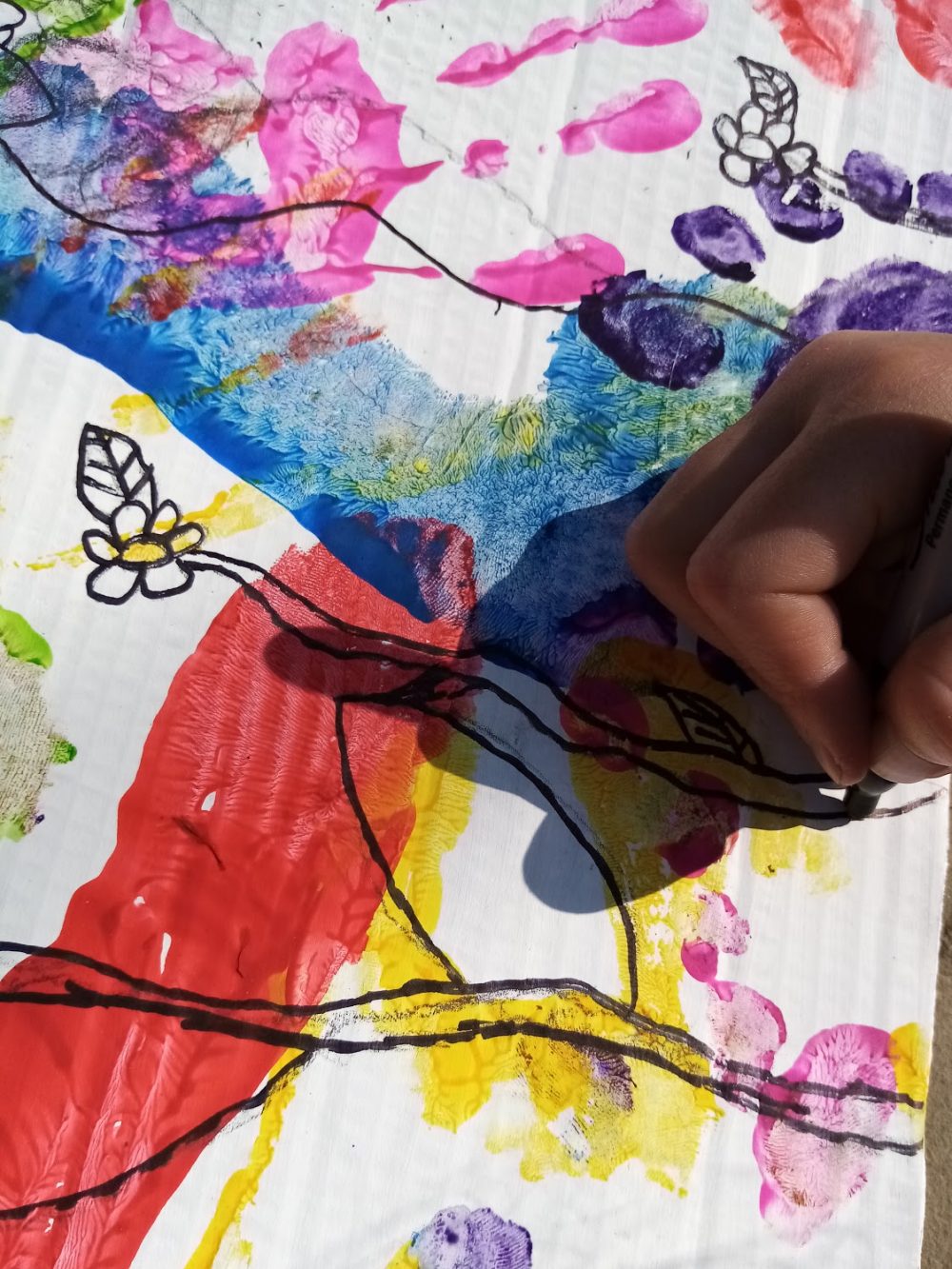 Next, they worked into the background areas with brightly coloured chalks. They chose where to use each colour, whilst taking care to leave the flower shapes 'empty'.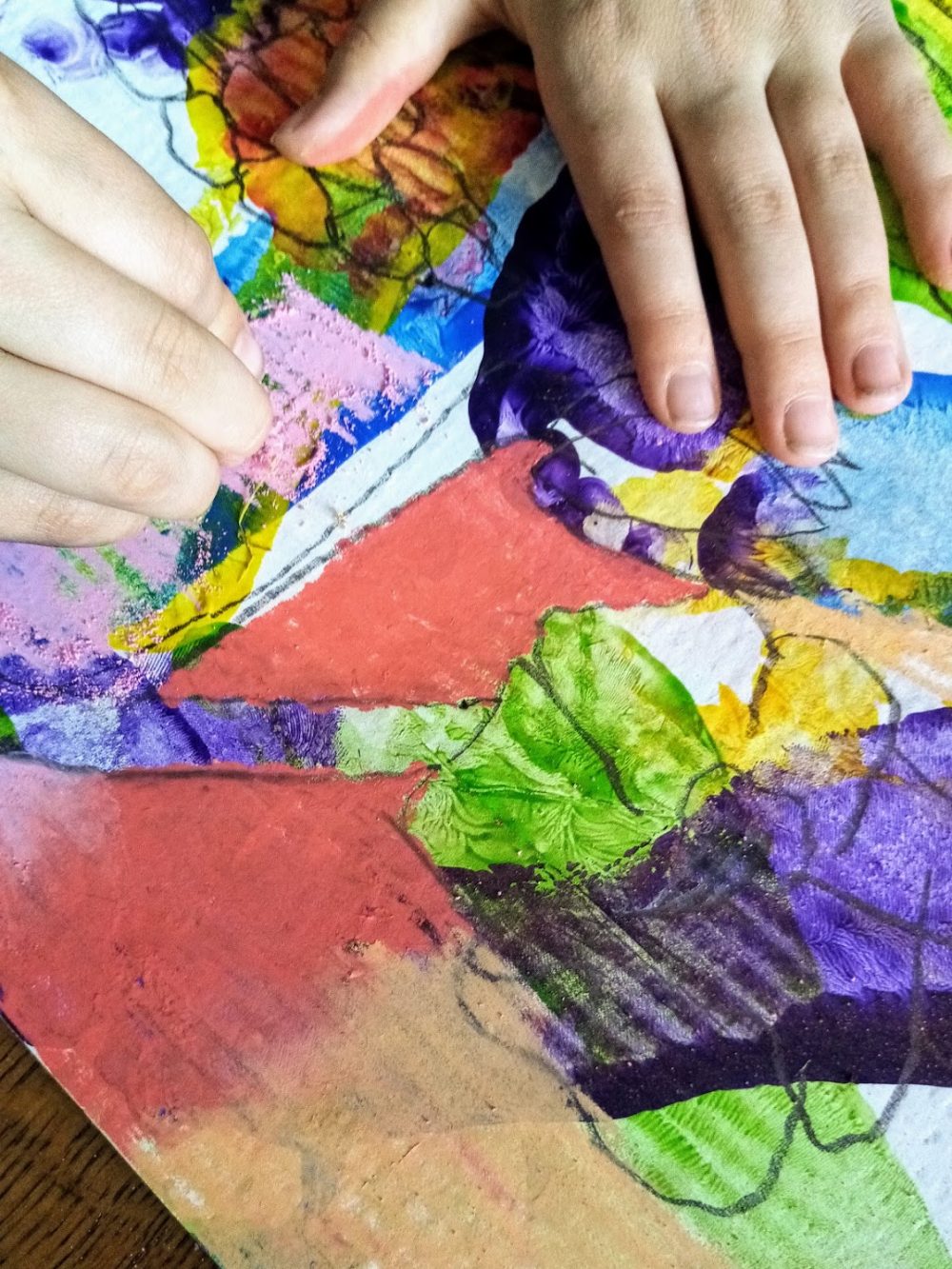 They blended the chalks with their fingers as they went and enjoyed making the colours mix into each other. It was rather magical to see the painted footprints and handprints emerge again.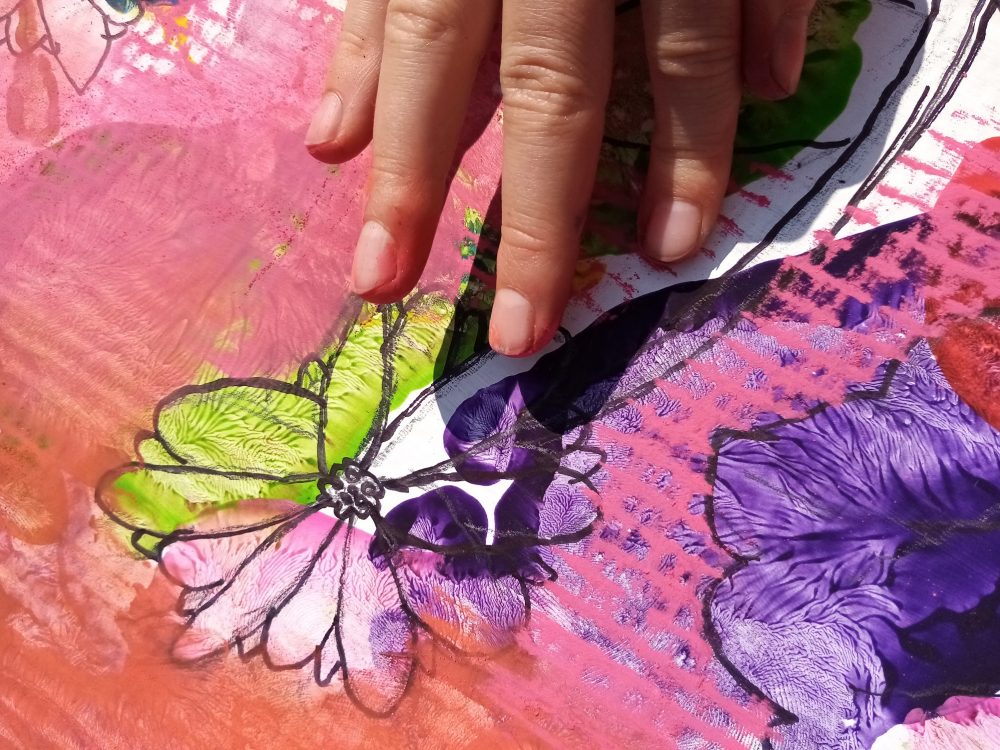 Everyone really enjoyed how the process of drawing and chalking on top of the painting turned an abstract image into a picture, whilst leaving the story of the painting visible underneath.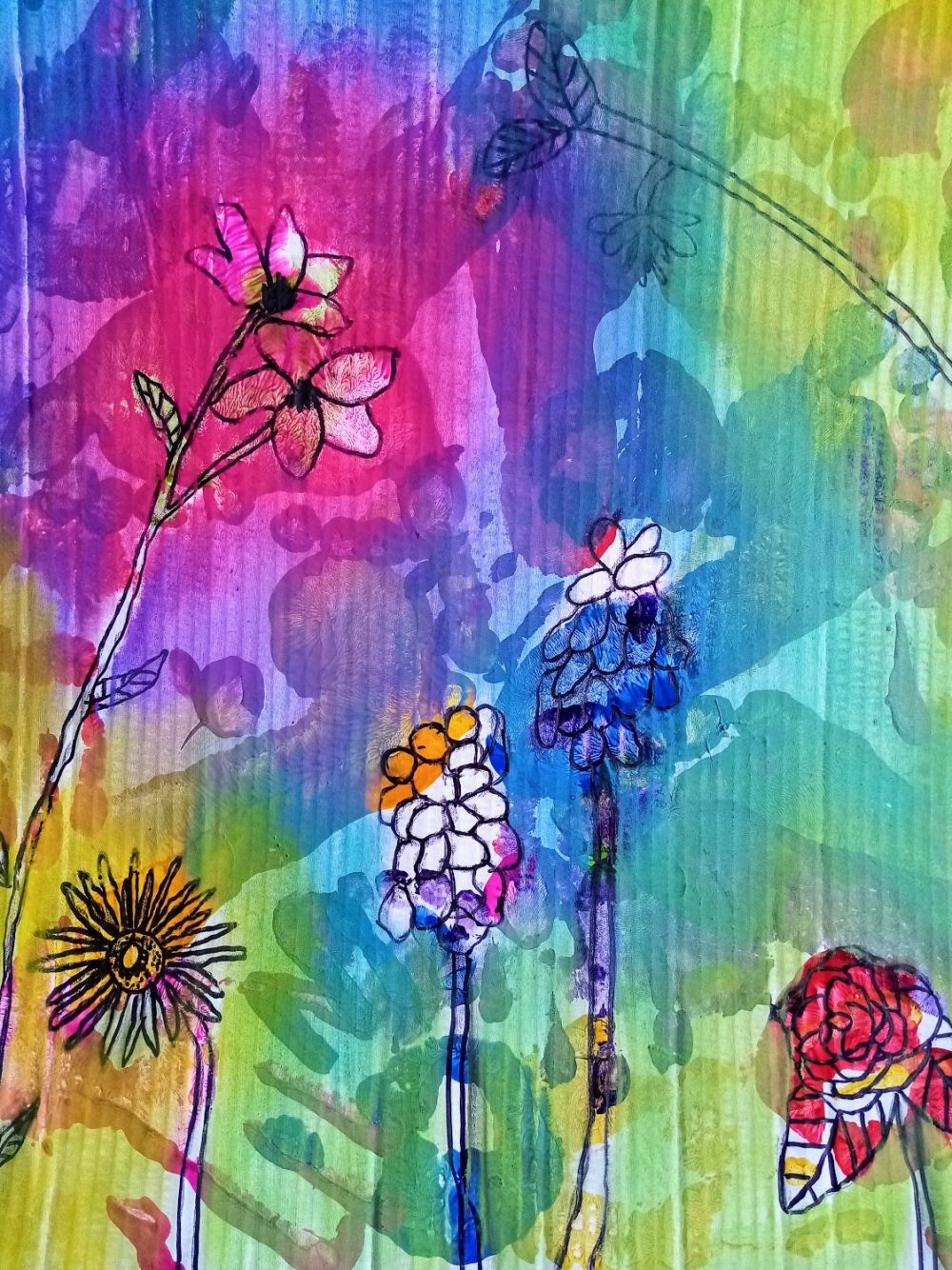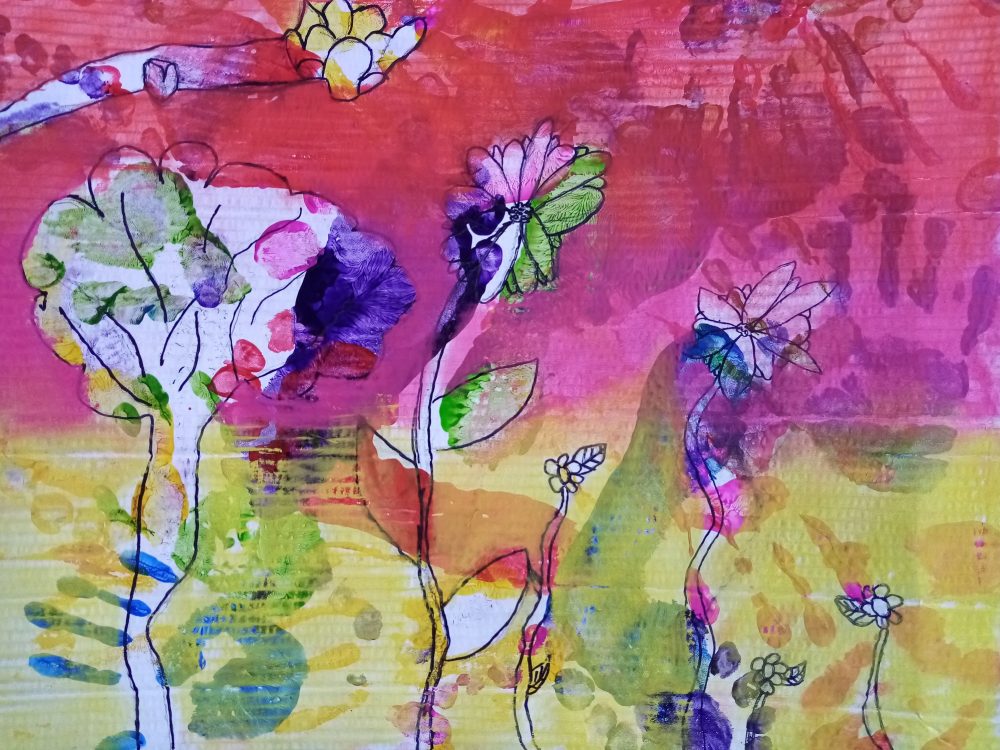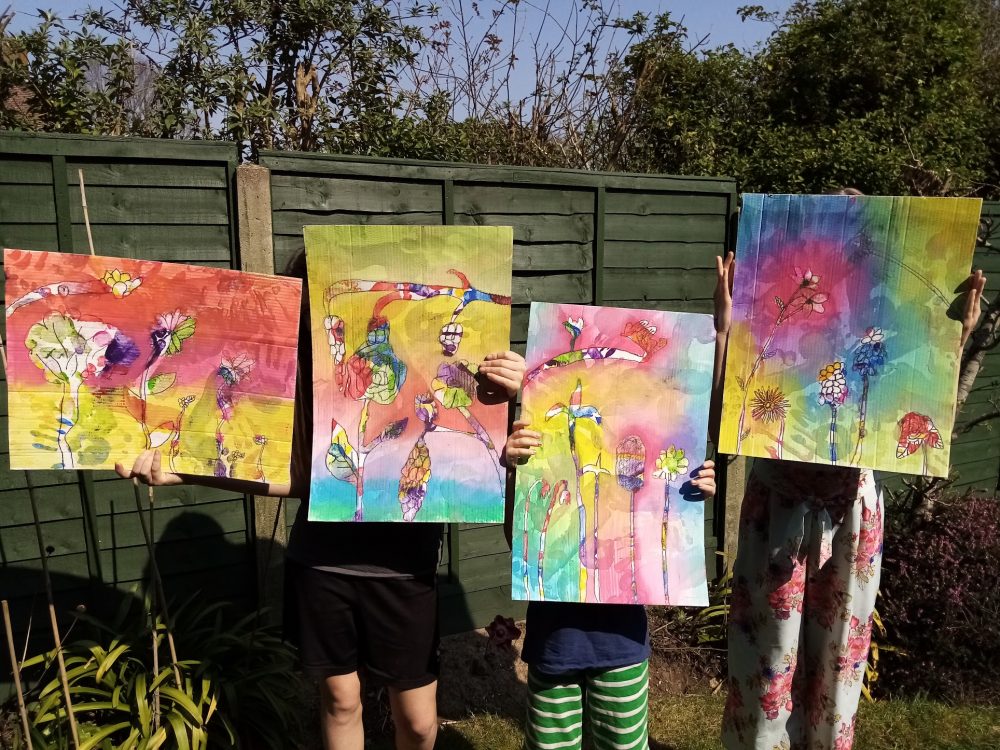 ---
This is a sample of a resource created by UK Charity AccessArt. We have over 1100 resources to help develop and inspire your creative thinking, practice and teaching.
AccessArt welcomes artists, educators, teachers and parents both in the UK and overseas.
We believe everyone has the right to be creative and by working together and sharing ideas we can enable everyone to reach their creative potential.
Add to favorites