Joanna Grace, founder of The Sensory Project discusses the exceptional talents of artists with PMLD (profound and multiple learning disabilities).
Individuals with profound and multiple learning disabilities have exceptional talents as artists, they have a capability for uninhibited self expression that many an artist would envy.
They are also brilliant at living in the moment and practicing art in a mindful way, something we could all learn from.
Individuals with profound and multiple learning disabilities (PMLD) tend to have multiple physical, cognitive and sensory impairments and are likely to experience epileptic seizures and need a high level of care making some people forget to recognise them as the artists they have the potential to be.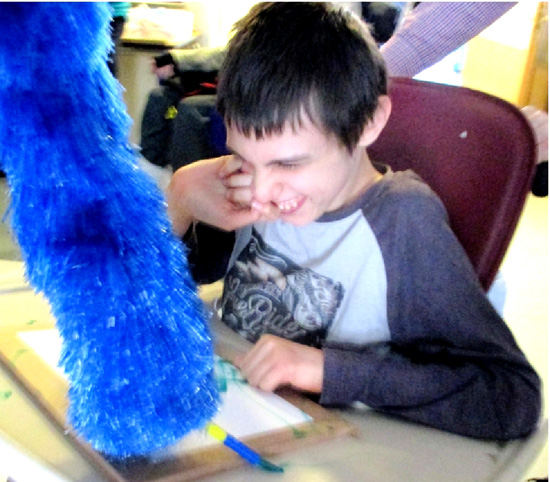 Art often happens TO individuals with PMLD e.g. someone hand prints with your hands. It can also happen in ways that at first seem more respectful of the individual, often these ways involve facilitators declaring that an individual with PMLD has made a choice, e.g. choosing red paint over blue, or choosing a particular texture of cloth from a selection available.
It is wonderful to have high expectations of people, but to over interpret someone's responses so as to fit them into a category of cognitive function in which they risk getting lost is not to meet their needs.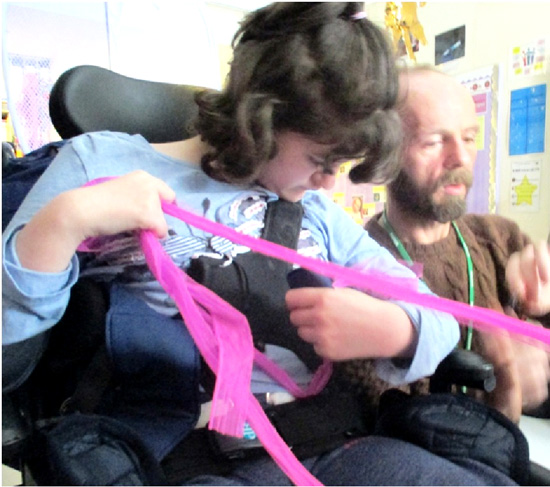 Everyone is different, and this is just as true for people with PMLD as it is for the next person, so I cannot write an explanation of behaviour that fits everyone, but with that caveat in place, to generalise: when an individual with PMLD reaches for the red cloth before them, ignoring the blue, this 'choice' has many explanations, here are just a few:
It could be that they have seen the colour red, seen the colour blue, made a conscious decision about their preference for red over blue and prompted their body to react accordingly to communicate this decision to the person facilitating the session. (This is an expression of colour preference).
It could be that they found the movement of the colours being put down stimulating and they became active, reaching and grabbing a colour. (This is not an expression of colour preference)
It could be that their cortical vision is in the early stages of development so they find it possible to see the red cloth and coordinate movement towards it, but cannot do the same for blue. (This is not an expression of colour preference)
It could be that the red cloth was put down on the side of their body in which they are physically dominant, it could be that the red cloth was put down in their peripheral vision, which happens to be strong, where as because of the angle of their head the blue cloth falls in their tunnel vision which is weaker…it could be…it could be… it could be….
You can see what I am getting at. But although artists make choices, and being offered the opportunity to make choices is great, as is developing the skills of choice making, is choice making art?
What is at the heart of art?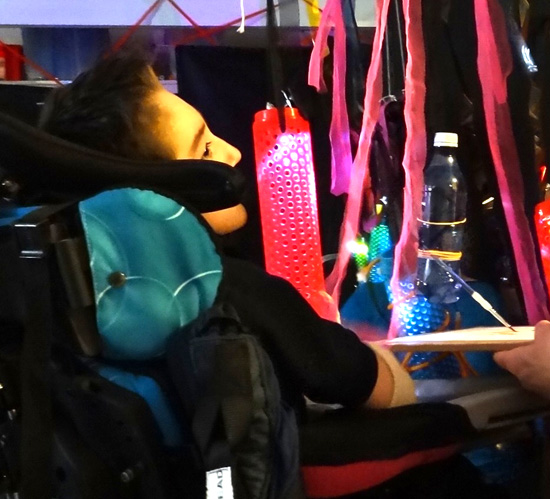 In running The Structured Sensory Art Project we aimed to facilitate individuals with PMLD to independently create their own works of art. We chose to define art by boiling it down to an essence and we decided upon that essence as being expression and response.
The artists who took part in the project were given time to independently respond to stimuli and express themselves through movement, sound and through painting. As I don't have the gadgetry to record movement or sound to a high enough standard only the paintings remained at the end of the project. Each one is unique, each one is raw uninhibited expression, and each one portrays a little bit of the artist who painted it.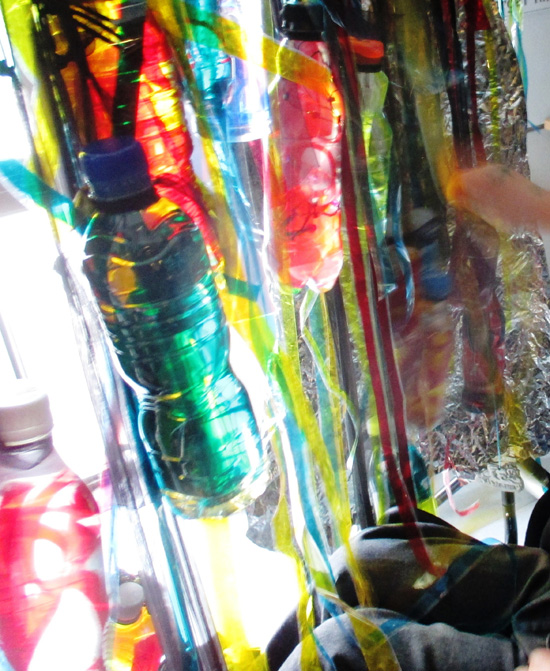 Uninhibited, the exhibition toured the UK in 2015. You can see a 2 min video of that tour which created awareness of the talents of its artists, and of the artists themselves…
See all videos of stimuli from Sensory Stories by the Sensory Story Project on my YouTube Channel.
Uninhibited
Since the first project other settings have been inspired to run Structured Sensory Art sessions and it has even gone international with an institution in Portugal delivering and extending the project. I'm always keen to hear from more settings looking to host the project. Get in touch.
---
Thank you to Chloe, Gabriel, Zoe and Harry for sharing their process and work with AccessArt.
Huge thank you to Joanna Grace – educator and campaigner for sharing her work, ideas, insights and knowledge with AccessArt.
---
Joanna Grace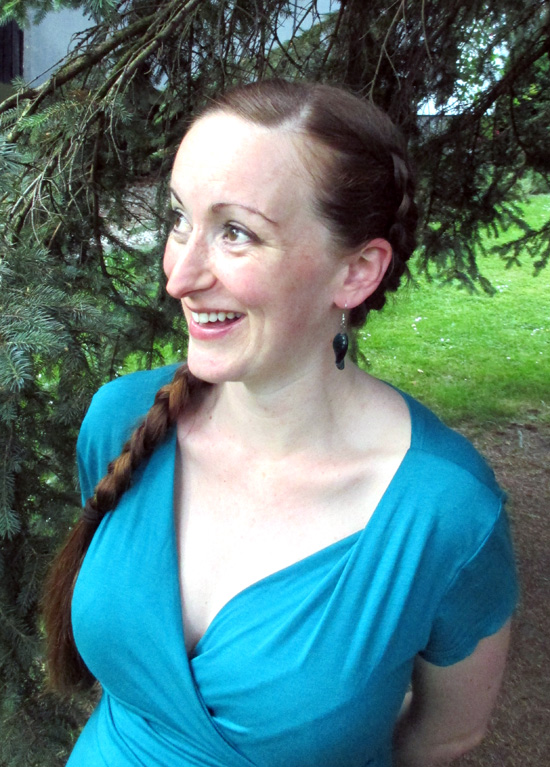 Add to favorites