The plastic pollution in our seas and oceans is an important environmental issue and it led to a conversation at AccessArt as to whether we could construct an object in one recyclable plastic material with nothing else added (PVA, stapes, masking tape etc) so that the whole thing could be recycled in one go. Taking inspiration from the sea, I collected a selection of recyclable milk bottles and water bottles and using only the bottles, labels and the tops, made a collection of sea sculptures.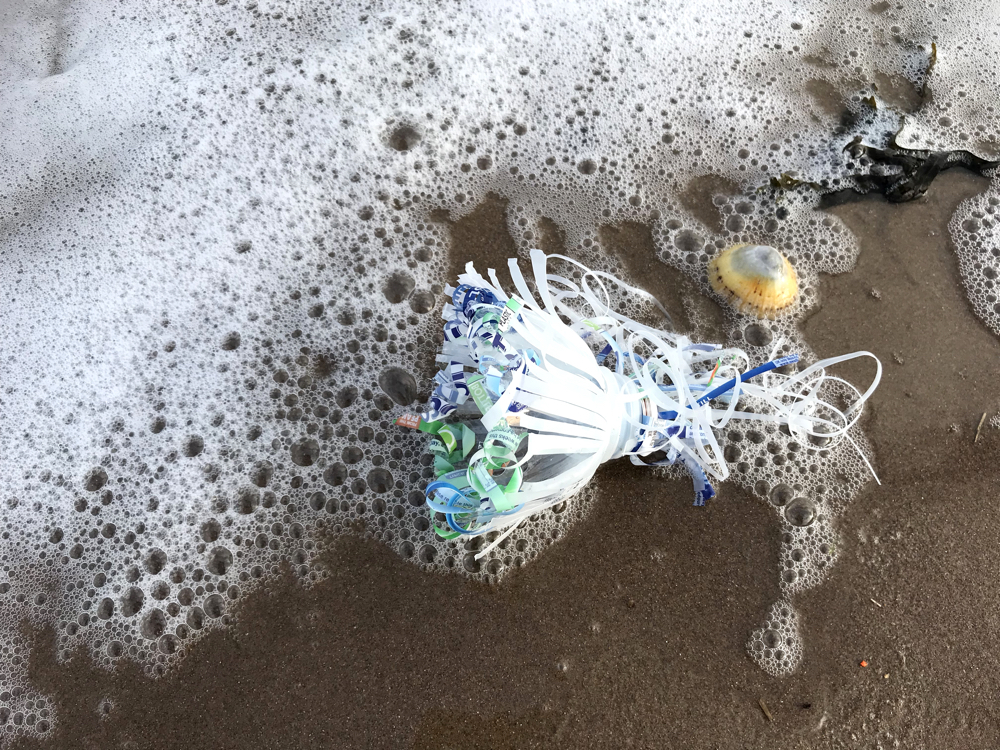 To Begin:
The plastic in milk bottles is of a different thickness and pliability depending on brand/supplier and milk bottles collected from family and my local coffee shops provided me with a range of plastic material to play with. Coloured water bottles added a burst of colour.
To gather ideas and start off the thinking process, I made some drawings from a book by Ernst Haeckel 'Art Forms in Nature' but all the while I was wondering how I was going to make the bits of plastic stick together if I couldn't use the usual way of fixing things like PVA, pins, staples or tape.
I also needed to explore what the materials could do. I made lots of little samples from the bottles, labels and the tops creating textures, shapes and forms and this process also gave me ideas for joining surfaces and building structures. You can see those experiments in this resource: Exploring the Sculptural Possibilities of Plastic Milk Bottles. Many of those techniques I brought into the final making part of this project to create the objects below. As nothing else has been added all the sea sculptures can be safely consigned to the household plastics recycling bin.
Making the Sea Sculptures:
The Completed Sculptures:
As the sculptures were inspired by the sea I took them down to the beach to photograph them.
Many of the techniques for the project are shown here: Exploring the Sculptural Possibilities of Milk Bottles
Find inspiration for using threads to decorate and create textures in this resource: Make a Stitched Drawing of a House in an Hour
This is a sample of a resource created by UK Charity AccessArt. We have over 750 resources to help develop and inspire your creative thinking, practice and teaching.
AccessArt welcomes artists, educators, teachers and parents both in the UK and overseas.
We believe everyone has the right to be creative and by working together and sharing ideas we can enable everyone to reach their creative potential.
Join AccessArt from only £3.50 per month and enjoy full access to hundreds more resources!
Join Us!
Add to favorites