By Paula Briggs
In the AccessArt art club for ages 7, 8 and 9, we had fun this week using Shrinkles. For those that haven't used them before, Shrinkles are sheets of plastic which can be drawn and coloured, and which when baked in an oven for just a few seconds, shrink down to 1/7 of their former size. In addition to pre-printed sheets, you can also buy plain white and clear sheets, making them ideal for an art project such as this. Children love using them – the end results are captivating as the mark making too, shrinks down. The plastic becomes thicker so the end results feels permanent and product-like.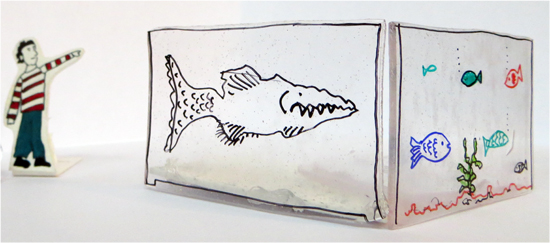 The Subject Matter
After the previous session in which we built quick clay figures in response to a sculpture, in this session I wanted to give the children the opportunity to explore how they might create groups of figures, and also create the space in which the groups existed. By working with individual elements (characters, objects, architectural shapes), I hoped the children would use a sense of play to experiment with building an occupied space which told a story.

To access all content, I would like to join as…
AccessArt is a UK Charity and we believe everyone has the right to be creative. AccessArt provides inspiration to help us all reach our creative potential.
---
Add to favorites