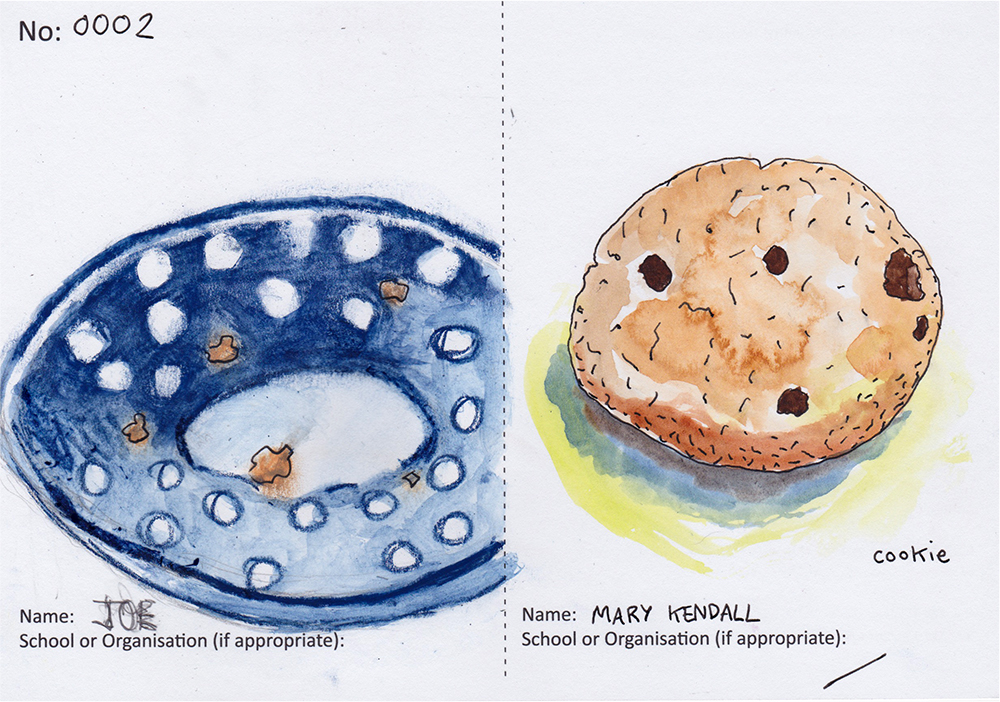 The Two Halves Drawing Project aims to inspire people of all ages to come together through drawing.
Taking part in the project is a wonderful way to develop your drawing skills and connect with other people. Making drawings for and in response to others also helps us reflect upon the purpose of drawing and the way it enables us to express ourselves.
And all completed drawings will be included in an online gallery for all to enjoy.
The idea is simple. Individuals and schools buy access to the project (click on the stamps below).

You will receive an A5 postcard in the post (or in the case of schools a pack of postcards).

When you receive your card, make a drawing (or collage, painting or print) in one half of the postcard.

Send it back to AccessArt.

You will be then sent a second card (or in the case of schools a pack of postcards) giving you the opportunity to make a drawing in response to someone else's drawings.

The completed postcard must then be posted back to AccessArt for us to add to our online gallery. It is really important that you send the finished cards back to us so that we can load them onto the online gallery for all participants to see.
We think the project is not only going to generate some exciting artwork, but also prompt lots of creative conversations about drawing!
Be inspired by these drawing ideas and approaches to get your creative ideas flowing!
We'd like to invite everyone to take part, wherever you live, whatever your age, whatever your ability!
It costs just £5 for individuals to take part in the project (1 postcard) and £15 for schools and community organisations to receive 35 postcards. This includes:
An A5 postcard sent to an address anywhere in the world for you to make your 1st drawing on, or in the case of schools, a pack of 35 postcards for pupils to make their first drawings on.

Return postage for UK Individuals Only. In the case of a school, return postage must be paid by the school (currently £2.85). If you live overseas we are afraid it is not possible for us to afix return postage so we ask that you pay return postage from your own country.

At a later date, you will receive a second postcard on which you can make a response drawing, or in the case of schools, another pack of 35 postcards for your pupils to make response drawings on. Postage costs as described above.
The Two Halves Drawing Project is being run on a voluntary basis by AccessArt. The purchase cost covers the following AccessArt expenses:
Postcard and postage costs as described above.

Administration costs, including coordinating the postage of cards to subsequent participants, scanning of all images and creation of online gallery.
Join the Project
Buy access to the project wherever you live
Individual
Buy a share in the project as an individual, wherever you live, whatever your ability.
£5.00 per postcard
school or organisation
Sorry we have sold out of postcards for school groups
What will happen to the finished postcards
AccessArt will digitise all the completed postcards we receive and then create a series of online galleries on AccessArt.
All postcards remain the property of AccessArt, and no postcards will be returned to those taking part. AccessArt reserves the right to sell the postcards at a later date, and if we decide to do so any proceeds will be used to further develop the aims of our charity (1105049).