By Paula Briggs
As part of the How to Be A Creative Producer project, teenagers aged 12 and 13 have been working together to create a series of animations which will inspire other teenagers to take the leap and become creative producers, not just digital consumers.
The project will run over a series of months as the teenagers work with myself to understand how we can create visual and aural equivalents to communicate sometimes quite complicated concepts. We will be using a number of different animation techniques, and this post shares the process behind the making of two clips, both of which used a green screen.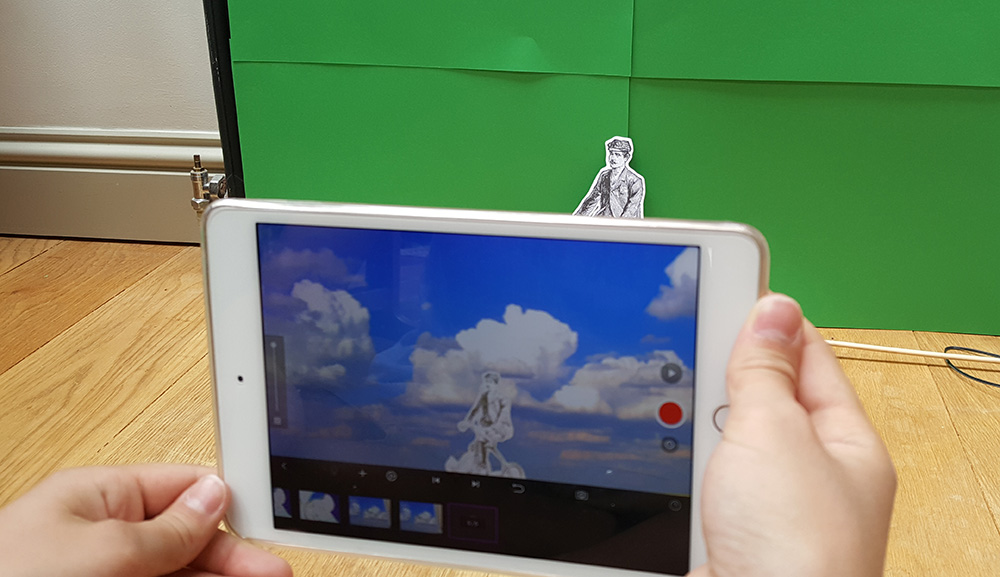 The sessions used minimal equipment and we had no previous experience!
Clip 1 – Cycling Through a Wheat Field
Brief:
Part of the project involves helping teenagers understand the creative process itself, and sharing how they might use this knowledge to help themselves access and feed their own creativity. One of the concepts within this is to communicate the idea that sometimes ideas come when we are not actually involved in our main area of work, and that we need to do other things in our day, particularly physical things, which distract us just enough to give ourselves space for an idea to land.
In this small clip, and inspired by a recent school production of Spamalot (children were introduced to Monty Python's archetypal imagery) we decided to animate a man, cycling through a wheat field on a hot summers day.
In addition to using technology to create this animation, I felt that I wanted the animation itself to feel made by hand.
I showed the children this video here in which Terry Gilliam shares the making of some Monty Python animations. The contrast between the very low-tech animation style with today's animation apps is striking but inspiring!
We began by making elements to work with.
A simple bike was made from a paper print and dowel. No moving parts needed:
A wheat field was made by drawing single ears of wheat, and trapping them between two pieces of wood:
A VERY low tech green screen was made from green paper:
A hairdryer was used to create a breeze to blow through the field:
A bird was drawn on white paper and attached to a green card rod:
The elements were brought together. We shot the animation on an iPad using Stop Motion Pro software, simply using the green screen setting within the app. The resulting clip (with sound) was then further edited in iMovie. The clip will form part of a larger story line in the finished animation.
Clip 2 – A Safe Space
Brief:
The second clip forms part of a section in the project in which we want to communicate the various reasons why being creative might be good for our wellbeing. In this particular clip, teenagers wanted to share the idea that creating stuff can help you forget your anxieties: through making things (whatever form that takes) you create for yourself a safe space, and you put yourself in the centre of your own world.
This green screen animation combines whiteboard animation with blue screen, and involved editing in iMovie to superimpose two animation clips.
We began by drawing directly on a whiteboard with whiteboard pen to create a growing line drawing stop frame animation. We added text (which we had printed and cut out) to the image. This formed one clip, and was once again filmed in Stop Motion Pro.
We then took a photograph of a walking figure carrying a guitar. Ignore the green screen here – we weren't using it!
We printed out the figure on A4 card and used it to animate:
We then filmed 3 separate stop frame animations using a large green screen: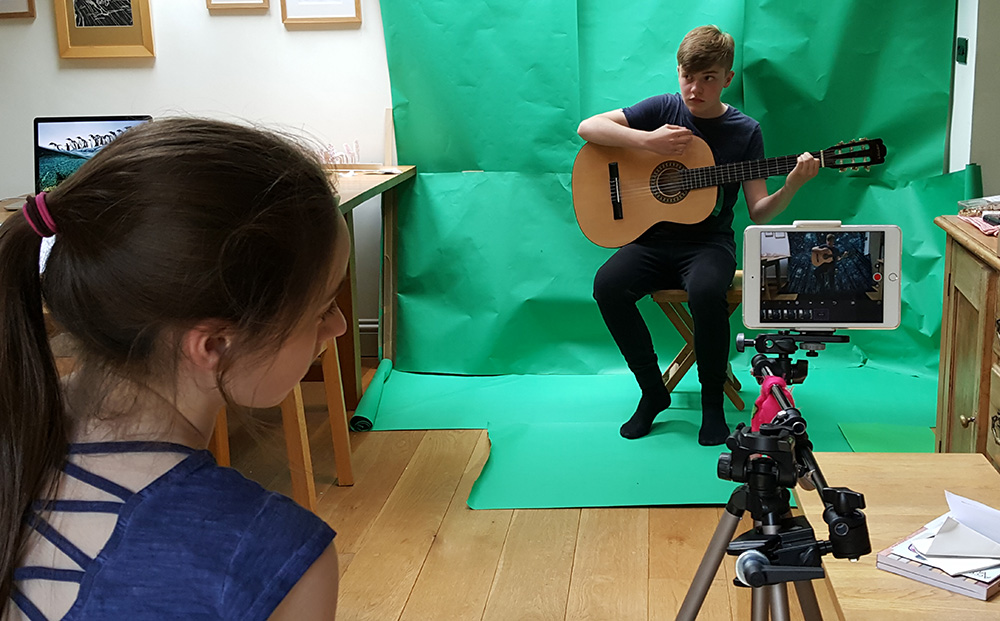 We used 3 images which were imported to the iPad as green screen backgrounds: a night sky, a wood and an old house. The idea was that each of these would provide a different context/mood/safe space for the guitarist as he played:
We imported all the footage into iMovie and used the "picture in picture" feature to superimpose the green screen animations onto the whiteboard animations. Music was added and the (nearly finished) clip is shared below:
Many thanks to Rowan, Alex, Amelia, Lluis and Immy for working on these scenes!
---
Sign up below to receive email updates from AccessArt. AccessArt promises not to share your information with anyone else and you can unsubscribe at any time!
---
This is a sample of a resource created by UK Charity AccessArt. We have over 750 resources to help develop and inspire your creative thinking, practice and teaching.
AccessArt welcomes artists, educators, teachers and parents both in the UK and overseas.
We believe everyone has the right to be creative and by working together and sharing ideas we can enable everyone to reach their creative potential.
Join AccessArt from only £3.50 per month and enjoy full access to hundreds more resources!
Join Us!
Add to favorites