by Paula Briggs

The aim of this warm-up session is to help young children explore the qualities of charcoal, opening their minds to the mark making possibilities and to introduce them to different ways of working with various complementary materials.
Using this warm-up before other sessions which use charcoal will ensure that children understand what kinds of effects they might get from the medium.
Notes for Teachers
This exercise aims to give children the opportunity to explore the media (charcoal) and to push it's use to understand it's potential. Because the exercise dispenses with a subject matter, children can concentrate purely on mark making.

The exercise is used as a platform for further learning (see projects at the end of this resource).

The exercise should take 10 to 20 minutes.

We have used the exercise with children as young as 4/5, right up to adults.

Charcoal can be messy!

You might like to cover tables with newspaper and then place the sugar paper the children will be working on over that. 

Have enough charcoal and chalk so that each child has one of each material.

Have the children wear aprons or old clothes, and make sure paper towels are nearby to clean hands. 

Try not to have a preconceived idea about what the children's drawings will look like.

Bear in mind this is an exploratory exercise. You are looking for signs (through the marks on the page), that each pupil has:

Been able to listen to and understand your directions as to how to hold and move the charcoal across the page
Explored the creation of a variety of types of marks, using different parts of the charcoal, apply different pressures, holding the charcoal in different ways and using different actions

It is all to easy when using charcoal for drawings to result in a general greyness. Keeping the drawing fresh by having marks which are dark, and areas which are light, can demonstrate the student has managed to control and explore mark making. 

After the exercise, use a group discussion to talk about the work and reflect upon how marks were made, what kinds of marks pupils respond too, and how they might be put to use in future work.

Suggested projects which can be used after this warm-up appear at the end of this resource. 
Please login as a full AccessArt member to access this resource.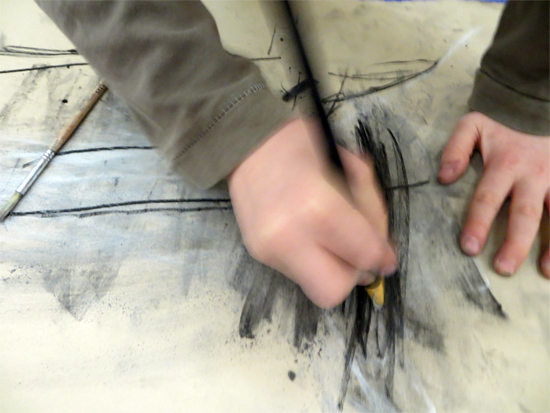 ---
To access all content, I would like to join as…
AccessArt is a UK Charity and we believe everyone has the right to be creative. AccessArt provides inspiration to help us all reach our creative potential.
---
Add to favorites