Many thanks to Pete Sayer from Gruffdog Theatre Company for visiting teenagers from How To Be A Creative Producer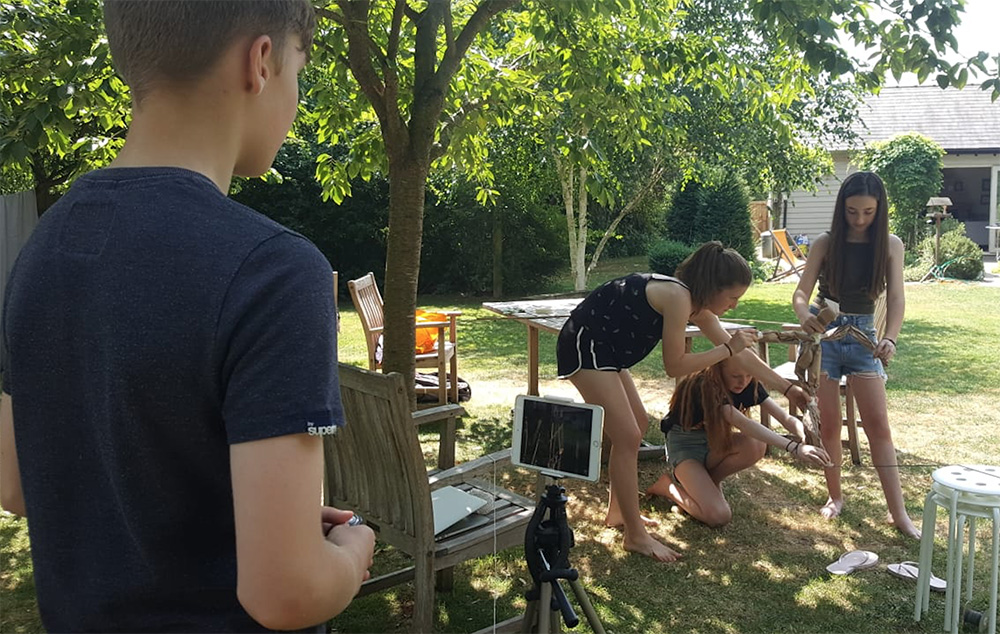 This post shares drama exercises which Pete used with the teenagers to explore ideas about teamwork, cooperation, movement and narrative which will feed into the animations the team are working on.
---
Exercise One
Remembering Patterns
In this exercise teenagers explored teamwork and thinking skills through pattern and repetition.
The group stands in a circle and the exercise begins by one teenager throwing a ball to another, and then that teenagers throwing the ball to another, always following the same pattern (i.e. throwing to the same person in the same order).
In the second part of the exercise the teenagers follow another pattern (without the ball) by each person saying someone's name, and then that person says someone else's name. Again the pattern is repeated.
In the third part of the exercise the teenagers move around the space to swap places with a particular person in a particular order, again repeated.
Finally all 3 patterns and actions are brought together to form one movement.
Exercise Two
Movement with Canes
In this exercise, in which teenagers explore teamwork and spatial awareness, cane are held by fingertip pressure only between two or more people. This exercise also explore the spatial tension between partners.
Teenagers are encouraged to experiment with the pressure they exert on the canes, moving sticks in different directions and angles. They are also encouraged to use their breath (loud exhales) when they want to focus on telling their partner when and where to move.
Exercise Three
Focus through Canes
Two exercises are shared in the video below, each using canes to help focus concentration of the person or people holding the cane.
In the exercise in which teenagers held canes vertically as a group, they were asked to imagine a character which they were controlling together existed in the space within the canes, and to work together as a team to help control the movements made.
In the exercise in which teenagers hold the cane vertically as individuals, teenagers were asked to first of all walk normally without thinking about the cane, then to walk with the cane in an outstretched arm but to look ahead and smile, and then lastly to hold the cane in the same position but to focus their attention on the cane as they walked, and in doing so appreciate / experience the changes of focus, both as the person moving, and also as a person observing that type of focus by watching others do the same.
Making a Bunraku Puppet
Teenagers made simple puppets out of brown paper.


Exploring Movement, Character & Narrative through Puppets
Teenagers used the Bunraku puppet they made above, plus puppets and props brought by Pete, to explore how movement builds narrative and character. Once again they worked as part of a team, reading and working with each other's movements without any verbal prompts.
Animating a Very Large Stick Man
After Pete had left the session, and inspired by the activities Pete presented, teenagers decided to push the ideas further and take a few creative risks and make a large stick man using garden canes. We used masking tape to join the canes and make movable limbs.
Teenagers then worked together to animate the stick man and make him walk across the garden.
---
Sign up below to receive email updates from AccessArt. AccessArt promises not to share your information with anyone else and you can unsubscribe at any time!
---
This is a sample of a resource created by UK Charity AccessArt. We have over 750 resources to help develop and inspire your creative thinking, practice and teaching.
AccessArt welcomes artists, educators, teachers and parents both in the UK and overseas.
We believe everyone has the right to be creative and by working together and sharing ideas we can enable everyone to reach their creative potential.
Join AccessArt from only £3.50 per month and enjoy full access to hundreds more resources!
Join Us!
Add to favorites