By Paula Briggs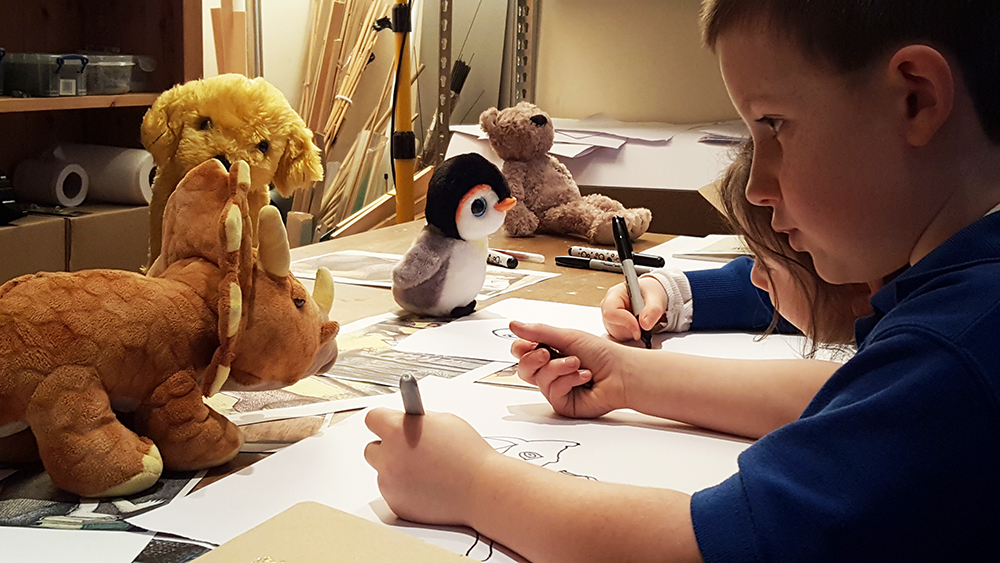 This resource shares a session with children aged 6 and 7, exploring the illustration's of Maurice Sendak from Where the Wild Things Are. In particular the session looks at the kinds of marks Maurice made to create a sense adventure, and prepares the ground for the exploration to come, which will evolve into colour, collage and sculpture.
To Begin
You Will Need:
Colour copies of close-up images of Maurice Sendak's Where the Wild Things Are.
Three pens for each child: black handwriting pen (fine), black Sharpie (medium), black marker pen (bold)
Sketchbooks or paper.
Soft toys (children brought their favourite soft toy).
Time: 1 hr
Outcome:
An exploration of mark making (in sketchbooks) and then applying this knowledge in a drawing.
An understanding of how using different pens and holding them in different ways can affect the marks we make, and how we can use those marks to make interesting drawings.
Beginning an understanding of how the artist (Maurice Sendak) used marks to build his images.
This session is a spring board for the next session in the series.
We began our session with a close look as a group at the marks made by Maurice Sendak. These include a wide variety including spots, dashes, lines, cross hatching…
We challenged the children by turning the exploration of marks into a game. We took it in turns to use a pen to draw a certain kind of mark on paper, whilst asking the children where that mark could be found on Maurice's drawing.
We then did a guided mark making activity. Working together, Rowan drew certain kinds of marks on paper, describing how she was making these marks (i.e. the type of pen, how she was holding the pen, the type of pressure, the noise the pen made, the type of marks which appeared) and the children followed by making their marks in their sketchbooks. We worked at a pace, the children echoing Rowan's mark making, so there was no time for hesitation. We also encouraged the children to understand how picking up a different kind of pen but using the same action would result in different marks.
As the children worked we introduced two key ideas:
Tidy or Messy?
Some people are naturally tidy, others are messy! Many are inbetween. What's important here is not to try to be anything other than what you are. We acknowledged that at school in handwriting practice you may be told to hold a pen a certain way, and pushed to be "neat", but here, what is important, is making the types of marks you naturally make, and that "tidy" is not "better" than "messy" (or messy "better" than tidy).
Teacher's Note: In terms of creativity, expression takes many forms! (And ironically, encouraging any drawing activity will improve dexterity which will in turn improve handwriting outcomes).
Mark Making as your Vocabulary!
Before we can write stories, we need to put sentences together, and before we can put sentences together, we need to be able to spell words, and before we spell words, we need to know our letters. The same might be said of drawing. We can of course make any marks on the paper and make a drawing, but our drawings will become even better if we can draw upon a vocabulary of mark making. If we recognise and have experience of lots of different types of marks, we can choose which to use, and when, in our drawing!
Teacher's Note: See Thoughtful Mark Making and Anatomy of a Pencil
As part of the guided drawing exploration, and as a bridge to making the final drawing, we challenged the children to draw a bushy tail, inspired by one drawn by Maurice Sendak, using some of the marks they had discovered. We also drew attention to the fact that sometimes you don't need to draw an outline to describe a shape/form.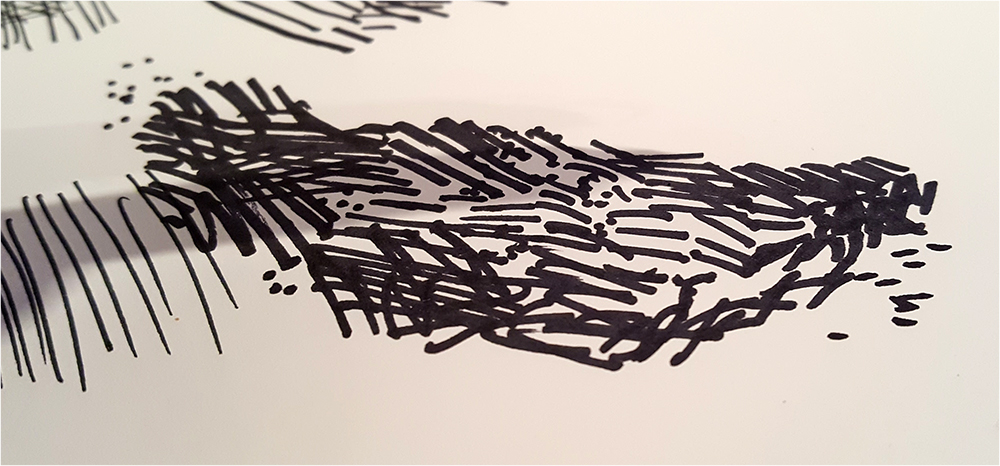 We then moved on to our final drawing of the session (20 mins). We showed the children how to make a sketch using a backwards forwards sketching motion, which results in a slightly thicker and more decisive line, and we invited the children to make a drawing of their soft toy, on an A3 sheet of cartridge paper, using a medium weight black pen (we used Sharpies).
We asked the children to make sure they spent as much (if not more) time looking at their subject matter (i.e. the soft toy) as they did as their paper.
Once they were happy with their backwards forwards outline drawing, we then invited the children to use the marks they had explored in their sketchbooks to complete their drawings, varying the types of marks and types of pens they used.
Next week we will continue our exploration of mark making, this time using quills and ink, and look at the backgrounds of Maurice's images.
Many thanks to Rowan for helping during this session.
---
This is a sample of a resource created by UK Charity AccessArt. We have over 750 resources to help develop and inspire your creative thinking, practice and teaching.
AccessArt welcomes artists, educators, teachers and parents both in the UK and overseas.
We believe everyone has the right to be creative and by working together and sharing ideas we can enable everyone to reach their creative potential.
Join AccessArt from only £3.50 per month and enjoy full access to hundreds more resources!
Join Us!
Add to favorites