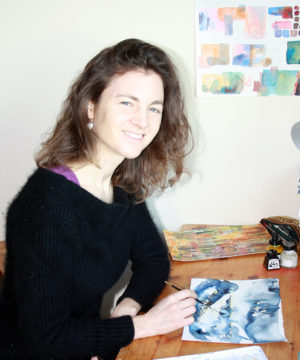 Emma is an artist-teacher who is in love with the vibrant and surprising qualities of watercolour. She makes paintings, illustrations and comics. She's interested in art as a way of exploring and sharing her feelings and thoughts. She gets excited about green and hopeful ideas, art-making for well-being, and the awesome beauty of the natural world.
Right now she's making a book called "Soul Colour". It's a course-book about Creativity, Mindfulness and Watercolour, which will be published in Spring 2021. She often teaches workshops in mindful and intuitive painting in her hometown of Bristol.
Emma is also developing a graphic novel which won The Laydeez do Comics Women's Prize in 2018. It's all about meeting her birth mother who relinquished her for adoption as a baby.