The plastic milk bottle is a flexible, versatile material that can be manipulated to create textured/decorative surfaces and shaped to make 3D forms. Textile and manipulation techniques such as coiling, fringing, knotting and sewing can be applied to create a variety of forms and textures. Many of the techniques were used to make the objects in this resource: One Material: Sea Sculptures from Plastic Bottles.
The processes shown below can also be applied to explore the decorative and construction potential of other materials.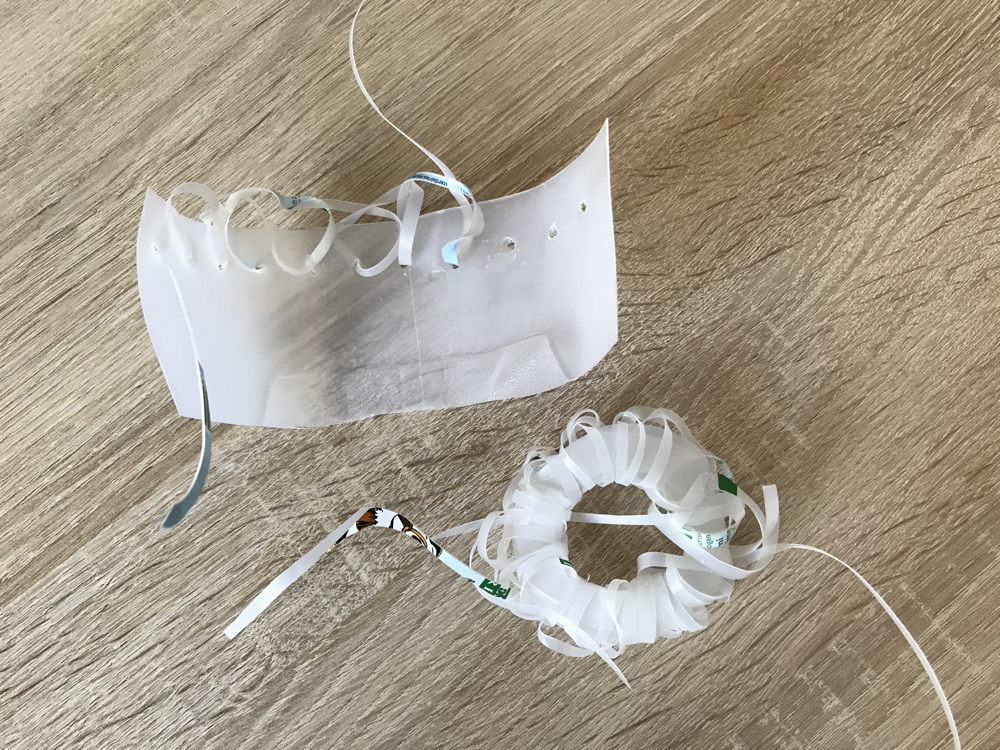 Collect a variety of milk bottles. Your local cafe is a great source of large plastic milk bottles and the various brands have different characteristics and coloured detail – some are made from thin, translucent plastic, whilst others are tougher and more robust.
It's often useful to make a list of ideas to try when exploring a new material so you have a few processes to work through. Once you start, you find that the samples you make suggest other ideas or techniques to try.
Pins, staples and PVA can all be used to hold the surfaces together but I was interested in discovering if I could make connecting elements from the milk bottle itself. I discovered that the soft plastic labels and the middle panel of the bottle can be cut to make a continuous length of thread and the sticky labels can be used to make pieces of tape to join surfaces and act as hinges.
The plastic can be shaped by hand or by bending around tools. Use a pen or knitting needle to curl plastic strips (like curling decorative ribbons on a present). This also works well on the plastic thread made from the bottle.
Stitches can be used to decorate the plastic and connect surfaces and build decorative, textured structures. Find more inspiration on how to use stitches in an experimental way in this resource: Make a Stitched Drawing of a House in an Hour.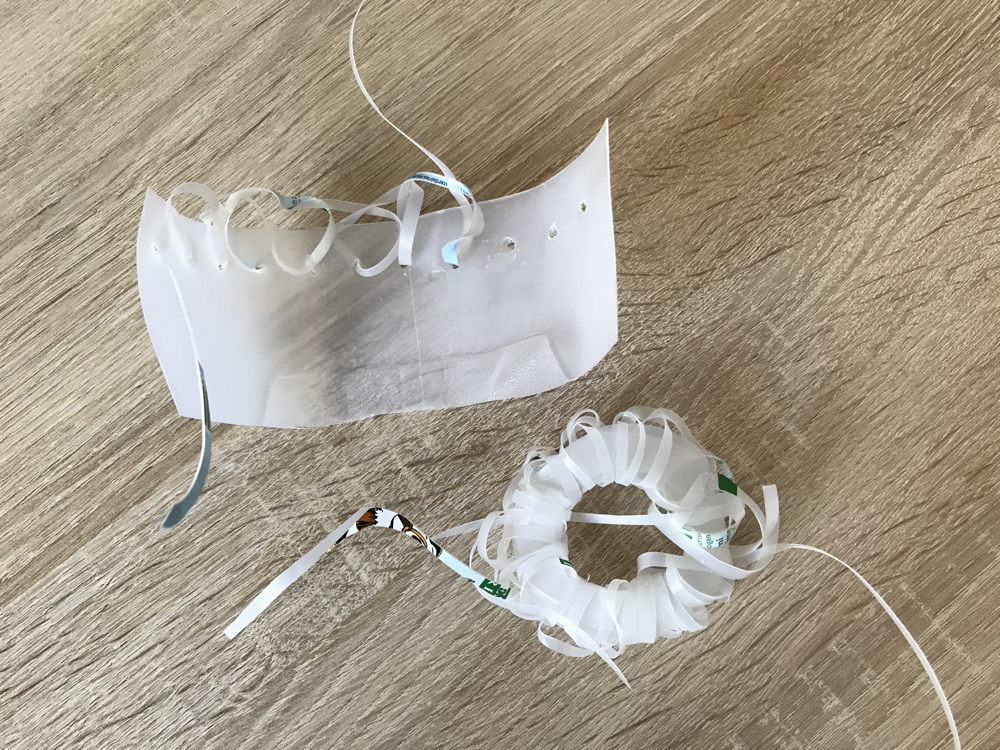 Thread a large eyed needle with a piece of cord then scrunch up a bundle of plastic cord. Push the needle through the bundle, leaving a long tail and make a blanket stitch. Turn the bundle and at any point, push the needle through the bundle and make another blanket stitch. Continue until you're happy with the look of the bundle. Weave the thread through the bundle a couple of times to secure and leave another long tail and cut the thread. Curl the thread with a pencil or knitting needle (as above), or cut off both long ends if you prefer.
The above processes generated ideas for One Material: Sea Sculptures from Plastic Bottles
Look at these resources for further inspiration on manipulating surfaces and making 3D forms:
Manipulating Paper: Turning 2D into 3D
3D Drawing with Paper: Texture-Surface-Structure
This is a sample of a resource created by UK Charity AccessArt. We have over 750 resources to help develop and inspire your creative thinking, practice and teaching.
AccessArt welcomes artists, educators, teachers and parents both in the UK and overseas.
We believe everyone has the right to be creative and by working together and sharing ideas we can enable everyone to reach their creative potential.
Join AccessArt from only £3.50 per month and enjoy full access to hundreds more resources!
Join Us!
---
Sign up to receive our email newsletter. By completing the form below you explicitly agree for us to send our email newsletter to you. We will not share your information with anyone else and you can unsubscribe at any time!
Add to favorites