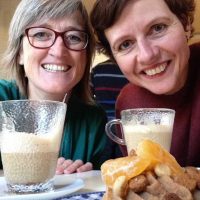 We are two art teachers from The Netherlands, who follow AccessArt from overseas.
Iris is really busy with teaching art to children from 4 – 12 years in several primary schools. She has her own art club after school. She loves to work in her own sketchbook and she knows a lot of art history.
Marijke likes to write and publish articles which are especially meant for primary teachers. The articles are always about looking at art or making art. She loves to coach primary teachers in making, creating and creative thinking.
Together, we are on a mission to improve the art-education system: more attention to the arts and all their benefits!
Please see our websites to find out more! (in Dutch sorry!)