This page contains resources and guidance to help teachers introduce and develop sketchbooks in primary schools.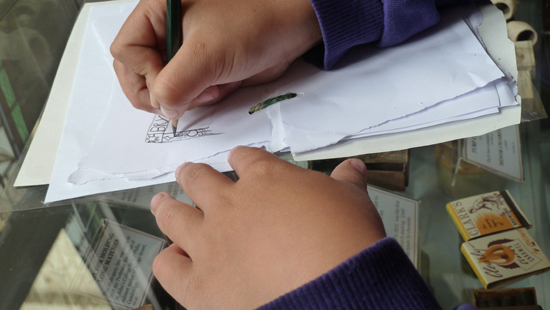 AccessArt has a long history of working with sketchbooks in schools, and a wealth of information for teachers about developing sketchbooks in primary schools.
In summary AccessArt advocates:
That sketchbooks should be owned by the pupils, and should placed at the centre of pupils' creativity. As such sketchbooks should develop personalities (a class of 30 sketchbooks should not look alike).
Sketchbooks should be used to gather, collect, experiment and reflect. Sketchbooks should be a place of discovery.
Teachers should not be afraid if sketchbooks seem chaotic – adult sketchbooks are often chaotic. Sketchbooks are a place to put unresolved ideas into the world, which can be assimiliated later. Sketchbooks are rarely linear.
Sketchbook content should be treated with respect. Teachers should not mark directly in the book. Teachers should use one to one or small group discussion to help articulate sketchbook content.
Sketchbooks should equate to momentum. Pupils should be discouraged from working in a single sketchbook which lasts a year or even longer. Instead sketchbooks should be filled with momentum and enthusiasm.
The new National Curriculum for Art & Design (Primary) (September 2014) states that:
Pupils in Key Stage 2 should be taught: "to create sketch books to record their observations and use them to review and revisit ideas." AccessArt advocates sketchbooks should be introduced in Key Stage 1 and that their use should be rigorous and become embedded.
AccessArt Resources to Support Sketchbooks
AccessArt is an evolving collection of resources and further resources are being added over time. Please register with AccessArt to receive updates.
Add to favorites