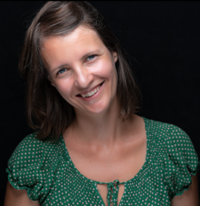 Tonka Uzu (aka Antoaneta Ouzounova) is a Bulgarian-raised, Italian-educated illustrator based in Cambridge, UK. She holds Ba Hons in History of Art from the University of Bologna, Italy and MA in Children's book illustration from ARU, Cambridge School of Art.
Her picture books, Olga e Olaf and Olga e Olaf in Spiaggia were published in Italy in 2014 and 2020.
Tonka's work has received international recognition and exhibited in Bulgaria, China, Japan, Italy, Slovakia, South Korea, Taiwan and the UK.
She is interested in Art psychology, picture books and graphic novels, drawing, art education and autobiographical creativity.