At the end of last term, the Experimental Drawing group said they would like to work with the human form and sculpture, and so we begin this series of workshops by looking at bones.
Armatures and Scaffolding
Bones are the scaffolding of our bodies, providing the rigid structure which supports the movement of the soft, dynamic materials of muscle, sinew and skin. In subsequent classes, as we move into three dimensional drawings (in other words, sculptures), we will use a simplified skeleton or armature to support and give structure to our work. However, we can also think of the tensions between the 'bones and the body' of a drawing, for example, by contrasting bold lines with fluid shading.
We began by examining a 1/4 life size model of a skeleton. The backbone is a long, flexible column which supports the skull. The ribcage and pelvis make up the top and bottom of the torso, and contain all the soft internal organs. Legs and arms are connected via the hip and shoulder sockets, which allow rotation, and both the lower legs and forearms have two bones, allowing the arms and legs to twist, bend and extend. A series of small bones in the wrists and ankles a connect to the strong toe and delicate finger bones. The skull itself has sockets for the eyes, temples, cheekbones, and the moveable jaw bone.
Observational drawing of the human skeleton
We looked at a few examples of how artists use armatures. Alberto Giacometti built thin figurative sculptures by making a wire armature of a skeleton, before covering in plaster. Matisse made wax figures of dancers, which he later used as models for his painting.
I wanted to concentrate on form, so provided only pencils, black markers and graphite, as well as tape and scissors, and a bit of wire.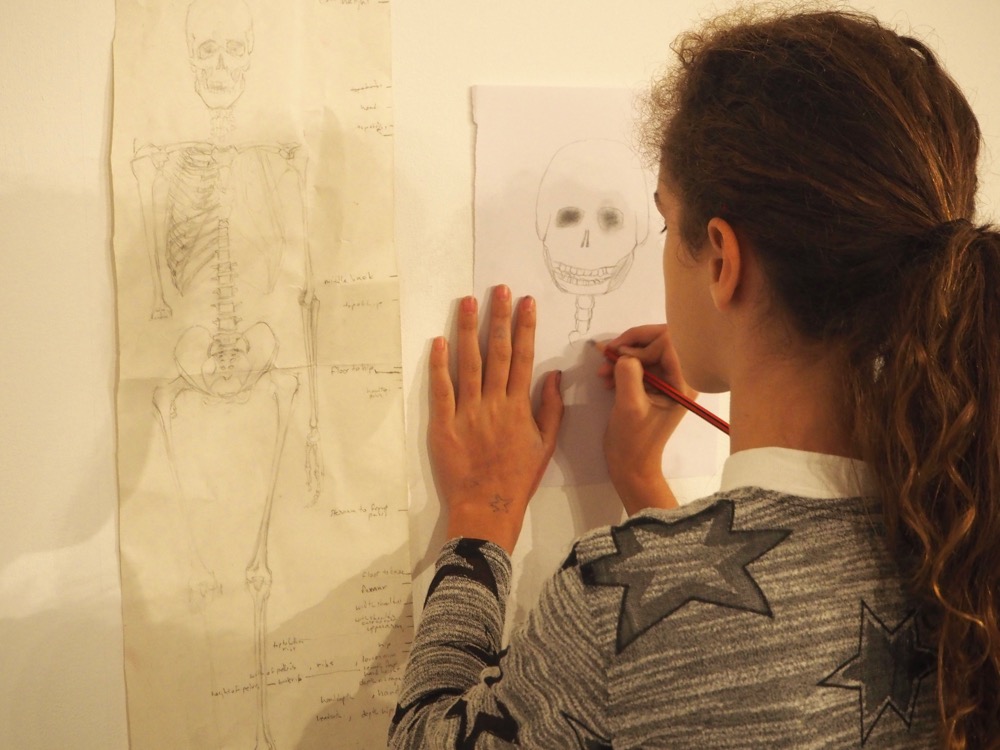 Feeling a Posture
I asked the teens to try to focus on the bones in their body or to look at other people as they moved into various poses, and to capture on paper the feel of the skeleton before fleshing out the drawing. Some people moved directly into drawing, contrasting marks from black crayons and graphite pencils, perhaps using thick crayon for the structure of the drawing and thin pencil lines for the form or learning about the skeleton by copying a drawing.
Constructing Bones
Others began with wire, paper and tape and took a more constructional approach, scrunching tape onto paper, or measuring the bones of the body and rolling paper to make and assemble the bones of a hand.
A Gallery of Works
We don't always have the time, but at the end of the class, we try to lay the work out to see how others worked out their ideas. I feel this is an important part of the process, allowing students to take away many ideas and approaches, which they may try out in later lessons.
Many thanks to Melissa Pierce Murray, for leading sessions and sharing her ideas and processes with AccessArt.
UK Charity AccessArt has over 750 resources to help develop and inspire creative thinking, practice and teaching.
We believe everyone has the right to be creative and by working together, and sharing ideas, we can enable everyone to reach their creative potential.
AccessArt welcomes artists, educators, teachers and parents both in the UK and overseas.
Join Us!
---
Sign up to receive our email newsletter. By completing the form below you explicitly agree for us to send our email newsletter to you. We will not share your information with anyone else and you can unsubscribe at any time!
Add to favorites