Melissa Pierce Murray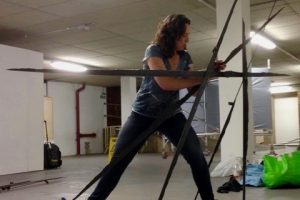 Melissa Pierce Murray's sculptures explore juxtapositions of strength and fragility, tensions between structure and fluidity, moments poised between stillness and movement. With a sensitivity to materials and an interdisciplinary background, she seeks innovative ways of engaging with new audiences.
For Choreographed Drawings (2015), she developed a sculpture kit of pre-fashioned elements which she used in site responsive improvisational installations, photographing the transient sculptural arrangements. With Diana Scarborough, she created Breaking Boundaries, a live art installation combining sculpture, dance, video and sound, for the inauguration of the Passion for Knowledge 2016 Science Festival in San Sebastian, Spain.
Last year Murray received a Royal British Society of Sculptors Bursary Award and was selected for the Museums at Night mentoring programme. She holds a BA in English Literature and Physics from the University of Colorado, and an MA (distinction) in Fine Arts from Norwich University of the Arts.
Twitter: @melissapmurray