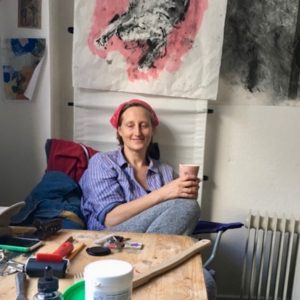 Cathy Mills in her studio
Cathy Mills is an artist facilitator, especially focussed on working with children. She is also a printmaker and teaches at the Gloucestershire Printmaking Co-operative in Stroud.
Cathy has taught children for many years and has completed an MA in Community Arts and also holds a diploma in therapeutic arts for children from Roehampton College in London.
She lives in the Stroud Valleys of Gloucestershire, having moved there from London, in 2000.

[email protected] 

www.catherinegraymills.co.uk