By Paula Briggs
As part of the How To Be A Creative Producer project, teenagers visited Cambridge to film members of the public to create clips for scenes within the project.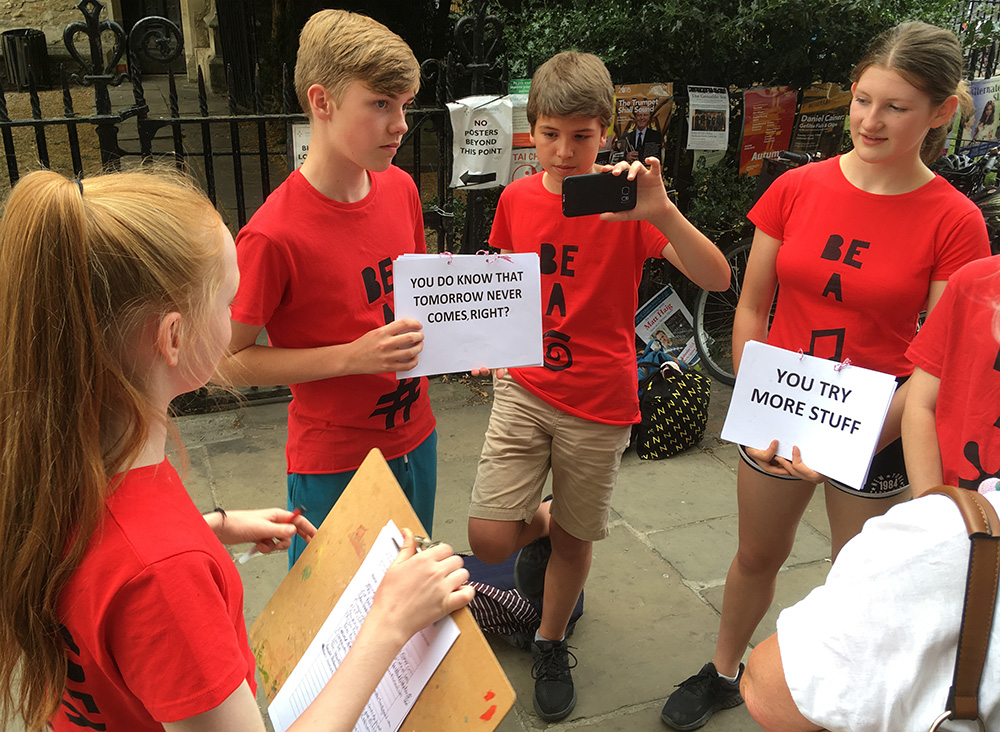 The Creative Producer team were working to fill briefs for two separate scenes:
Comebacks for the Ogres
The project introduces the idea of 7 ogres – 7 things which can hold us back in our creativity. The project encourages teenagers to recognise the 7 ogres, so that they can start to work with or around them. As part of an animation for each ogre, we wanted to capture members of the public giving a quick verbal "comeback" or response to each negative thought.
The Universal Laws of Creativity
In another part of the animation, and through working with the teenagers, AccessArt identified stages of creativity which we can all relate to. We have nicknamed these "The Universal Laws of Creativity". We wanted to film the public saying the names of the various stages so that we can create quick clips through the animation to remind ourselves of the repetitive nature of these stages. As with the Ogres above, if we can help teenagers identify which "stage" they might be in then we can empower their creativity.
Preparation
Prior to the filming, teenagers prepared for their interactions with the public. AccessArt created a guidance sheet to help the teenagers think about how they could use their drama and interpersonal skills to get the best out of the members of the public. We also did role play beforehand to familiarise ourselves with the process.
We decided we wanted to ask members of the public to repeat certain words and phrases which we would present to them on cards. Rather than just ask them to say the words in their normal voice, the challenge of the teenagers was to get the public to act up a bit, and say the words with feeling or attitude, by their interaction with them (see guidance sheet).
The words we asked them to say were:
FOR THE OGRE SCENES:
• GET OFF YOUR PHONE (shouted)
• STOP BEING NEGATIVE (with authority)
• YOU DO KNOW THAT TOMORROW NEVER COMES, RIGHT?
• HAPPENS TO EVERYONE – GET OVER IT
• IS WEIRD SO BAD?
• THINK UNIQUE NOT WEIRD!
• MAYBE THEY'LL ENVY YOU YOUR WEIRDNESS – EVER THOUGHT OF THAT?
• GET OVER YOUSELF (with inpatience)
FOR THE UNIVERSAL LAWS OF CREATIVITY SCENE:
• CREATIVITY IS A PROCESS
• YOU TAKE IN…
• YOU GIVE YOURSELF SPACE TO THINK
• YOU HAVE AN IDEA
• YOU TRY STUFF
• YOU REFLECT
• YOU TRY MORE STUFF
• YOU START ALL OVER AGAIN…
Members of the public were asked if they would mind being filmed, and a permission signature obtained, before being filmed on a phone.
And here are the final clips, edited together (they will find their place in the larger animations at a later date in the project!):
Comeback to the Ogres






The Universal Laws of Creativity


---
Sign up below to receive email updates from AccessArt. AccessArt promises not to share your information with anyone else and you can unsubscribe at any time!
---
This is a sample of a resource created by UK Charity AccessArt. We have over 750 resources to help develop and inspire your creative thinking, practice and teaching.
AccessArt welcomes artists, educators, teachers and parents both in the UK and overseas.
We believe everyone has the right to be creative and by working together and sharing ideas we can enable everyone to reach their creative potential.
Join AccessArt from only £3.50 per month and enjoy full access to hundreds more resources!
Join Us!
Add to favorites