Anne-Louise Quinton creates a project for her Year 9 pupils to commemorate Remembrance Day. The teenagers worked collaboratively to create a collaged frieze of paper soldiers in response to an artwork by John Singer Sargent and a war poem by Wilfred Owen.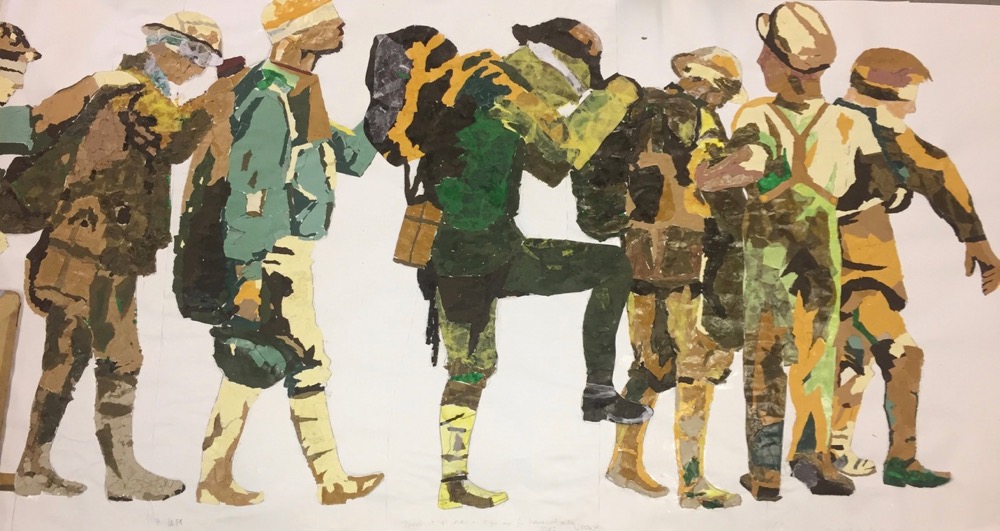 Materials
Paper
Coloured paper and tissue paper
PVA, pots and brushes
Eyelets and string for display
Setting the Scene
Working with Year 9 – two groups 15 and 12.
Doubling up and repeating images..
Put Sargent's 'Gassed' full screen on the whiteboard.
Turn out the room lights and read Owen's 'Dulce et Decorum est'
Explain the dimensions of the picture and the scale. It's in the Imperial War Museum, you feel as though you are also lying in the mud along with the soldiers.
Get the students to describe/research the imagery. The ochre colours that look like mustard gas. The silence. The setting sun and the football match in the background. There is so much to discuss in this painting that Sargent has captured. How the soldiers have to trust and help each other.
FYI – This went down very well with SLT!
Prep is everything isn't it?
Variations:
I drew out all the soldiers at A1 and prepped how to fit them together like a jigsaw
You could get them to draw round each other's shadows against the whiteboard lights or be freeform
If you do this with one group or more than a class, how can you divide up the work – and will you have space?
The cartridge paper was quite thin, so I could overlay the sheets and see the previous drawing to help me match up
Colour Mixing with Paper and Tissue Paper
Every student had an A3 colour copy of their soldier. They glued it into the left side of a sketchbook so that they could colour swatch test on the other side, by overlaying tissue paper for tones and shades of kahki browns. Some were accurate others less so, but as long as they were close it was fine.
I created boxes of paper colours ready. These were all my scraggy and torn paper pieces and left overs that I had never thrown away, colour coded into empty photocopy boxes like a palette to take from.
Team Work
I deliberately paired up students into unfamiliar teams. They then shared a soldier between them and had to negotiate colours and where to start. It worked really well and they knew that they had work to do. They quickly got the message that they were a metaphor for the soldiers who had to work as a team and not let each other down, they had to be supportive and help each other.
Time and Scale
It is always an issue, when taking on a big group project that you want to have a whole school impact visually. So decide where you want to display and work backwards from there. I wrote out the whole poem ready. I had two groups and knew where to cut and paste the soldiers together. I needed my technician to help with display too.
Evaluations
I photographed the students with their work so they had a version to analyse in their sketchbooks. I wanted them to discuss how easy and complex the materials were for accuracy and manipulation and how well they worked in their teams. I would not let them discuss things that were bad, only what they were proud of and how they would improve it if they had more time.
Art and Literacy
This could not be more intertwined, so one homework was to find a piece of war art and recreate it in the students' sketchbooks. Then they had to find a war poem that they thought it matched. I had explained 'subjective' and 'objective' interpretations of Artwork, so that was what they wrote about – how they analysed the painting to describe the poem they had chosen and vice-versa. I had checked that the students were looking at war poetry in their English lessons. I photocopied their homework and made a display for the English corridor and that department were very happy!
Homework
Because I had never done this project before and because I did not know fast or slow they would work with their partners; I set 3 homeworks which were to come back after school and commit extra time to working on their soldiers. I made them sign up and recorded their attendance. Unsurprisingly, some came more than their required number of times. If I had to issue a detention, it was to make them come back after school and work on their soldier. I gave out no detentions.
You can see more resources by Anne-Louise Quinton for AccessArt here
---
Sign up below to receive email updates from AccessArt. AccessArt promises not to share your information with anyone else and you can unsubscribe at any time!
---
This is a sample of a resource created by UK Charity AccessArt. We have over 750 resources to help develop and inspire your creative thinking, practice and teaching.
AccessArt welcomes artists, educators, teachers and parents both in the UK and overseas.
We believe everyone has the right to be creative and by working together and sharing ideas we can enable everyone to reach their creative potential.
Join AccessArt from only £3.50 per month and enjoy full access to hundreds more resources!
Join Us!
Add to favorites